Boost Your Business with Benchmarks: Measure, understand, and get it done!
To build value, your business must continually change, adapt, and improve its efficiencies. A culture of continuous performance improvement creates more profit now and more wealth in the future. When building a better business and improving profit and wealth is your goal, measuring performance is your starting point.
Measure what is important: the key benchmarks and drivers of success.
Understand what your numbers say about your business and where you could improve.
Get it done! Identify actions and create targets and accountabilities that lift business performance.
Faced with so many possible metrics, it can be challenging to identify which are most important in your business. Start by monitoring metrics that help you focus on the that produce the results you are after. This recipe for performance improvement begins with measuring the drivers of success for your business model—metrics that give objective feedback and help you answer the following questions.
How efficiently do you drive sales? Are you growing your customer base through effective marketing and lead conversion? How frequently do customers buy and at what average ticket price?
How productive are you? Do you manage your resources (e.g., staff productivity, inventory productivity, or equipment utilization) as well as you should?
How much profit are you earning? How do your gross profits and net profits compare to the best in the business, or to your own best year?
How well do you manage cash flow? Consider ratios that measure liquidity and working capital efficiency. These include the lag between service and invoicing, how quickly you collect accounts receivable or turn inventory, and metrics that indicate whether you've paid lenders and suppliers on time.
How financially strong are you? Consider ratios that measure your debt levels, such as equity invested by owners compared with money borrowed from creditors. Asset efficiency (sales to assets) and ROI are also indicators of the strength of your financial position.
BENCHMARK YOUR BUSINESS
Once you have calculated your metrics, the obvious question becomes, "Is my number good, bad, or terrible?" That is where benchmarking comes in. Benchmarks add perspective.
A benchmark is a point of reference from which measurements of any sort can be made. Benchmarking your business is the process of comparing your figures to the numbers you would like to achieve. Here are some ways you can establish benchmarks for your business.
Past performance. To get a sense for trend, look at a minimum of 3 years' history; up to 5 years if it is relevant. You can even use your "best" year as your past performance benchmark.
Actual results to budget, target, or goals. When you compare actual results to budgets or targets, you're benchmarking against where you want to be. You can then investigate the difference or variances from what you planned and refocus your actions as needed.
Industry averages. Industry benchmarks can be useful to assess how you stack up compared with your competition or to other businesses like yours. Beware: these benchmarks are sometimes derived from dissimilar companies because they use broad industry classifications. For example, home health care providers that provide skilled nursing services may be combined with providers who provide only companion care. These are quite different businesses that share the same industry classification. Average figures may not be useful for either.
Franchise benchmarks. A franchise that produces and shares financial benchmarks based on actual system-wide performance provides a competitive advantage to its franchisees. Because all the data points come from companies operating with the same business model, the results can reliably demonstrate what can be achieved through peak performance. And because the "data points" are real results earned by real people you know, you can actually talk to the best in the business to learn they are gaining their profit advantage.
WHAT'S NEXT?
Now that you have the numbers, what's next? These five steps will transform your analysis to action: 1) assess performance, 2) prioritize issues, 3) brainstorm ideas, 4) measure goals, and 5) engage the team.
Comparing your metrics against benchmarks gives you perspective to what you're doing well or not so well. Then you can your issues and with your team to develop solutions and action plans. Armed with perspective, priorities, and plans, you can set measurable and your team by communicating expectations and accountabilities.
With these five steps, benchmarking can have an impact far beyond the accounting department. With proper commitment, communication, and leadership, benchmarking has the potential to reform all levels of the company, modify processes, reveal flaws in what were previously considered inherent truths, and confirm improvements achieved. Used strategically, benchmarking can transform not only the business, but the product or service itself, the corporate culture, and the attitudes of employees.
Now, envision that it's December 2021 and you are about to stand up and thank your team for a job well done. As you reflect on where you've been in the year, you say to yourself, "Everything changed when we really embraced managing by the numbers, setting stretch goals with rewards and accountability, and being clear with the entire team about our financial expectations."
Barbara Nuss, CPA, is the president and founder of Profit Soup, a financial education organization specializing in providing services to franchisors and franchisees to enable them to trust their numbers, focus on priorities, make better decisions, and earn more profit. Learn more at www.profitsoup.com or call 206-282-3888.
Published: May 29th, 2021
Share this Feature
Recommended Reading:
Comments:
comments powered by

Disqus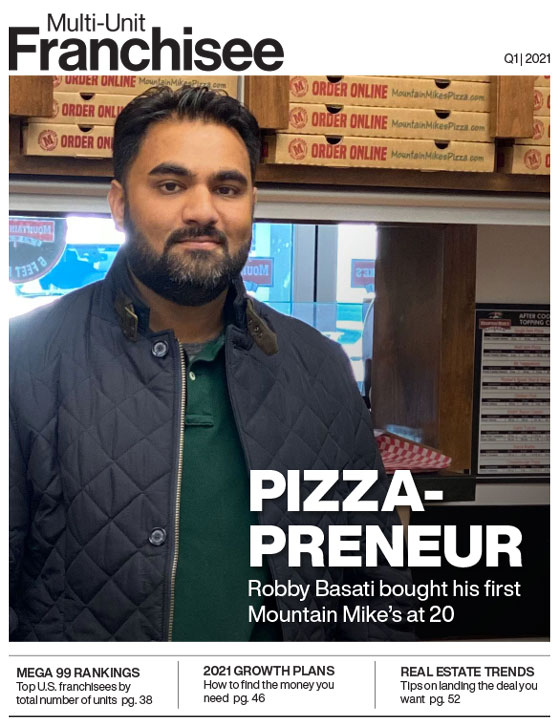 Multi-Unit Franchisee Magazine: Issue 1, 2021
With a passion for creating happy 'Human Beans', the company's drive-thrus have established a reputation for friendly baristas, high-quality coffee,...
Cash Required:
$200,000
Charleys Philly Steaks is the #1 Cheesesteak Franchise in The World. We offer delicious, made-to-order food that is affordable without sacrificing...
Cash Required:
$175,000