Family First. Tips to make the family business succeed
The mom-and-pop shop is an iconic business model, with people proudly displaying their family-owned business status. Many of these businesses have grown and thrived for decades. Others, well, not so much.
There are still a lot of misconceptions about working with family. Some people can't imagine how you'd work with family members without ending up in a fight or worse. Or they've had bad experiences with family-owned business models that fell apart. But I know from personal experience that working with family can be rewarding, boosting the growth of your business and setting you up for future success.
If you do it right, that is. Here are a few of my tips for how to make it work.
GET CLEAR WITH EACH OTHER
There's no surefire way to work well with family, but in my opinion the goal should be to remain in a relationship even if things don't work out. It starts with clear communication. Sit down and talk about it, making sure your short-term and long-term goals align with each other.
Set expectations and get them in writing, just as you would with any employment agreement. Include job descriptions, payment, and a clear time frame to evaluate the relationship and see if you want to continue. Add a plan in case you decide to part ways, to make sure it is an amicable transition that happens over a reasonable time period.
Does this seem too formal for a family arrangement? It's not. One of the benefits of working with family is that you already have a trust relationship with these people. However, that same relationship can sometimes mix the personal with the professional. It can be difficult to address issues in a professional way. Putting it in writing establishes a relationship of professional respect between you. If you just wing it with no expectations, you're probably going to grow apart.
VALUE THEIR CONTRIBUTIONS
Don't hire family members for convenience. Instead, hire them for mutual success. Everyone brings a set of skills and personality traits to the table. Be sure you recognize the value of your family's contributions and treat them like the professionals they are.
My wife Jeanette and I have been working together for decades. She is now CFO of Tint World, and the professional side of our relationship works because we've defined our roles. We've aligned what we do with our talents and passions, and we really like staying in our lanes. We don't tell each other how to do our jobs. It's a relationship of respect in which we're each appreciative of the other's talents. We place value on those talents, and that helps us keep a good working relationship.
Another way to value family business partners is to pay them what they're worth. If you're looking at your family members as cheap labor, you're doing it wrong. In the beginning, when you're scaling up your business, it may be easier to work with family on the understanding that you're paying them less, but people in your family want to get paid like anyone else. If you're starting small, plan on growing together.
PLAN FOR THE FUTURE
I know many people who open their own business concept or franchise location with the idea of passing it along to their children. Both of my children have worked in Tint World headquarters, and one day, if one of them showed the desire and ability to step into my role, I would help them take that step.
But that's not the only future family businesses should count on because there are a lot of ifs involved. Your kid has to want your business, "get" your business, and be capable of running your business successfully. Succession planning is important, but leave yourself room for many options.
Plan a succession that can pivot depending on circumstances. You should always build your business as though it's ready to sell. Put two or three options in place so your kids aren't your only path forward.
KEEP FAMILY TIES INTACT
There's a lot to gain from going into business with your spouse or other family members. But there's a lot to lose if you get it wrong. When you're planning a family-owned business, be sure to put family first. If you don't, you could do damage to more than your finances.
With plenty of mutual respect, communication and clear expectations, you and your family can build something great together. Start strong, work smart, and don't forget what really matters.
Charles Bonfiglio is president and CEO of Tint World, a provider of automotive, residential, commercial, and marine window tinting and security film services. With Automotive Styling Centers in the U.S. and abroad, each franchise location houses approximately 20 profit centers, ranging from in-store accessory installations to offsite sales and installation.
Published: May 16th, 2021
Share this Feature
Recommended Reading:
Comments:
comments powered by

Disqus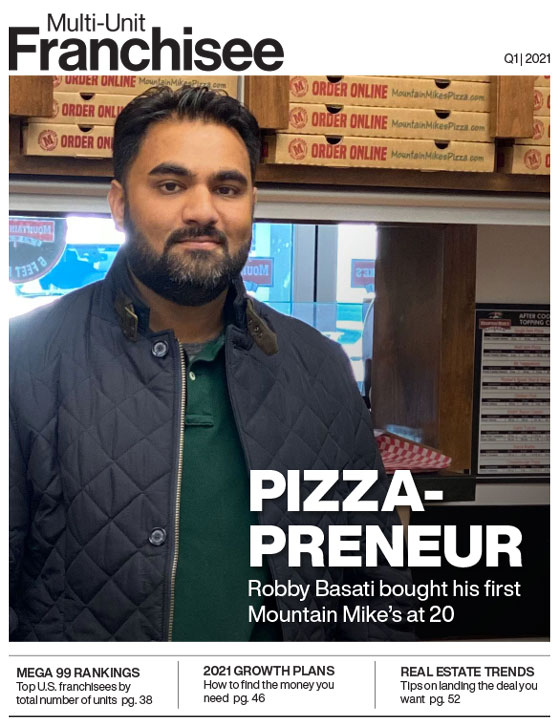 Multi-Unit Franchisee Magazine: Issue 1, 2021
Ace is #1 for convenience hardware! You pay no royalty fees. Instead, Ace pays you a year-end rebate based on your annual purchases. Enjoy the...
Cash Required:
$250,000
With over 2,000 locations globally, Midas is the auto repair and service shop people know and trust. Multi-unit ownership with Midas is a terrific...