Brand Champion: Veteran Supercuts Franchisee Reflects on 35 Years
Brand Champion: Veteran Supercuts Franchisee Reflects on 35 Years By Eddy Goldberg

Gary Grace's life in franchising has been marked by several major achievements and milestones, including the following:
Twenty-five years ago, in 1989, he was named the top franchisee in the country by Inc. magazine. "Since I believe they have not rerun the competition," he says, "I think I still am."
Twenty years ago (1994-95), he worked with Supercuts to open 86 salons in the New York metro region, including 6 in one day, establishing the brand in a new market.
Ten years ago, in 2004, he graced the cover of the second issue of this magazine (then mistakenly called Area Developer magazine. At least we got the tagline right: "Business solutions for the multi-unit franchisee.")
Five years ago, in 2009, he served as chair of Franchise Update's Multi-Unit Franchising Conference.
But in the world of franchising, what he's done for Supercuts--and the people who have worked for him--shines the brightest. During his career, he's instituted or enhanced employee benefit programs, including performance incentives for all employees, a management evaluation program, increased education and training at all levels including quarterly workshops for stylists, an annual awards event, and more.
The value--and longevity--of his senior managers was apparent 10 years ago, when we wrote: "Grace has managed to retain his early managers for an extraordinarily long time. Five senior people (three operational and two administrative) have been with him more than 20 years. 'They really run the operations on a day-to-day basis,' he says".
In 2012, two of those veteran senior managers left his company, GG Enterprises. In response, Grace, at 72, has become more personally involved in the day-to-day operations of his salons. He's moved from his home in the Napa Valley (he closed the deal just days before the earthquake this summer), and has relocated to Palm Springs to be closer to his 37 Supercuts salons in Southern California. (In 2004, he had 33.)
And even though 10 years ago he said, "I like to think I'm semi-retired," Grace appears to be relishing his re-involvement--and so are his managers and employees. In fact, despite their decades of contributions and personal relationships he calls the departure of those two senior managers a blessing in disguise.
"I'm in the salons much more, and I am at all management meetings. My senior management team tells me they really love it," he says today. Beyond the contributions from his 35 years in franchising and his long history with the brand, Grace says, "I think people just like to be able to relate to the owner. I hear a lot of feedback about that. I call someone and they call their general manager right away to tell them."
Senior management reports directly to him now, and the results are positive--very positive. He expects comp stores sales to be up 10 percent this year. That compares with about 1.5 percent over the past several years, and during the recession sales were "pretty flat," he says. "I had only one month in the last 10 years when I was up 8 percent. Now I'm running 9.8 percent higher year to date." One reason, he says, is that part of his current involvement involves increased training for his second-tier managers. (His GMs oversee a group of 10 to 12 salons; then come the salon managers and then the shift managers.)
"We've done a lot more training and it's beginning to pay off," he says. "It's really working. They're feeling more empowered and are taking on more responsibility as a result." Because of the additional management training and education, the shift managers are more deeply involved in running the salons--which, he says, boosts morale and ripples down to his front-line staff: the stylists.
Grace has also been a longtime champion for the brand's franchisees. Through his leadership role in their franchisee association, he helped lead them (and himself as well!) through several challenging times in the 1980s and 1990s as Supercuts went through three different ownerships. He has continued to help lead the system as president of their franchisee association and chairman of their advisory council for the last 16 years.
The 1989 Inc. article announcing his selection as the best franchisee in America reported that: "Today Grace is the Supercuts superstar. He's been elected to every board or advisory committee his fellow franchisees have, from president of the franchisee association to the franchisee seat on the corporate board of directors. His franchisor praises him as 'a pioneer' and now includes much of the Grace evaluation system and product sales program in the corporate package it sells."
Name: Gary Grace
Title: Owner/CEO
Company: GG Enterprises
No. of units: 37 Supercuts
Age: 72
Family: Wife Jessica
Years in franchising: 35
Years in current position: 34
Personal
First job:
Worked at an auto parts warehouse for 6 years during high school and college.
Formative influences/events:
I took the est training in 1973 and it changed my life. Within 1 year of taking the training I had left corporate America to work for est. The whole experience allowed me to understand myself and other people better.
Key accomplishments:
In 1989, Inc. magazine named me the #1 franchisee in America. Since, I believe, they have not rerun the competition, I think I still am. In the mid-1990s, Supercuts tapped me to do a joint venture with them to open up the New York metropolitan market. I opened 86 locations in 2 years, including 6 in one day, in order to meet Wall Street's expectation.
Biggest mistake:
Selling my Hawaii locations.
Smartest mistake:
Not selling my California locations even though I was offered 50+ percent more than the going multiple.
Work week:
Usually every day, adding up to 40 or 50 hours a week.
How do you spend a typical day?
Talk on the telephone and respond to emails. If I want to get anything creative done it has to be done before 9 or after 5. The alternative, which I really enjoy, is spending a day out in the field, either visiting a half a dozen or so salons or attending and participating in management meetings.
Favorite fun activities:
Golf, reading, TV, playing cards, and drinking great wine with great friends.
Exercise/workout:
Walking and water aerobics.
Favorite tech toys:
A coffee table with gears that adjusts.
What are you reading?
I almost exclusively read mystery books. The best one this year was Suspicion by Joseph Finder. However, I was so moved by John Maxwell at this year's Multi-Unit Franchising Conference that I broke my mysteries-only habit and read Maxwell's The 5 Levels of Leadership, which expanded my favorite quote by 3 levels.
Do you have a favorite quote?
Managers get people to do, and leaders get people to want to do.
Best advice you ever got:
Be nice to everybody because you never know who you will be working for tomorrow.
What gets you out of bed in the morning?
Looking forward to another great day.
What's your passion in business?
Developing people and watching them grow.
How do you balance life and work?
I just make sure to not sacrifice either one for the other.
Last vacation:
Lots of great minis, but the last big one was earlier this year to Myanmar, an amazing country previously known as Burma.
Person I'd most like to have lunch with:
My best friend David Grieve who left this world before his time.
Management
Business philosophy:
Do the right things and the right things will happen.
Management method or style:
I allow people a lot of space to run their own areas of responsibility.
Greatest challenge:
All my salons are in California, the most litigious state in the union. Labor laws and workers' compensation are the bane of my existence.
How do others describe you?
Energetic, fair, and stylish.
One thing I'm looking to do better:
Be more organized and procrastinate less. Handling things just once would be a great step in the right direction for me.
How I give my team room to innovate and experiment:
I usually say no first because I'm an old dog, but actually I am always open to new ideas and ways to improve our operations. We usually test first rather than do a company-wide rollout.
How close are you to operations?
A lot closer the last couple of years than I was for the previous many years. A couple of very long-term senior management people left, and I have stepped back into the operations. Coincidentally, this all happened while I was in the process of moving from the Napa Valley to Southern California where my salons are, which made this transition much easier.
What are the two most important things you rely on from your franchisor?
Education and marketing.
What I need from vendors:
Fair prices and prompt delivery.
Have you changed your marketing strategy in response to the economy? How?
Not really. Hair cutting is somewhat recession-proof. People always need to get their hair cut. Yes, we lose some to home hair cutting when times get tough, but then there are those who have been going to higher-price salons and find out that they like us just fine.
How is social media affecting your business?
We would probably need to be more engaged to have it really affect our business.
How do you hire and fire?
Hire only the best available people, and fire very carefully after a lot of documentation. Remember, we are in California.
How do you train and retain?
We have an initial training program all stylists go through, and we follow up with quarterly seminars for all stylists. We always promote from within, and training for all levels of management is always going on.
How do you deal with problem employees?
Document, document, document.
Fastest way into my doghouse:
Have your facts wrong.
Bottom Line
Annual revenue:
$14 million.
2014 goals:
10% same-store growth over last year.
Growth meter: How do you measure your growth?
Same-stores sales.
Vision meter: Where do you want to be in 5 years? 10 years?
Constantly improving. Constantly growing.
Is capital getting easier to access? Why/why not?
We do not borrow. We finance from cash flow.
How are you handling rising employee costs (payroll, healthcare, etc.)?
So far raising prices, and working on better scheduling and efficiency.
How do you reward/recognize top-performing employees?
Performance-based bonuses for all employees, and incentive trips at the management level.
What kind of exit strategy do you have in place?
I am going to die in the saddle and let someone else worry about it.
Published: November 24th, 2014
Share this Feature
Recommended Reading:
Comments:
comments powered by

Disqus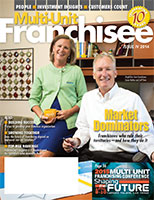 Multi-Unit Franchisee Magazine: Issue 4, 2014
Marco's Pizza is the nation's fastest-growing pizza brand* with 1,100+ stores and counting. It is America's No. 5 pizza brand based on annual...
Cash Required:
$286,852
Unlock success with Payroll Vault! A proven franchise offering top-tier software-based payroll & HR services. Your opportunity to lead in the...
Cash Required:
$100,000