Brand Loyalty: 18 Bojangles' In 18 Years And More On The Way For This Enterprising Pair
Kevin Archer has spent 18 years as a multi-unit franchisee with Bojangles' Restaurants in North Carolina. The Charlotte native knows how much Southerners love their chicken and biscuits. So does he: his favorite menu item is the Cajun fillet biscuit.

Archer also believes "You are what you eat and drink." As a proponent of a healthy diet and lots of exercise, he sees no conflict between his philosophy and his business. Even in today's increasingly health-conscious culture, he still sees Bojangles' as relevant and popular.

"We're successful because when people want to treat themselves, they still choose Bojangles'," he says, adding that the brand has widespread appeal. "We have stores in some white-collar neighborhoods, and we have some in urban, lower-income areas. Everybody likes our products. There's no need to develop anything new."

Archer had first seen Bojangles' success close-up when his sister, the first biscuit maker for Bojangles' in Charlotte, worked her way up to training director and helped open restaurants all over the U.S. Then, in the late 1980s, the corporation "got into a jam," says Archer, who recalls reading ads in the Wall Street Journal for "cheap" Bojangles' stores for sale.

At the time, he and his wife Leslie had been running a nursery for 10 years, following his stints in sales for a sign crafting business and as head of his own landscaping company. Their professional partnership at the nursery worked well, he says, because "her strengths are my weaknesses and vice versa."

The Archers decided to make the purchase. "The franchise, which is headquartered in Charlotte, pieced out the areas of town where the stores were doing the worst and offered them to us," he says. "It took us seven or eight years to increase the volumes, which were below average. We didn't have a single store doing over $1 million a year, but we had faith in the brand and in the simplicity of the business."

The upside? "We got an unbelievable deal with a reduction in royalties and no franchise fees to pay. The three of us are still around and we even renewed our 20-year agreements, which to Bojangles' credit, continued our original deals," he says.

Today, the Archers own 18 Bojangles' in the Charlotte area, each generating more than $1 million dollars in sales, and he serves on the brand's franchise advisory council.

The economy has made things tough at times, says Archer. "We've been through a couple of recessions, but this last one really did hit us hard. It scared me to death, but we already had plans and development agreements in place so we moved ahead. In the end, I believe it's all cyclical and that this is just a bigger dip that will take longer to come out of. We've tightened our belts in our existing stores, and every time we build a store, we pull back a little to let it mature."

His company is co-developing eight locations in the Charleston area with Bojangles' corporate officials, and the Archers expect to have a total of 23 restaurants in the Carolinas by year-end.

Spending some of their time in Charleston and the rest in Charlotte is the best of worlds for the couple. As for retirement, he says, "I don't think too much about that right now. We expect to keep going as we are for a while."
QUESTIONS
Name: Kevin Archer
Title: President/CEO
Company: K-BO, Inc.
No. of units by brand: 18 Bojangles' Restaurants
PERSONAL
Age: 49
Family: Wife and business partner Leslie; four grown children, 3 sons, 1 daughter
Years in current position: 13
Years in franchising: 20
Key accomplishments: Raising four kids into kind, responsible adults.
Biggest mistake: Thinking restaurant management would perform without middle management between me and them.
Smartest mistake: When a franchisor's store was going bankrupt, he called and offered it to me at a low price. We begrudgingly purchased it. Though we thought it was probably a mistake at the time, it turned out to be a great store.
How do you spend a day, typically? I check the results of our business and adjust our short- and long-term plans accordingly. I meet with department heads to discuss the results and delegate changes. I deal with budgeting, marketing, and operations updates. Part of my day is spent on developing future restaurants.
Work week: Usually five 10-hour days, but always on call.
Favorite fun activities: Spending the day on the beach.
Exercise/workout: Yoga and golf.
Favorite stuff/tech toys: The art that my wife and I have collected over the years. We favor Marc Chagall lithographs, and we also have some lapis lazuli sculptures that are heirlooms from a Chinese emperor's dynasty.
What are you reading? My Losing Season by Pat Conroy
Favorite quote or advice? You are what you eat and drink.
Best advice you ever got: Live, learn, love, and leave a legacy.
Formative influences/events: Reading at age 19, How to Wake Up the Financial Genius Inside You by Mark Haroldsen. It moved me out of pre-med into business.
How do you balance life and work? I plan my week as seven blocks. All aspects of my life are scheduled in those seven blocks. If something urgent comes up, I simply switch one block for another.
MANAGEMENT
Business philosophy: 1) People who work in the organization are the number-one priority and are key to the success of the organization. 2) Operate by "the law of the farm."
Would you say you are in the franchising, real estate, or customer service business? Why? The customer service business, because our focus is gaining regular customers every day to support all other systems. One hundred percent of the employees in our organization deal with customers every day.
What gets you out of bed in the morning? The love of life.
What's your passion in business? Developing people to become better than they thought they could be.
Management method or style: I teach the process. I give the plan. I am there for support. If you need more than that, you are wrong for our organization.
Greatest challenge: Keeping operations middle management focused on the current priorities. There is a lot you can get lost in working a restaurant.
How close are you to operations? I am head of operations.
Personality: I think I'm an introverted type who goes outside myself as needed.
How do others describe you? Passionate and driven to succeed.
How do you hire and fire? We hire with the aid of excellent software that matches applicants to our desired profile. We fire if they do not improve after we tell them they are not performing up to standard.
How do you train and retain? We develop and promote from within. There is a clear path to all levels of responsibility and pay.
How do you deal with problem employees? We counsel them one-on-one and give them an opportunity to correct their behavior. There are, of course, a couple of offenses that require immediate termination.
BOTTOM LINE
Annual revenue: $32 million
2010 goals: $38 million with the addition of four restaurants in the third and fourth quarters.
Growth meter: How do you measure your growth? Same store sales change.
Vision meter: Where do you want to be in 5 years? 10 years? In 5 years we want to be operating 35 restaurants while developing middle management into upper management. In 10 years we will be operating 50 restaurants under the watchful eye of empowered upper management.
How has the most recent economic cycle affected you, your employees, your customers? It has affected all of us identically. All of us have less money and benefits. Our habits have had to change to survive. A high percentage of our customers do not have a job.
Are you experiencing economic growth/recovery in your market? No, not yet, but we always have hope.
What have you changed or done differently that you plan to continue in the future? We've kept expenses lean. We found we do not need some of the services we were purchasing. We're holding everyone accountable for waste.
How do you forecast in today's economy? We take the last two weeks of same-store sales changes and average them. It has worked most of the time.
Where do you find capital for expansion? We have moved into "build to suit" mode with an established real estate investment company.
Is capital getting easier to access? No. Capital will never be as accessible as it has been historically. Greed has caused strict across-the-board credit changes. These changes are keeping even the most responsible borrowers out of play.
Have you used private equity, local banks, national banks, other institutions? We have had the most success with local banks. They were not pushing for volume at all costs before the economic recession and are not in the crisis that the national banks and institutions are. They are still providing the best, qualified borrowers with capital.
What kind of exit strategy do you have in place? We are working on that now.
Published: February 16th, 2010
Share this Feature
Recommended Reading:
Comments:
comments powered by

Disqus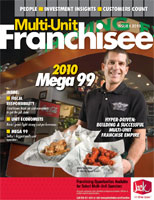 Multi-Unit Franchisee Magazine: Issue 1, 2010
Discover franchise opportunities with one of the world's largest chains of ice cream specialty shops.
Cash Required:
$100,000
Our core mission is to nourish, nurture and inspire healthy communities by giving back and creating value.