Brand Master Steve: Steve Greenbaum Aces the Transition to Home Care Services
Steve Greenbaum is well known in franchise circles. In 1992 he co-founded PostNet, where, as CEO, he led the brand's growth into a 660-unit global printing and marketing services company. In 2008 he served as chair of the IFA, among his many other roles with the organization over the years. And he was featured on Season 4 of the CBS television series "Undercover Boss," followed by a return appearance in 2014.
In the spring of 2017, PostNet was acquired by MBE Worldwide. For a time, Greenbaum remained involved as an advisor. In October, he was hired as CEO at ComForCare, a home care provider. In January 2019, he was instrumental in creating Best Life Brands, a new company that united ComForCare and At Your Side, two homecare providers, with CarePatrol, a senior placement franchise, under a single multi-branded service organization.
Greenbaum is adept at running brands, adapting to change, deploying new technologies, and building a talented team. Entering a new industry, he admits, came with a learning curve, as his background was in B2B services, not the home care or senior placement industries.
"I have surrounded myself with great people who are experienced in these industries and know how to move our business forward," he says. His goal, he says, is to create "a values-based culture and organization that offers upward mobility." To achieve this, he looks for team members who understand their roles and responsibilities, have a passion to succeed, and the ability to do the job well.
Brand growth has long been a motivational force for Greenbaum, dating back to his days at PostNet. Today he is focused on revenue and earnings growth for Best Life Brands and its franchisees. In addition, plans are for aggressive growth through the addition of new brands that fit the company's mission to serve older adults and people with diverse needs in a more effective and holistic way.
"We will be adding two more brands in the next year, and adding more locations for ComForCare, At Your Side, and CarePatrol," says Greenbaum. An investment from the Riverside Company in July 2017 will surely be instrumental in achieving that.
Name: Steve Greenbaum
Title: CEO
Company: Best Life Brands
Units: 350+ locations
Age: 57
Years in franchising: 26
Years in current position: 1.5
Leadership
What is your role as CEO?
I am responsible for all brands under the Best Life Brands family portfolio. This currently includes ComForCare, At Your Side, CarePatrol, and future add-ons and acquisitions. I also play a large role in the strategy and growth of Best Life Brands by identifying companies that fit the portfolio's objectives and participating in their acquisition. I am basically the chief leadership, growth, and influence officer.
Describe your leadership style.
Open, honest, transparent, and values-based. I have been told I can be a little intense, which I like to think of as passionate or driven, but never to the extent that it overshadows my ability to connect with or inspire my team. Through the years, I have learned not only to surround myself with great people but to empower and inspire them to reach their full potential.
What has inspired your leadership style?
Building a franchise company early in my career that endured economic downturns, changes in technology, and fierce competition over several decades has shaped who I am today. Building relationships and trust, leading a company through difficult issues, especially when they involve change, requires being genuine, open, honest, and transparent. When people believe in, connect with, and trust you, that goes a long way in achieving your goals.
What is your biggest leadership challenge?
Like many leaders, my biggest challenge is finding and retaining great people. I truly believe the answer to that challenge is operating with a values-based culture and organization that offers upward mobility. People want to be a part of an organization that matters, that is moving forward, that believes in them, and that does the right thing.
How do you transmit your culture from your office to front-line employees?
You begin by permeating the organization with your values and using them as a screen when hiring, firing, recognizing, and rewarding team members and franchisees. When you live your values fiercely, people will naturally be attracted to them and will share them because they believe in them.
Where is the best place to prepare for leadership:
an MBA school or OTJ? I think everyone should go to college and an MBA school would be great, but that doesn't always work for some people based on circumstances--like me, for example. Franchising is a people and relationship business, and while basic business principles most certainly apply, there is a human element that requires a need for a "walk in their shoes" attitude and mentality. Things are different when you are responsible for advocating decisions that affect real people, their investments, and their families.
Are tough decisions best taken by one person?
How do you make tough decisions? Tough decisions are best considered and taken on by a leadership team. A collaborative approach to problem-solving and decision-making leads to team buy-in and supports a values-based culture. That being said, there are times when a leader has to make a final decision. When that happens, I must consider all the available information and make the best choice possible, drawing on my years of experience, intuition, and values.
Do you want to be liked or respected?
I would choose respected first because of the huge responsibility that has been entrusted in me. You can't demand or command respect, you have to earn it. Being likeable is an admirable and important trait as long as you have earned the respect. Who would you rather go into battle with, someone you like or someone you respect?
Advice to CEO wannabes:
Be purpose-driven and serve the greater good along the way. Aspiring leaders also need to surround themselves with successful people they can learn from, and/or identify mentors to improve their knowledge and skills. I truly believe this made all the difference for me in my career.
Management
Describe your management style:
Collaborative, engaging, purposeful, and deliberate.
What do you think makes up a good management team?
A good management team challenges those around them. They are not afraid to embrace healthy conflict, challenge the status quo, or take risks when all things have been considered. You also need to ensure you have the right people in the right seats. They have to fully understand their role and responsibilities, passionately want to succeed in that role, and have the natural-born ability to do the job well.
How does your management team help you lead?
By teaching me more about the industry and about myself. My background was in B2B services, not home care or senior placement or anything along the lines of what we are currently building. I have surrounded myself with great people who are experienced in these industries and know how to move our business forward. They are also not afraid to ask tough questions or help drive conversations that get to the core of an issue.
Favorite management gurus: Do you read management books?
I'd have to say Gino Wickman has been in my life for many years through the EOS platform. Traction and related books have laid the foundation for our company's operating system.
What makes you say, "Yes, now that's why I do what I do!"?
When I see people's lives changed for the better, that's when I'm reminded of why I do what I do. Throughout my years in franchising, I've watched people find success, serve others, put their kids through college, build equity for their retirement, and find their purpose. I decided to take on my new role because I'm passionate about serving people, and I get to watch people "live their best life possible" every single day.
Personal
What time do you like to be at your desk?
I am usually at my desk around 8 a.m.
Exercise in the morning? Wine with lunch?
I exercise in the morning 4 to 5 days a week and never have wine for lunch! I do love wine though, and am a co-owner of Brilliant Mistakes Winery in Napa Valley with my good friend and mentor Doc Cohen.
Do you socialize with your team after work/outside the office?
Yes! I make it a priority to have dinner with individual members of my leadership team and their spouses or significant others a few times a year. It allows us to get to know each other better and keeps us connected as people, not just co-workers.
Last two books read:
How To Be a Great Boss by Gino Wickman and René Boer has some powerful insights. Next on my list is Radical Candor by Kim Scott.
What technology do you take on the road?
Apple is my chosen platform and I take a laptop and cell phone.
How do you relax/balance life and work?
I am an adrenaline junkie. I love to scuba dive, ski, ride motorcycles, and participate in endurance athletics. I am also a private pilot. All of these require discipline and focus in the moment, which doesn't leave much room for anything else. Some people meditate or do yoga. I like that as well, but really enjoy pushing my limits and capabilities for clarity. That's my version of mindfulness, and I believe mindfulness is critical to self-awareness, making good decisions, and fostering creativity.
Favorite vacation destinations:
Grand Cayman (diving), Paris, and Tuscany.
Favorite occasions to send employees notes:
I need to do a lot better at this. With G Suite, instant messaging, pop-up meetings, and regular collaboration, I tend to be communicating so much that even I forget to use this important touchpoint. I believe birthdays, anniversaries, and other special occasions are worth recognizing and are an important aspect of our company culture.
Bottom Line
What are your long-term goals for the company?
To create a platform company that serves people across what's known in this industry as the "Continuum of Care." I am focused on growth in terms of revenue and earnings for our brands and franchisees, adding more franchises in terms of locations and brands to support our multi-brand strategy, and continuing to enhance our value and value proposition.
How has the economy changed your goals for your company?
The economy rarely changes goals; it typically changes strategy. If the economy throws us a curve or an opportunity, we need to revisit our strategy to determine how reliant it may or may not have been on the economy and adjust accordingly.
How do you measure success?
For me, success is measured by how it was originally defined as an outcome, or as how an individual sees success as it relates to their own particular goals, desires, or needs. I start with what success would look like in any endeavor and measure accordingly.
What has been your greatest success?
You might expect me to say this, but my greatest success is the three beautiful children, Joshua, Brandon, and Alexandria that my wife Sonia and I have raised, and our enduring marriage of nearly 25 years. After that, I would say the lifelong friendships and relationships I have forged through franchising, from other franchise executives and professionals to franchisees.
Any regrets?
We all have regrets and wouldn't be human if we didn't. It's how we channel those regrets into learning experiences and do better going forward. We can't change the past, but we can create profound change in the future.
What can we expect from your company in the next 12 to 18 months?
You can expect Best Life Brands to continue to experience significant growth, and you can expect to hear a lot more about it in the weeks and months to come. In the next 12 months, we will be adding two more brands to our growing brand family, as well as more locations for ComForCare, At Your Side, and CarePatrol.
Published: July 6th, 2019
Share this Feature
Recommended Reading:
Comments:
comments powered by

Disqus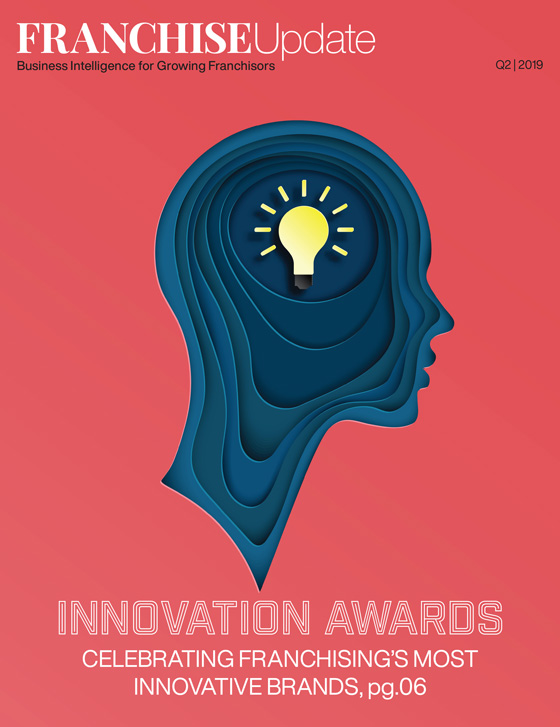 Franchise Update Magazine: Issue 2, 2019
919 Marketing Co. is a national content marketing, PR and social media agency serving franchise brands. Our proprietary social relations approach...
MSA provides domestic and international franchise advisory services to franchisors and companies seeking to establish franchise and licensing systems.