Building a Billion-Dollar Brand: Wingstop's Global Growth Appears to be Unstoppable
Charlie Morrison wasn't looking for a new opportunity. He was already at the helm of Pizza Inn and was the driving force behind the brand's innovative Pie Five concept. But in June 2012, he couldn't turn down the opportunity to take the reins at Dallas-based Wingstop, which he says offered him the chance to run a larger, growing company in an expanding market space.
Wingstop now has more than 650 restaurants worldwide and signed commitments for more than 500 more, the most in the brand's history. In 2013, the company notched its 10th consecutive year of same-store sales increases (9.9 percent), and domestic AUV rose to $974,000.
"In fact, over the past 2 years, our same-store sales have grown 23.6 percent," says Morrison. "That is almost unheard of in the fast-casual segment and certainly for chains our size, and we expect the strong momentum to carry forward this year."
Morrison has spent more than two decades in the restaurant industry. Before taking over as president and CEO of Wingstop, he led Pizza Inn for 5½ years. Before that, he was president of Steak and Ale for 2 years, and before that held management positions at Kinko's, Boston Market, and Pizza Hut.
Wingstop is part of Roark Capital Group, the Atlanta-based private equity firm that owns dozens of franchise brands including Massage Envy, Auntie Anne's, McAlister's Deli, and Schlotzsky's. Morrison says Roark's approach to partnering allows him to call the shots, drive the strategy, and define the growth plan for the brand.
One of the things that has excited Morrison at Wingstop is the opportunity for international expansion. So far, the brand has crossed borders to Mexico, Russia, Singapore, the Philippines, and Indonesia, and has plans to enter the United Arab Emirates.
This summer, Wingstop opened the first of 50 planned locations in the Philippines and the first of 100 planned for Indonesia. Add close to 100 new restaurants the company projects to open this year, and Wingstop is on pace to set yet another record for growth. But it's what happens past opening day that keeps the business humming.
Morrison knows that for a brand to have continued success it must offer its franchisees ongoing and consistent corporate support, marketplace differentiation, and sales momentum. As the company celebrates its 20th anniversary this year, Morrison is not only looking back at where the brand has come from, but also ahead to where it's going.
"We will continue investing in our brand and in technology to make our brand more accessible to our guests and our operation even easier to execute for our franchisees," he says. "If we do that well, we will have no problem becoming a billion-dollar brand."
Name: Charlie Morrison
Title: President and CEO
Company: Wingstop
No. of Units: 650-plus
Age: 46
Family: Married, 4 children
Years in franchising: 20-plus
Years in current position: 2
Leadership
What is your role as CEO?
To set the vision for our company and shape the strategy that achieves that vision.
Describe your leadership style.
Open, honest, straight shooter who leads by example and challenges the status quo.
What has inspired your leadership style?
All of my experiences in my career, watching people and modeling what to do and avoiding what not to do.
What is your biggest leadership challenge?
Today it is being a change agent in a company that has had many years of industry-leading success, yet needs to adapt to the demands of being a billion-dollar brand.
How do you transmit your culture from your office to front-line employees?
Leading by example. Not being afraid to jump in and work in any situation. I always strive to be genuine and real at every level of the company.
Where is the best place to prepare for leadership: an MBA school or OTJ?
There is no substitute for being in the middle of a real-life scenario in business. You cannot model in a classroom all the possible downstream challenges we face every day in business.
Are tough decisions best taken by one person? How do you make tough decisions?
I strive to bring as many people as necessary into decisions we make. It depends on the decision. We work to make every decision with clarity, not certainty. There are rarely opportunities to make a decision with complete certainty, and trying to do so leads to paralysis for the company.
Do you want to be liked or respected?
Both. You can achieve both if you are transparent and balanced in your approach.
Advice to CEO wannabes:
Take the time to learn the business inside and out. Don't assume you know it until you roll up your sleeves and work it yourself in every aspect of the company so that you have an educated perspective from which to work. Get to know people at every level of the organization and establish relationships. The best feedback comes from the front line.
Management
Describe your management style:
I work collaboratively with my team. We work together to define our strategy. Then I empower them to implement, and get out of their way. I also try to be out in the business rather than in my office, traveling to visit our franchise partners and see the business operate.
What does your management team look like?
It's a typical structure, with senior leaders in each discipline of operations, technology, development, marketing, finance, supply chain, and international.
How does your management team help you lead?
We lead as a team. We work together to make decisions, and most decisions are made by the group. This approach allows me to get a variety of perspectives on issues and sharpens our decision-making.
Favorite management gurus: Do you read management books?
I'm a fan of Patrick Lencioni's leadership fables. David Novak's Taking People with You is a great read too.
What makes you say, "Yes, now that's why I do what I do!"?
On a plane, when someone asks me what I do and I respond, "I work for Wingstop" and they say, "I love that place!" Or when I search for Wingstop on Twitter and see how many people are anticipating an occasion with us after school or before a big game.
Personal
What time do you like to be at your desk?
Only when necessary.
Exercise in the morning? Wine with lunch?
Coffee with my wife in the morning on the patio every day, rain or shine. Lunch usually with my team. Exercise comes with working in the yard and gardens with my wife.
Do you socialize with your team after work/outside the office?
Yes. It's nice to unwind and have opportunities to learn more about the lives of your team.
Last two books read:
They Said It Couldn't Be Done by Coach Bill Snyder, and currently David and Goliath by Malcolm Gladwell.
What technology do you take on the road?
My iPad mostly, and laptop if I have a lot of work to do; iPhone and a pair of headphones for music and everything else.
How do you relax/balance life and work?
Spending time with my family. Golf, fishing, hunting, gardening, beach, lake, lying by the pool--anything we can all be doing together.
Favorite vacation destination:
Beach house in Seagrove Beach, Fla.
Favorite occasions to send employees notes:
Every time I travel, I try to send a personal note of thanks to our field team and franchisees for all they do for our business and taking their time to help me understand the business better. I think handwritten personal notes go so much further than an email or text!
Favorite company product/service:
Louisiana Rub flavored bone-in wings!
Bottom Line
What are your long-term goals for the company?
To become a billion-dollar brand. We know the objective and are well on our way!
How has the economy changed your goals for your company?
We have weathered economic challenges well by keeping our offering and operation very simple.
Where can capital be found these days?
For our business, just about anywhere. SBA or conventional loans are great resources for growth at Wingstop.
How do you measure success?
Feedback from our franchisees and our team. Happy and engaged franchisees and team members will lead to success on the P&L.
What has been your greatest success?
I have been truly blessed with a great career. I could not have done it without the best wife and family in the world supporting me all the way. I am a very lucky man.
Any regrets?
None.
What can we expect from your company in the next 12 to 18 months?
You will see us open more than 100 locations per year, expanding beyond six countries into new international markets. We will deploy a new prototype restaurant and will continue to invest in technology to make our brand more accessible to our guests and our operation even easier to execute.
Published: February 26th, 2015
Share this Feature
Recommended Reading:
Comments:
comments powered by

Disqus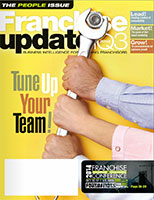 Franchise Update Magazine: Issue 3, 2014
Conferences
InterContinental, Atlanta
OCT 18-20TH, 2023
From lead generation to increasing sales, Hot Dish Advertising is the pro at getting your message in front of those who matter most--consumers...
Slick Marketers is reinventing franchise marketing with a hyper-customized and ultra-localized marketing approach with measurable results and growth...