Built for Growth: Kahala's 13 Brands Are On The Rise--With More To Come
Kahala Corp. moves fast. When we first spoke with Chris Prasifka in late March, he was executive vice president to the CEO. Two weeks later he was president of Kahala Franchise Corp.--and charged with leading the franchisor and its 13 brands from 4,600 units to 10,000 units by the end of 2010 (an average of 170 units every month for 32 months).

Kahala is among the increasing number of franchisors offering multiple brands under one roof (see page 22 for more). So how will this $1.1 billion franchising superstar maintain the integrity, culture, and growth of its current and future brands? According to Prasifka, it's not that complicated--though it has taken 20 years of fine-tuning to develop the current structure.

"We anticipate acquiring more brands to grow our portfolio in the coming years, as well as growing our existing concepts, and even developing new concepts," says Prasifka. International expansion will play a large role in attaining its growth target. One example: 700 Cold Stone stores internationally by the end of 2010, with 120 new units in 12 countries by year-end 2008.

Kahala also has a 14th brand, Wafflo, which it's franchising internationally and offering as a product to its franchisees in the U.S. without a franchise fee. "We're testing it this summer in some of our Cold Stone Creamery locations. And it's a great product to sell at sporting events, so we're also testing selling it out of carts in those type of venues. We don't look to at this time grow it domestically as standalone stores like the rest of our brands," says Prasifka.

How they do it
To keep ahead of the competition in the race for QSR market share, Kahala keeps its brands separated within the company. In terms of servicing and support, each brand runs as an independent company.

"We've created brand silos," says Prasifka. While most companies have worked to break down silos, Kahala uses them to preserve what is unique in each brand. This doesn't preclude communication between brands--they do share best practices and back-office functions. "We all work out of the same building, and the brand presidents and marketing directors are very much in close contact," he says.

"We believe our franchise community benefits from economies of scale through increased purchasing power and real estate leverage, as well as marketing and training expertise," he says. However, he emphasizes, it's important that each brand lives within its own brand silo. "You don't have marketing issues and attitudes blending from one brand over to the next. Each brand is able to keep their own personality in this fashion--and grow."

Says Prasifka, "We invest the money to make sure that we have dedicated teams--from a brand president to their own sales department, marketing group, operations services, R&D, training, distribution folks, real estate, and pre-opening teams."

With about 250 people at the company's Scottsdale, Ariz., headquarters, this is not cheap, but it's worth it--and the company's results speak for themselves. "That is a big expense on the part of the company. But our vision is to grow the brands we acquire," says Prasifka.

Past experience has taught him the hazards of focusing too much on structural efficiencies. "If you try to create too many saving synergies and have the same field people and the same marketing people servicing multiple brands, the brands lose their identity and their focus and become more of a product than a concept and a brand," says Prasifka.

"In my past lives, I looked to get more synergy and combine brand teams more, and I found that to grow the brands the way we want they've got to have their own personality and a passionate team behind them," he says. "I've been down this road a few times and made a lot of mistakes. At one point I was with a company and we had seven brands. We had the same field team going into each of the stores doing QSCs. They got to a point they didn't even know what store they were in by the time they finished the report."

What it looks like
Half of the brand presidents report directly to a chief operating officer and half report to Prasifka. The role of Kahala's department heads (such as vice president of sales), he says, is more as a coach to the brand presidents and their sales teams on best practices they're seeing in the other brands; and setting policies and procedures--for example, having a consistent process for selling franchises across all brands.

In the field, Kahala has its own fleet of regional directors of operations (RDOs) in the U.S., each responsible for approximately 35 franchise locations. "They help them with training, rolling out new products and programs, and making sure they maintain standards to the expectations," says Prasifka.
Kahala also has a strong area developer system, with approximately 100 ADs across all its brands. "They play a very important role in selling and servicing our franchisees," he says.

And while it's not a requirement, Kahala prefers its area developers to own a store before selling franchises. "That's the ideal model," he says. "For them to be the support role to the franchisees, we feel more comfortable if they are actually operators themselves."

Sixty percent of Kahala's franchisees are single-unit owners, 25 percent have two locations, and about 15 percent have 3 to 10 locations. Prasifka says these percentages are fairly consistent across all its brands. "Do we have a preference or a strategy to go after one particular group? I would say we're open whenever we look at developing out a market."

A number of franchisees also own more than one brand, a Taco Time and a Great Steak, for example. Some co-brand, adding a Surf City Squeeze to a Samurai Sam's, for example. "That's been one of the things the franchisees really like about being part of the Kahala family: that they have so many different co-branding opportunities right within the company," says Prasifka.

Smooth integrator
"There are elements of the culture that we believe are very important--they're the essence of the brand. So we want to be very protective that we don't change the culture. That's why we create the brand structure in the way we do," says Prasifka.

When Kahala acquires a new brand, he says, there's often a fear they'll become part of a big organization and lose their focus. "We give them the comfort level right away how much we appreciate what they have done to help build the brand and how we want to protect that, and it gets everything off on the right foot."

Still, there is the problem of inheriting existing structures. "As you acquire brands, every franchise offering circular and franchise agreement has its own nuances, and so with 13 brands we have a lot of variations of franchise agreements. As the old documents come up for renewal or transfer, we convert them over to our one Kahala document," says Prasifka. "As time goes by, we're finding it becomes rather smooth once we have them all in the same document. It hasn't been an issue."

Looking ahead to 2010 and how to attain the goal of 10,000 units, Prasifka says, "We want to grow the brands. We want to protect the integrity, the vision, and the passion of the founder of each of these brands, and we find the best way is to dedicate the resources against each brand to keep that intact. We find that is one of the biggest challenges of being a multi-brand operator."

And to others in the multi-brand franchising business, "Don't put cost savings ahead of maintaining brand integrity and brand culture," he says. "We invest the dollars and the resources to have this type of brand structure to ensure that the individual brands don't lose their unique identity, while still benefiting from being a part of a larger franchise community."

Company Profile
Kahala's current QSR brand portfolio includes Blimpie, Cereality, Cold Stone Creamery, Frullati Café & Bakery, Great Steak & Potato Co., Johnnie's New York Pizzeria, NRgize Lifestyle Café, Ranch1, Rollerz, Samurai Sam's Teriyaki Grill, Surf City Squeeze and Taco Time. Its 3,000 franchisees have 4,600 units in 15 countries and racked up $1.1. billion in systemwide sales in 2007.

Growing the Brands
There are three basic ways existing franchisees can add other Kahala brands. Each comes with varying financial incentives for the franchisees:

1) Product offering - takes the signature products from a different Kahala brand and makes them available at an existing location. A stunning example: in May, NRgize smoothies were introduced in the nearly 1,400 Cold Stone Creamery locations across the U.S. Prior to that, NRgize was in only 50 LA Fitness sites.
"What an opportunity to grow that brand!" says Prasifka. "We don't have to go in and build a whole co-brand to get their product into the Cold Stone franchise."

2) Co-branding - combining two or more brands under one roof, each with their own separate brand identity, menu boards, etc. Kahala is testing this in Phoenix, near its Scottsdale headquarters, with a co-branded Cold Stone Creamery and Cereality.

"For these two brands, co-branding was a natural fit to test," says Prasifka. "We won't introduce co-branding or product introductions that don't make sense strategically, but we will continue to explore these opportunities."

3) Co-tenancy - two complete, full-menu brands operate on the same real estate, but with separate entrances and a dividing wall between them. They share a kitchen and perhaps other back-office space, but to the customer they appear as separate brands. This is a new idea for Kahala and several co-tenancy locations are expected to open this year.
"Any time we can look at opportunities to build a brand and give the franchisees new products at the same time, it's a win-win," says Prasifka.


Published: June 15th, 2008
Share this Feature
Recommended Reading:
Comments:
comments powered by

Disqus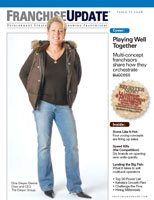 Franchise Update Magazine: Issue 2, 2008
In 2022 Empower Brands emerged when Lynx Franchising and Outdoor Living Brands united. Empower consists of JAN-PRO, Intelligent Office, FRSTeam,...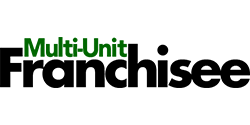 Published quarterly, Multi-Unit Franchisee Magazine is dedicated exclusively to Multi-Unit Franchisees. It delivers vital information and business...