Calculating Success: Using Break-Even Analysis to Plan Growth
For many businesses, growth often means a physical expansion of an existing store or the opening of additional stores. Is it worth the cost? There are two parts to the answer: finance and marketing. The financial analysis answers the question, "What do we need?" The marketing analysis answers the question, "What will we get?" To get our arms around the analysis requires an extension of my "break-even" discussion in the previous issue.
Let's look at how the big guys do it. Suppose a large quick-serve franchise is looking at a new location. By knowing accurately their fixed and variable costs, they can calculate a break-even sales volume level. With thousands of existing outlets to use as models, they know their costs to the penny, exactly what they need to invest, and their target return on investment. They can then calculate the required profit. Then, considering the target profit as "fixed" (the cost of money) they can easily calculate the required sales to cover the costs and supply the necessary profits--and the answer to the question, "What do we need?"
At the same time, the marketing folks analyze the target market area so they can accurately predict sales, or "How much will we get?" Next, the marketing and finance people put the puzzle together. If what they will get is greater than what they need, it's a go. The other way around, and it's a no-go.
As an example, let's assume my client wants to open another outlet. By the way, the line of business doesn't matter: hair salons, quick-service restaurants, or quick lube shops--the analysis is no different. We begin by figuring the fixed costs (the costs that neither rise nor fall with sales) to be $250,000 per year.
Next, we calculate the variable cost percentage (the costs that rise and fall proportional to sales) to be 60 percent. After evaluating all the relevant factors, we determine the investment costs to be $1 million. Given the level of risk involved and other investment options available, we settle on a required ROI goal of 20 percent.
Using our break-even formula, we determined the profit goal to be $200,000 per year. We plug these numbers into our break-even formula to get the targeted sales.
Facts
Fixed costs = $250,000
Variable cost percentage = 60%
Contribution margin = 100% - 60% = 40%
(Contribution margin is whatever is left over from each dollar of sales after taking out variable costs.)
Target profit = $200,000 (20% x $1,000,000)
Formula
Required sales = Fixed Cost + Profit
Contribution Margin
Calculation
$250,000 + $200,000 = $450,000
100% - 60% = 40%
$450,000 ÷ .40 = $1,125,000 required sales
With a variable cost percentage of 60 percent, my client must achieve sales of $1,125,000 to cover fixed costs and produce the target profit. Her comment to me: "That sounds okay, but can I do it?"
After conducting a market analysis, my client determines she needs at least a 50 percent share of the market in her potential new location, a share not likely in a small market where she's unknown and all three competitors are known and well-established. She decided instead to focus on building profitability, sales, and cash flow in her existing location.
Admittedly, the process isn't perfect, and the risks are several: only doing half the analysis, being wrong anyway, and not evaluating whether the growth is accomplished at the expense of increasing levels of debt. Nevertheless, the process is better than proceeding blindly; sometimes it's most useful in predicting what won't work, rather than what will.
Who can use this expansion analysis process? Anyone. For any kind of growth--be it expansion of an existing location or the opening of additional locations. A sales analysis is only half the story. An accurate knowledge of your costs and how they behave is really "the rest of the story."
Steve LeFever is the chair of Business Resource Services (BRS). For over 10 years franchisors and franchisees have improved their financial performance by following the BRS Profit Mastery process: financial training, performance benchmarking, and accountability/bankability modeling. Contact him at 800-488-3520 x14 or lefever@brs-seattle.com.
Published: September 20th, 2010
Share this Feature
Recommended Reading:
Comments:
comments powered by

Disqus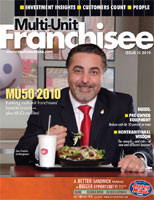 Multi-Unit Franchisee Magazine: Issue 3, 2010
L&L Hawaiian Barbecue has grown to become the leading Hawaii-based restaurant franchise, consistently appearing in national franchise and restaurant...
Cash Required:
$200,000
Build a Future with the Computer Service Industry Pioneers. NerdsToGo is paving the way as innovators, entrepreneurs, franchisees, and successful...