Can You Handle the Truth?
Jeff Johnson's FranSurvey takes the temperature of franchisees

In 1991, Jeff Johnson wife Carol were successful multi-unit franchisees for Schlotzky's deli. They had three units of their own in Lincoln, Neb., and area developer rights for a five-state region in the upper Midwest.

Then came major problems between franchisor and franchisees, and a battle waged in courts that ended in Schlotzky's bankruptcy in August, 2004.

At the time of its bankruptcy, Schlotzky's was still being touted in various lists as a good franchise investment, and Johnson thought that there ought to be a way for franchisors and potential franchisees to get the truth about a system.

As a result, he started FranSurvey, a unique, web-based and transparent measurement of franchisee attitudes toward their franchisors. In a few years, FranSurvey has matured into a useful tool for franchisors and potential franchisees.

Most buyers looking for a franchise are given a list of franchisees by the franchisor, with carte blanche to contact any or all of them. Given that there might be several hundred, or several thousand, on the list, it's a formidable job even to check a small percentage. As a result, most buyers don't contact any significant portion of the list.

Add to that the interruption the franchisee has in answering the questions-no matter how willing he or she might be-and you have a situation that calls for a solution.

"We're trying to do that Consumer Reports type of evaluation so they can cut down that process and get their hands on that information in a much more complete format," says Johnson. "We contact every franchisee and complete surveys with 75% of them. We've completed far more interviews than the prospect would ever do."

The right questions
Surveys are conducted first through the Internet site www.fransurvey.com. "We use pass codes so the franchisee enters that, and then everything by numbers from then on," says Johnson. "The franchisor gets back summary information. No one finds out how an individual franchisee responds."

Johnson's surveys ask questions that are logically the ones buyers would want to ask: "Knowing what you know now, and if you had it to do all over again, how likely would you be to buy this franchise?"; "Knowing what you know now, how likely would you be to recommend the purchase of this franchise to a close friend or family member?" There are also agree/disagree statements like "My franchisor and I are committed to a positive, long-term relationship"; "My franchisor is a competent, skillful organization which I rely on for help"; "My franchisor is able to solve conflicts with franchisees effectively."

Franchisors have been quick to see the value for themselves in this. Johnson promises not to sugar-coat the results. He posts on his website the positive remarks and the percentage scores to the questions. But he also gives the franchisor the critical remarks separately. For many franchisors, that has been invaluable as a way of measuring franchisee sentiment and correcting potential problems.

Richard Simtob, VP of franchise and real estate development for Michigan-based Wireless Toyz, says the information he got from Johnson was "Fantastic. I thought it was a great way to find out what my franchisees think of me. It changed our attitude on some things."

For example, Simtob believes that he communicates well with the franchisees, but there were still some who thought not. "People thought we were maybe not taking their input into consideration, even though I know I do. I felt I had to do a better job."

Third-party-certification
Anyone who wants to see what is said about one of the franchisors has only to sign up on the FranSurvey website and pay $24.95 to examine the results.

"We want people to learn as much about us as they can to make sure it's the right fit," says Dawn Eisenzimer, director of new franchise development for Great Harvest Bread Company. And she likes the idea that it's handled completely outside so that the results are clearly impartial.

"There's more credibility when it comes from our owners rather than from us," she says. "FranSurvey has been a great tool because it gives us a lot of credibility. Jeff [Johnson] doesn't sugarcoat it."

Montana-based Great Harvest was one of the first to make use of the surveys. She considers it particularly helpful because Great Harvest gets 400 applications a year and only offers 24 franchises. "It's just been so helpful for our people coming in."

"The franchise companies let us know how effective they find it," says Johnson. "It's really a great opportunity for the high quality franchisors to be able to demonstrate what a great job they're doing."

"The results help us look at things we should be doing differently," says Eisenzimer. "The franchisees like to see it-we send it out to all of them- and the comments I receive back are 'that's great, keep doing it.'"

Certifying franchisors
FranSurvey has recently begun a program called "Franchisee Approved." There are, Johnson says, seven crucial questions that apply to all franchises in every industry. In order to be approved, the franchisor has to get a positive score on those seven questions from at least 66% of its franchisees.

The companies that meet this standard are listed on the website.

Obviously, no one wants to have poor results spread all over the Internet, and Johnson allows that a large number of companies don't choose to publish their results-at least not at first.

"Probably 40 percent of the companies don't publish," he says. "They go back and work on it and then resurvey, and if the results are good then they publish."

Often, franchise companies use the surveys for internal purposes: "Sometimes they want to do a completely confidential survey and give every franchisee the opportunity to have a voice. Most companies do that anyway. When we get all the data back, then they go back to work on the problem areas. If it's good, then they use it for prospects, because there aren't any secrets anyway."

"The criticisms were very valuable," says Doug Dwyer, President of DreamMaker Bath & Kitchen by Worldwide. "If you don't use it for sales, it's worth the survey alone. It helped clarify issues. "We've been making a lot of changes and we're moving in the right direction. With some of less glowing comments, we knew some people weren't happy with the changes we'd made."

Dwyer's use of the survey is fairly recent-the results have only been live for a few months. "We feel it's a good thing, and we have actually partnered with FranSurvey on several of their ads in franchise opportunity and handbook publications, so we're one of eight companies that have business-card-sized placement on their ad."

Johnson calls franchisors who know there are problems and still do the survey "courageous."

"They know they're in a little bit of water and want to find out what the issues are and get them fixed. The only hesitation they have is whether the water is an inch or a foot or a mile. That's why they need this completely confidential way of finding out. When those executives are in a meeting and things aren't going well and they're begging for input and nobody says anything, they need an avenue that's not overly expensive where they can get honest feedback on those key areas."

Johnson is aware that his company is still in the early stages. He's completed surveys for upwards of 100 franchisors, so there's a huge universe of franchisors out still untouched. Can they handle the truth?

Published: November 1st, 2005
Share this Feature
Recommended Reading:
Comments:
comments powered by

Disqus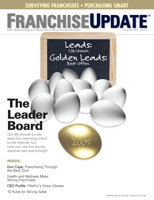 Franchise Update Magazine: Issue 3, 2005
Conferences
InterContinental, Atlanta
OCT 18-20TH, 2023
April 25 - April 28, 2023, Caesars Forum, LV. The Multi-Unit Franchising Conference is the premier annual event for the country's leading...
Leasecake is location management made easy – from lease contracts and licensing agreements to ASC 842 compliance. Never miss a deadline, stay ahead...