Challenge the Pros: Reach and Engage Targeted Franchise Prospects with Tailored Communications
How do you tailor your communication to reach and engage with your targeted franchise prospects?
Ed Yancey,
Director of Franchising,
PizzaRev
Tailoring communication to reach prospects effectively in today's environment is more multifaceted than ever before. To simplify the process, the first step is to plan ahead and make sure you have developed consistent and on-brand messaging that communicates your franchise opportunity and incentives properly.
Next, tweak and tailor that message to make sure you have variations that appeal to different audiences. Understand that all prospects communicate differently. Being prepared to answer any and all questions about your opportunity is key to successful conversations.
For instance, have a specific message that will appeal to a multi-unit investor. If you're in the restaurant sector, have one that would spark the interest of an entrepreneur with significant restaurant management experience. Localize these conversations as well. But always remember that a consistent, on-brand message should be the common thread in all your conversations.
As we know, in today's marketing and communications mix you can't forget about your online and social media presence. Building opportunities for several multimedia touchpoints increases your visibility and chances of attracting prospects. When it comes to social and digital media, craft "snack-sized" tidbits of information that draw in people who may not be familiar with your brand. These should inspire them to want to learn more. And, while all of these elements should be aligned in terms of messaging, also make sure they're localized and tailored to specific audiences.
Finally, be authentic. There's a dearth of authenticity in business across the board today. Don't fall victim to it. Be honest about your brand and what you bring to the table for prospects. Remember that you should also establish whether they're a good fit for your brand. The conversation should always go both ways.
So, while all of the above are important --planning ahead, crafting consistent and authentic on-brand messaging, tailoring content for specific audiences, and setting up several touchpoints across digital and social media--none of it can happen without the right team.
Spending time to assemble the right team to execute your strategy and go to market effectively is the most fundamental aspect of communication. Ensuring that the people who are speaking with prospects have a soup-to-nuts understanding of the franchise opportunity--including subjective and objective details--sets apart the winners from the losers.
Scott Walker,
CEO,
Screenmobile
When you start a conversation with a prospect, one of the first things to establish is why they're considering buying a franchise, and what in particular about your brand caught their attention. Make it your mission to uncover the true motivation behind their interest in becoming a franchise owner.
Are they coming out of the service and returning to civilian life? If so, then share details on your brand's processes and systems that could resonate with them. If the prospect has been recently laid off, share statistics and background on the stability that being a franchise owner offers. If they're an executive and enjoy managing a team, share how your concept lends itself to growth and the possibility to manage several locations and a large team.
Finally (and we get this one a lot!), maybe they're tired of a 9-to-5 schedule or working long hours at a desk job. If that's the case, talk up the ability to set their own hours and have control over their schedule. This also resonates with family-oriented folks looking to spend more time with their loved ones.
The personal touch, as outlined above, is integral to tailoring communication with prospects. But the next thing you need to establish with prospects is what your brand stands for, and effectively communicate your core values. I urge you to not falter on this. Do not deviate from or massage your message to appeal to a prospect you may think is a candidate. Realize your brand may not be a fit for everyone, and that's okay.
Here's the thing: If you aren't true to your brand and honest from the get-go about what you can offer franchisees, you aren't playing the long game. In the long run, you want franchisees who respect, value, and believe in what your brand stands for. Without that, you'll never achieve brand consistency--which, as we know, is key to a franchise system's success.
Brian Knuth, from our development team, said it best: "It's key to go through the process of articulating the brand and expressing what we can and can't fulfill. We also hit the trigger point of what may have piqued their interest initially. But at the end of the day, franchisors have to live up to their commitment to franchisees--that is the product, and it needs to be quality. If you can back that up, describe the brand, and personalize your pitch just a bit, you have a winning formula."
Published: March 23rd, 2019
Share this Feature
Recommended Reading:
Comments:
comments powered by

Disqus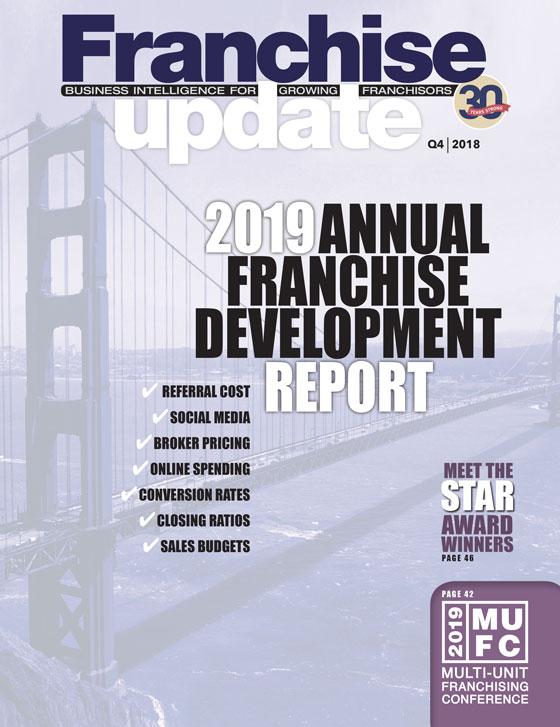 Franchise Update Magazine: Issue 4, 2018
Tiger Pistol, the world's leading collaborative advertising platform, connects the power of brands with the knowledge and credibility of their...
Atmosphere TV is the world's leading cable alternative, providing free streaming TV for businesses.