CMO Roundtable - Keys To Improving Franchise System Response For Existing Franchisees and Customers
From a marketing perspective, what are the keys to improving franchise system response for existing franchisees and customers?
Nikki Sicilian
Director, Marketing and Development
Buffalo Wing Factory & Pub
At Buffalo Wing Factory & Pub, we have continued to focus on the basics of the restaurant industry, especially during these economic times, and on including ways to reach our customers.
Keeping with the basics, we look to develop personal relationships. It's simple, inexpensive, and effective. This is the focal point of our marketing method and philosophy. While Buffalo Wing Factory is in the infancy stage of franchising, our corporate stores have 20-plus years of success, with increasing store comps each year based on our relationship with our customers. The store-level performance has allowed us to invest in a foundation and plan for nationwide expansion.
The development of relationships remains the strongest part of our culture. We implement this approach in many scenarios, from recruiting prospects to carrying out social media campaigns. It's all about the community, and we are devoted to finding franchisees who are community-focused. Part of our qualification process tests their commitment to our culture before signing.
Our current plan projects one franchise business consultant per 10 locations, which is above the standard in the industry. This arrangement will ensure quick approval, implementation, and feedback of local store marketing and marketing co-op campaigns. These consultants will have the ability to help franchisees develop marketing programs that are in line with the brand's mission, vision, and core values. As a franchise that plans to grow regionally and then nationally, brand awareness is a huge focus.
Our current plan and budget are developing. We initially focused on developing our website. This was our first opportunity to explain how Buffalo Wing Factory is different in the mature category of the restaurant industry. Increasing retention is about consistently serving the consumer great food. In other words, it's not just meeting our standards, but exceeding them!
At the restaurant level, easily executed loyalty programs have worked well. For example, we:
play "Wingo" with our customers, and lunch regulars receive "Frequent Fryer" cards";
are enhancing our programs with companies like LivingSocial;
continue to increase social media programs as they grow and prove results;
will increase traditional advertising methods where they are proven effective to our customer;
will continue to increase community activities, such as wing eating contests, charity involvement, high school programs, and local business programs; and
will begin PR movements where it makes sense to increase local consumer awareness as we grow.
This all may sound simple. However, with the economy as it is, and being in a mature market, continuing our progress with loyalty and retention programs has allowed us to be ahead of schedule compared with many new brands in development.
Ron Parikh
CMO, Genghis Grill Franchise Concepts/The Chalak Group
With regards to communicating and providing tools to franchisees, we have three strategies in place.
First, we provide weekly calls with our low-volume units. This is a good way for us to discuss their marketing strategies every week. We believe that with open discussion our franchisees feel comfortable and stronger in marketing our brand to our fans. With coaching and guidance, it opens the flow of communication. Brian and Jeff Durbin, our Genghis Grill franchisees in Ellisville, Mo., are a perfect example. They are more of a lower-volume store, and with weekly marketing calls and guidance they had a 5 percent comp sales increase the next year. They were also named Franchisee of the Year at this past year's convention, based on customer service, number of complaints, comp sales, secret shops, and overall operations.
Our second strategy involves discussing local store marketing practices on monthly webinars. We do company-wide webinars to update our system on what's going on in each department. As for the marketing department, we make sure to let others have the spotlight for 5 to 10 minutes to share successful marketing ideas and stories. There is more credibility when you have your team sharing with each other.
Third, it's important to have marketing tools readily available. We provide a file library and print-on-demand service for our franchisees to use at their convenience. Should they ever need marketing documents such as business cards, coupons, and flyers, we have approved artwork and templates they can use.
As for reaching out to customers, we have four different methods for staying in contact with them:
Email marketing. We are the only concept that has merged our email database with our loyalty program. We currently have 750,000 fans in our database, and we use this as an effective tool to communicate our news and deals.
Social media. We are heavily penetrated in social media. We use the social media channels to communicate to our fans and find out what they are thinking, as well as to engage in conversations with them.
Customer loyalty. We focus on our "lost" customers (customers who haven't been back in 90 days) with our "We Miss You Campaign," where we offer them a free bowl on their rewards card to get them to come back.
We listen. Every Monday the corporate executive and leadership team comes together to discuss the weekly complaints that have come through, and we make sure to follow up with the customer within 72 hours.
Published: July 11th, 2012
Share this Feature
Recommended Reading:
Comments:
comments powered by

Disqus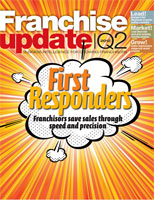 Franchise Update Magazine: Issue 2, 2012
Conferences
InterContinental, Atlanta
OCT 18-20TH, 2023
June 18-20, 2024 Marketing-Operations-Technology. Be a part of this ground-breaking new space for ideas, inspiration and networking for Franchise...
Franchise Update Media (FUM) is the trusted resource for the franchise industry. For 30+ years, FUM has been the leader in providing valuable...