CMO Roundtable: Brand's Culture In Developing Your Brand Message
"Discuss the role of your brand's culture in creating, framing, and developing your brand message or image to customers."
Amy Olson
Vice President of Customer Experience/Marketing
The Maids
The Maids has more than 30 years of experience in the highly competitive residential cleaning industry. We know well the importance and challenges of differentiating our brand in the market, and how important culture is in conveying and creating a positive overall brand experience. Personifying the brand culture starts at the top through executive and franchisee leadership.
The personalities of the brand we strive to convey through our culture are professionalism and being detail-oriented, friendly, and considerate. This is exhibited first and foremost through the customer experience provided by staff. From the start of a customer relationship, we make every effort to ensure a customer's brand experience with The Maids is not left to chance, but is carefully planned. To do so, all staff are trained on our branded customer experience, where every touch point is outlined and orchestrated in a manual. This helps make certain our customers are delighted through every step of doing business with us, from their initial phone call to the follow-up provided after the first service and beyond. The customer experience vision, promoted through internal marketing material, is to Wow every customer through personalizing, owning, and delivering an above-and-beyond experience.
Additionally, our brand image is exemplified through the professional uniforms worn by customer-facing staff members who provide service in customers' homes. Employees wear embroidered yellow polo shirts, khakis, and blue branded aprons. Additionally, teams arrive in branded company cars, painted an eye-catching yellow and emblazoned with The Maids' logo.
Finally, the ownership, management, and internal office culture within franchise offices lead the way in demonstrating the brand. Offices are professional environments, with friendly, welcoming atmospheres. Employees are treated with respect and provided with a great place to work, including a healthy continental breakfast. And special events in the lives of staff are celebrated--birthdays, anniversaries, accomplishments, and other life events--to let staff know they are cared for and appreciated. Staff can then pass on the same genuine enthusiasm and kindness to their customers, who they interact with throughout the day.
Rosemarie Reed
Vice President of Marketing
CruiseOne
CruiseOne's reputation as the go-to travel agency for customers worldwide began 22 years ago and has only strengthened through the years. We recognize that our franchisees are our gateway to cruise and vacation customers and that there is a correlation between an engaged franchise network and profitability and customer loyalty. Therein lies the challenge. How do we create a knowledgeable, engaged network of more than 900 franchisees and guarantee that the customer experience will be the same regardless of which franchisee you work with? While we can't force our franchisees to embody our brand culture, our end goal is to always instill in them a sense of pride that will resonate with customers and create a positive experience so they become lifelong loyal customers.
At CruiseOne, our owners are supportive of one another and do not view each other as competition. One way we accomplish this is by consistently sharing success stories of how franchise owners bring our brand culture to life--in our internal quarterly agent newsletter, in trainings, and on our peer-to-peer intranet. These stories include experiences with local marketing and events, closing sales strategies, coping with tough customers, building databases, and more. They serve as inspiration to all franchisees when they are communicating and working with their customers.
A marketing committee serves as the liaison between franchisees and our corporate offices. Since we in the corporate headquarters are not working directly with customers, this marketing committee serves as our eyes and ears. It represents the voice of all agents and informs us of what works and doesn't work in enhancing the customer experience. They are advocates for our marketing programs and lead by example in implementing the appropriate actions to create a thriving brand culture.
Planning a vacation can be a very stressful experience. It is our franchisees' job to make it as painless as possible. Our slogan is "Dream Vacations Start Here," and we give our owners the tools and education they need to make this a reality for their customers. We have award-winning training programs that teach our franchise owners hard and soft sales skills that make the customer experience seamless from start to finish.
Why? This three letter-word means so much to our brand. CruiseOne franchise owners are more than sellers of dream vacations. We always ask our owners why they do what they do, and once they determine that, it enables them to have a deeper connection with their customers that cannot be found elsewhere.
Determining your franchise's brand culture is an exercise that should not be taken lightly and which should steer the course of all internal and external communications. For franchisees to personify it, the brand culture must be ingrained from the onset and continuously reinforced.
Published: May 29th, 2015
Share this Feature
Recommended Reading:
Comments:
comments powered by

Disqus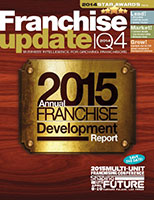 Franchise Update Magazine: Issue 4, 2014
Leasecake is location management made easy – from lease contracts and licensing agreements to ASC 842 compliance. Never miss a deadline, stay ahead...
The Titus Center for Franchising, one of Palm Beach Atlantic's Centers of Excellence, offers a concentration in franchising to business students.