CMO Roundtable: Does Your Brand Have An Online Reputation Management Strategy?
Ed Waller, CertaPro
Vice President, Customer Relations Management
It is essential for brands, especially franchise brands, to have a reputation management strategy for the Internet. It has always been the role of the franchisor to promote and protect the brand. In the Internet age there are new challenges online that must be addressed appropriately. In the old days, you put up a website and you directed people to go there and learn about you. You probably had a way for them to send you an email and maybe you had a coupon to print or detailed request form to fill out. Those days are gone. People no longer want to see what you are saying about yourself on your website. Web 2.0 and social media have changed all that. The Internet is now all about individual content and peer-to-peer interaction. People are no longer reading your website, they are reading what other people are saying about you everywhere else. There are conversations about your brand taking place online--conversations you may or may not know about--and you need a strategy to deal with them.

Your brand core strategy needs to deal with three things: 1) finding the conversations, 2) inserting yourself in them, and 3) living with them forever. Finding the conversations is relatively easy. You can contract that out, subscribe to services that will find them for you, or assign the task to someone in your organization who is web savvy and lives online. Inserting your brand in conversations is a little trickier. When you find a conversation about your brand, think of how you would react to it if you were all at a wedding reception and you overhead the conversation next to you. How would you act? What would you say? That is how you need to act online when you are inserting yourself in a conversation about your brand. Last, whatever you do, be prepared to live with it forever. Diamonds are forever, and what is put up on the web is a real close second. Worry as much about how your words will read in the moment as they will a year or two from now.

You can never start too early, and you can almost never say too much. Don't wait for the conversations to come to you, go start some. Facebook, Twitter, and Blogger make that pretty easy

.
Wendy Odell Magus, Kiddie Academy
Vice President of Marketing
We have a multifaceted reputation management strategy. We believe it is important to know what people are saying about our brand so we can be smarter about how we communicate to our customers, and so we can proactively address opportunities that arise. We encourage and empower all brand stakeholders, whether they are employees or franchisees, to constantly monitor for coverage of our brand and to bring that intelligence back to the marketing team.
The marketing team, including in-house staff and our agencies, uses several different platforms and methods to aggregate coverage of the brand. We track all of the mentions and assign values to each: positive, neutral, or negative. We also track resolution of negative comments.
When coverage is negative, we engage the associated franchisee in responding. A variety of tactics are used, all of which abide by a high level of transparency. Ideally the person originating the negative comment is engaged directly in a one-on-one discussion to address the concern and rectify the base problem. The discussion should take place "off line" rather than in a public forum. Our goal is to have the negative mention removed or updated with an explanation about the resolution. At the same time, we work with the franchisees to ask their happiest customers to balance anything negative with positive input. We have a very good success rate with this strategy, though the tactic is intensive.
Marci Kleinsasser, PuroClean
Vice President, Marketing
Our brand is one of our most important assets. We leverage our brand and our reputation in the digital world as we do in the offline world with the ultimate goal to drive business to our more than 300 locations. We do this through our SEO-optimized website, blogs, social media marketing, and an integrated PR strategy. We then monitor and measure all of these efforts daily through both Google Analytics and our "listening" strategies on each social network. Should we discover consumer-generated media or posts, we will first investigate the facts and determine the best course of action:
Is the post true or a competitor spreading rumor, etc.?
Provide an honest response, always taking the higher ground.
Offer a resolution personally, and continue the discussion offline as necessary.
It is critical that a member of our Franchise Support Center engage in the discussion or reply to the blog post as soon as possible, even if it was a post to a local office.
At the brand level, we have a digital marketing firm partner to manage our social media and online marketing efforts. At the unit level, each PuroClean franchise owner has the tools to manage their online marketing efforts and reputation, and we provide them with ongoing training through bimonthly webinars and articles posted on our intranet. They also have a social media policy that includes a "how to use" section to guide them through the maze of social media as well as how to manage their reputation as a business owner (vs. their personal persona).
Warren Stoll, Maaco
Vice president of marketing
Our brand is built on a very proud history that began with our founding nearly 40 years ago. A great deal of value is attached to this heritage, and we seek to enhance our image and presence as North America's body shop for all types of collision repair and auto painting, with everything we do.
Unlike most other automotive aftermarket providers, Maaco's 475 collision repair and auto painting centers perform repairs that are immediately visible to the consumer. In fact, you might say each consumer's vehicle is "transformed" at our shops. CSI Survey results reveal that more than 9 out of 10 customers say that Maaco shops have met, or exceeded, their expectations. But as we know, unhappy customers are much more likely to tell others about their experiences than happy ones are. Today, that effect is often multiplied on the Internet.
For all these reasons, Maaco takes online brand reputation management very seriously. We have put in place a comprehensive social media management and publishing tool with the following objectives:
Brand reputation: prompt response to and resolution of all customer issues.
Positive message distribution: publication of favorable comments and franchisees' community-oriented activities.
Friends and followers: engagement and ongoing interaction with our expanding online community of friends and followers.
Promotions: posting of Maaco videos and other advertising and promotional content.
Lead generation: creation of a positive brand image that generates more calls and visits to our centers.
Maaco's online reputation management assures that we can create and monitor the social media buzz, immediately engage with people when necessary, and measure the results.
Published: May 31st, 2011
Share this Feature
Recommended Reading:
Comments:
comments powered by

Disqus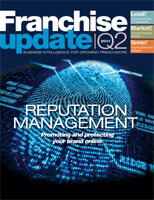 Franchise Update Magazine: Issue 2, 2011
919 Marketing Co. is a national content marketing, PR and social media agency serving franchise brands. Our proprietary social relations approach...
Slick Marketers is reinventing franchise marketing with a hyper-customized and ultra-localized marketing approach with measurable results and growth...