CMO Roundtable: Executing Your Media Strategy and Plan Effectively
Your media strategy and plan is complete and now it's time to execute.
What steps do you take to ensure each layer of your media plan is carried out effectively?
Maryellen Torres
Chief Brand Officer
Front Burner Brands (The Melting Pot)
With today's highly savvy consumers, the marketing landscape is constantly changing and requires a comprehensive, multi-layered approach to help a business achieve its goals and objectives. New technology has created more "noise" in the media landscape, making it more complex for marketers to create a relevant message for both the vehicle and the target audience. From marketing messages sent to our email inboxes to our social media channel newsfeeds, this constant bombardment of communication can lead to months of hard work going unnoticed, if not planned strategically. This puts a stronger onus on the marketing professional to ensure that every single dollar spent is being used effectively.
In the months leading up to the launch of a marketing campaign, a franchisor should develop an internal communications program to encourage high levels of engagement among franchisees and get all departments on board with the promotion. Franchise systems with consistent internal communication with franchisees are more likely to experience a greater level of involvement with marketing initiatives.
At The Melting Pot, we continually develop strategies and tactics to support our franchisees' businesses and drive traffic into their restaurants throughout the year. In addition to receiving a robust execution guide, they are given access to a variety of digital creative assets designed to convey a consistent brand message across multiple channels at the local level. As a result, we've developed a strong coalition of brand ambassadors who are passionate about going above and beyond their customers' expectations.
The planning of any successful campaign also warrants a strong execution and monitoring of the results. Now more than ever, marketing professionals have access to an array of analytical tools to measure success. Every component of the marketing plan should have established key metrics and a measurement system in place to determine if the plan has reached its end goals. Keep in mind that marketing campaigns can have a residual effect on a brand or company and provide additional benefits, such as increased brand exposure long after the promotion has passed. Tracking a larger campaign in real time gives marketers the ability to test and adapt its content and delivery, eventually allowing them to produce the results they are aiming to achieve.
Diane Emo
Vice President, Marketing
Coverall North America
As a franchisor, we have expanded responsibility for branding for the entire system. In our case this means that more than 8,000 franchised businesses in more than 90 markets rely on us to position the Coverall Core 4 Process, our message and the united strength of the entire system to varied audiences. Our top priority is celebrating, promoting, and differentiating our franchisees' businesses and the services they provide. Our media strategy is the vehicle for building brand equity across the franchise system, while also increasing lead generation and improving sales success. Execution is about communication and measurement. Ensuring that each component is working as planned is essential to a successful outcome. Here are six key steps to ensure that each component is working as planned.
Draw a one-page, simple picture of the plan for use with the company and every service provider, business partner, or agency involved in the plan's execution. A "big picture" visual can keep the team focused when things get chaotic and priorities (or budgets) shift.
Link the media strategy to the key functions of the sales and marketing departments, such as website messaging, calls to action, prospect profiles, advertising, lead nurturing, and management through CRM and corporate communications. No function should sit in a silo. Consistency is essential to maintaining an effective media plan.
Connect the media plan execution to company strategy and performance indicators. Prepare company business information systems and scorecards to include metrics associated with media strategy. Soft metrics have little credibility in growing EBITDA.
Communicate the media plan, roles, and responsibilities to executive management, especially the chief sales officer and chief operating officer, who are the leaders of field teams. Assigning ownership will hold everyone accountable and demand accountability for the accompanying outcome.
Monitor tactical analytics to identify user trends quickly and know how to adjust accordingly to optimize your efforts without losing momentum toward your marketing objective.
Make tweaks to the plan quickly in response to underperforming campaigns or actions, or to react to the changing needs of the company--but don't lose site of the one-page plan.
Published: August 24th, 2016
Share this Feature
Recommended Reading:
Comments:
comments powered by

Disqus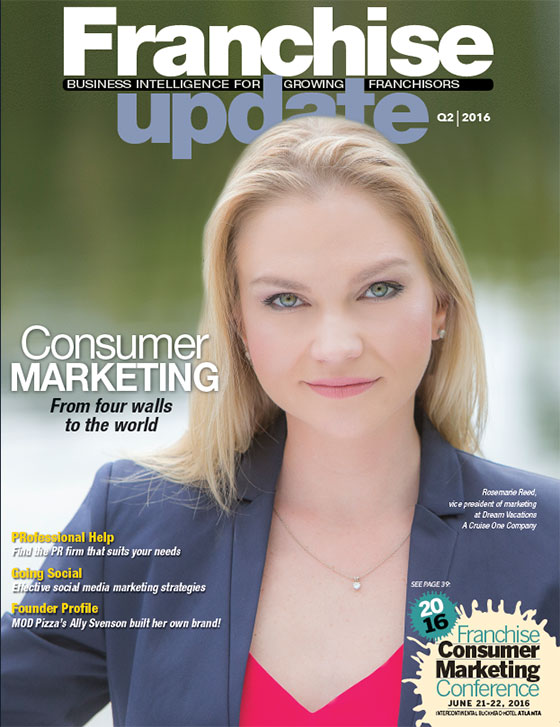 Franchise Update Magazine: Issue 2, 2016
Conferences
InterContinental, Atlanta
OCT 18-20TH, 2023
Our franchise management software helps increase unit growth, reduce opening time, track and improve unit performance, automate financial reporting...
Hub by Thryv is an end-to-end client experience platform custom-built for franchises. Its ready-to-use business apps help franchisees view their...