CMO Roundtable: Marketing Team's Role in Site Selection and Real Estate
"What role does your marketing team play in site selection and real estate?"
Nick Adams
Marketing Director
Hwy 55 Burgers, Shakes & Fries
While our marketing team does not play as vital a role as some other departments in Hwy 55's site selection and real estate, it does have an important seat at the table. Chiefly, our marketing minds help discover optimal locations and features for our core demographic.
The restaurant industry has seen an influx of innovative loyalty programs in recent years. Hwy 55 has been at the forefront of this emerging trend, and our mobile app is constantly evolving to give our guests the best possible variety of perks and personalized offers. While customer satisfaction and retention are the main marketing objectives of any loyalty program, there is another vital component: data.
The wealth of data that we can leverage from our extensive customer base is instrumental in our site selection process and, more broadly, real estate. For site selection, linking our loyalty provider with a company specializing in location mapping has allowed us to make better, data-driven decisions on optimal sites in relation to our best and most loyal guests. This ability has given us the confidence to know we will succeed in newer markets.
From the real estate side, our marketing department helped discover that we were not meeting the needs of our base as well as we could have. This revelation has led, in part, to an exodus from strip centers and malls to a new standalone concept. With the data-confirmed knowledge that families with young children make up our most important demographic, social listening techniques revealed their needs were evolving. As anyone with a young family understands, convenience is king. While we are performing extremely well operationally in our restaurants, this was, at times, not enough to meet the rapid pace of how many live their lives. Rather than standing entrenched in the way we had always done things, we let the data and voice of our guests lead our transformation.
A traditional drive-thru, combined with our world-class, full-service dining room, will allow us to fully meet the needs of our guests, pushing the Hwy 55 brand forward. Our marketing team has been instrumental in our site selection, as well as in the discovery and implementation of our new concept. Sometimes in plain sight, sometimes hiding from view, the information is there, and it has a lot to say.
Amanda Ploger
Marketing Director/ Project Manager
Moran Family of Brands
Marketing's biggest role in site selection is running market research. When we are looking to open a new location, one of the first things we do is pull a demographic profile for the area. In this profile we are not only looking at the census data of population, average annual salary, and number of vehicles owned by a homeowner or renter. We also do a competitive analysis on how many current auto shops are in the area, if any have closed in the past 12 months, and what types of services these auto shops provide. This initial set of demographics helps us determine if we want to go further in investigating if a site is viable or move on to a new location.
Once a market is determined to be viable for a new location, marketing will run a deeper analysis of demographics to pinpoint the ZIP codes or specific town to examine. In this deeper analysis, we map out demographics on where homeowners who have a vehicle at least 4 years or older live who meet our minimum income average. This helps us determine where we are going to target direct mail and other marketing messages.
Included in this search we also run a competitive analysis in ZIP codes where we are looking to expand. This helps us understand who the local competition is, whether it's a mom-and-pop shop, big box store, or another franchised brand. This helps us develop our first-year marketing plan for the location. In addition, we also run a report on the top employing companies in the area. We look at all the companies to see if they are a viable option for an outside sales connection to develop their local fleet business. This way the franchisee can get started on their outside sales plan before they even open.
After all of this data is pulled and the site is finalized, we then go over the data again in person with the franchisee when they come in for training. After all the data is reviewed, marketing will help the franchisee map out and commit to their first-year marketing campaign. This will then be the plan they have from the moment they open their doors. We review the plan every three months to make sure they are on the right track.
Published: September 28th, 2019
Share this Feature
Recommended Reading:
Comments:
comments powered by

Disqus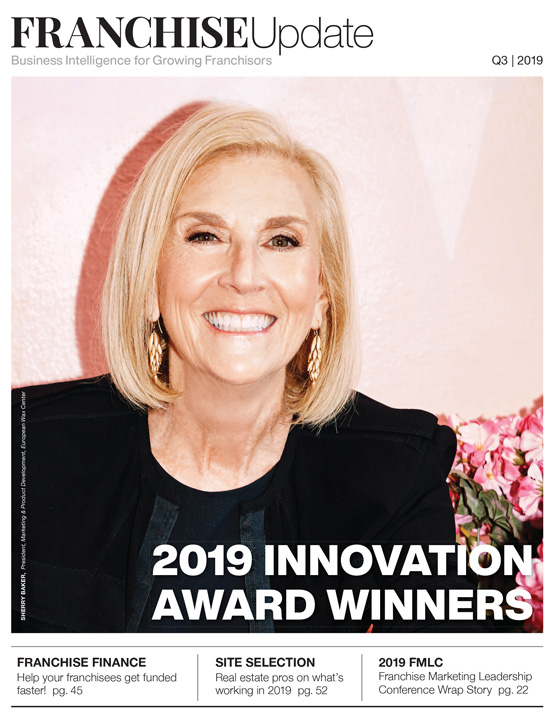 Franchise Update Magazine: Issue 3, 2019
Conferences
InterContinental, Atlanta
OCT 18-20TH, 2023
Gravity Software is a cloud-based, multi-entity accounting solution that simplifies inter-company transactions and financial reporting. Built-in...
Leasecake is location management made easy – from lease contracts and licensing agreements to ASC 842 compliance. Never miss a deadline, stay ahead...