Compassionate Leader: Domino's Franchisee Dominates with a Kind and Gentle Hand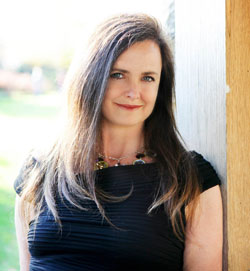 Mary Lynne Carraway's 74 Domino's Pizza restaurants may dominate the Washington, D.C., market, but she runs her 1,800-employee business, Domino's Pizza Team Washington, with a kind and gentle approach to success.
For example, the mother of four--who stepped into the company's leadership position after the death of her husband David from brain cancer--was the first to comfort the family members of two employees who were shot on the job and to assure nervous employees that all possible safety measures were being taken to ensure their well-being.
"Since I've been doing this job, there have been deep, hard places I've had to go. When someone gets hurt, it's crushing," she says. "You go on, but your heart never stops feeling the sadness for the others going through such difficult things."
Carraway was still mourning the loss of her husband when she took over the operation he'd built with Frank Meeks. "Before he started losing his memory, David told me he wanted me to take over and continue this legacy for our children. I knew it was the right thing to do and that there were great people on the job to help me, but it was quite a tender time. I had some background working in restaurants and had been a manager for Marriott Hotels and thought my people skills would serve me well," she says. "It was a challenge to learn the business and the people, and my ability to do that came to me through a higher power. I learned to do as much as I could in a day and then come to a peaceful place with knowing I'd start back tomorrow."
Carraway's situation was a first for Domino's. "I understood that they might be hesitant about having a stay-at-home mom take over the running of this large organization. When they agreed, it set a precedent. I was thankful to be part of that change," she says.
Though she went from being a stay-at-home mom to being a full-time executive, Carraway refused to hire a nanny for her children. "I knew that David wouldn't want me to continue to grow the business at the expense of our children, so I learned to work while they were asleep and at school," she says, adding that both of her sons are interested in working in the business.
Eight years later, Domino's Team Washington is number-two in the system in profitability, second only to an organization with more than double her number of stores. Carraway sits on Domino's Pizza Board Worldwide and is the recipient of both franchisor and IFA awards. "I'm not this highly intelligent person with business degrees, but I came with a different perspective, no politics. I just said what I believed was right," she says.
Carraway encourages other women to take a good look at franchising. "I tell women: 'You have a special strength that comes through the creative, gentle way we use our power. Integrity will get you further and help you accomplish things that others may not. There's power in being a leader who has compassion and can even cry with employees about something. We're still competitive at Team Washington, but we're like a family.'"
A devout Mormon, Carraway says that some of her most rewarding times come from reading about spirituality, spending time with her children, volunteering in the community, and chatting with employees about their families. She believes David would be proud of what she and Team Washington have accomplished. "But I think he'd be even more proud of the work/life balance I've worked hard to strike. In the end, relationships are what matters most."
Name: Mary Lynne Carraway
Title: President and majority owner
Company: Domino's Pizza Team Washington
No. of units: 74 Domino's Pizza
Age: 48
Family: Four children
Years in franchising: I was married to someone in franchising for 27 years and I've been the franchisee for 8 years.
Years in current position: 8
Personal
First job:
I worked in my family's restaurant growing up, but my first job away from home was as a front office manager for Marriott Corp.
Formative influences/events:
My parents with their strong work ethic and integrity.
Key accomplishments:
Raising my kids and being a mom. I'm proud of what we've done with the company, but family is always my first priority.
Biggest mistake:
Not believing in myself earlier on. I had not had enough experience then to realize that anybody can do anything if they work hard and believe.
Smartest mistake:
When I decided to take our company debt-free, a lot of people told me it was a mistake. They said a company this size should never be debt-free. However, I knew it was the right thing to do, and that was borne out recently when we were able to get fantastic loans to buy 14 new stores. I was told that the loan was possible because we were debt-free.
Decision I wish I could do over:
Some hiring decisions.
Work week:
I try to work when the kids are in school so I can be there when they're home at night. However, when there's an emergency, I'm on call 24/7 for that.
How do you spend a typical day?
I'm in the office Mondays, when I meet with regional directors to go over all that happened over the past week, and Tuesdays, when I go over leases with the staff. Then I get out into the stores. It takes about a month and a half to visit them all, so I take it by region. I'm always trying to connect more with store managers to let them know I'm here and interested in what they're doing.
Favorite fun activities:
Anything I do with my kids. I'm also a runner and I love to read and cook.
Exercise/workout:
I go to spin class three times a week and run a couple of days or walk the canal about 7 miles. I run stairs, do a lot of cross-training, and have run marathons and triathlons.
Favorite tech toys:
I don't know how I'd live without my iPhone.
What are you reading?
I am currently reading The Infinite Atonement by Tad R. Callister. I'm not one to read a lot of business magazines or books on how to get ahead. I believe if you're a good person and you keep spiritual balance in your life, all other things will fall into place.
Do you have a favorite quote?
You never know how strong you are until being strong is the only choice you have.
Best advice you ever got:
Be true to yourself and your values.
What gets you out of bed in the morning?
My kids. We have early morning church school before high school, so we're up early.
What's your passion in business?
Making sure that not only do we keep our customers happy, but that we keep our employees happy as well and let them know we care about them. I believe in being kind and treating everyone well.
How do you balance life and work?
Everything I do, I try to do while the kids are sleeping or at school. I answer email and phone calls after they're in bed.
Last vacation:
I took my boys to Haiti on a service mission.
Person I'd most like to have lunch with:
David Bednar, former president of Brigham Young University-Idaho. He's an amazing person and motivator.
Management
Business philosophy:
Don't ask somebody to do something you wouldn't do. And do ask as kindly as you can.
Management method or style:
I have an open-door policy; our employees can talk to me about anything and they know I'll be fair. I try to lead by example.
Greatest challenge:
Keeping a deep enough bench of people coming up in management and keeping good people in the stores.
How do others describe you?
Energetic, happy, positive, a motivator, honest, giving.
One thing I'm looking to do better:
My focus right now is being better connected to all our stores. We have so many now that I'm trying to find the balance and spend more time in the stores.
How I give my team room to innovate and experiment:
If my regional directors and vice presidents have ideas, they share them. We're very open and go back and forth easily. We learn from each other. I send them to other regions and places to see what they're doing--I expose them to a lot of different things. If they come up with a good idea, they can run with it. They're the ones on the ground and I trust them.
How close are you to operations?
On a day-to-day basis, I leave that to my managers and regional directors. In terms of seeing all our stores in operation, I do that as often as I can.
What are the two most important things you rely on from your franchisor?
Strategic marketing and good products, and they give us that.
What I need from vendors:
Best pricing and effective products.
Have you changed your marketing strategy in response to the economy? How?
We're running lower pricing, but that's something that comes from corporate. On local marketing, we're doing email blasts and mailers.
How is social media affecting your business?
It's amazing in this industry that we have stores with 60 or 70 percent of orders coming from the Internet. There used to be people flying all over the place and on the phone in the stores. Now there's hardly a phone person. You walk around and just hear these beeps when orders come in. It's a change that's both good and bad.
How do you hire and fire?
On the store level, the managers through the regional directors do all the hiring. In my office, I do the hiring and firing. We've hired a lot of different ways; some of our best hires have been through word of mouth. As for firing, there's a large turnover on the lower salary scale, but in eight years, I've only fired two people and no one has left because of me.
How do you train and retain?
Training is important. We're known as the best trained group in the system. Through extensive training, the best managers become the best supervisors and pass that on. We retain good people because we have a great bonus system. Our managers make incredible money, because they take ownership and get a percentage of the store's profit. Some make over $100,000 running Domino's stores. It's the American Dream without having to put your own money into it.
How do you deal with problem employees?
We address problems immediately and try to be as fair as we can. We do an investigation and hear all sides. Sometimes it's easy to resolve and sometimes not.
Fastest way into my doghouse:
Any kind of aggressive, negative behavior and lying, theft, and disloyalty.
Bottom Line
Annual revenue:
$75 million.
2013 goals:
We bought 14 new stores last year, so we're trying to adjust. The bottom line is that we want to continue to deliver great pizza in 20 minutes or less.
Growth meter: How do you measure your growth?
By growth per store, but we're always shooting for higher profitability and watching food and labor costs. We see the numbers weekly and compare them to the year before.
Vision meter: Where do you want to be in 5 years? 10 years?
In 5 years, I'd like to keep having healthy profitability and growth. In 10 years, I'd like to be sitting at the board level, watching over my children running the business. One of the reasons I stepped in was to keep my husband's legacy alive for our sons. One has been working in our stores since he was 14, and another is just getting into it.
How is the economy affecting you, your employees, your customers?
Customers aren't as loyal as they used to be, but I see it coming back with our great service. In an economy where there's belt-tightening, customers go to the lowest price. There have been price wars and couponing to death, which is not really a healthy place to be. I think we're coming out of that.
Are you experiencing economic growth or recovery in your market?
We're lucky in this area--D.C. seems to be a little resistant to recession. With the government on furlough, there's been a negative impact on Andrews Air Force Base, but D.C. generally is pretty stable. Even in a bad economy, people still get Friday night pizza for their kids.
What did you change or do differently in this economy that you plan to continue doing?
I'm a firm believer in paying your debts; not having the stress of huge debt is what's kept us successful. We'll continue to do that.
How do you forecast for your business in this economy?
Our marketing team sees the trends and patterns and we get feedback from corporate. Our brand, No. 1 in service and No. 1 in product, is really strong right now, so we're better prepared than ever to handle the future.
Is capital getting easier to access? Why/why not?
I think it is easier if you have your act together. I haven't done it a lot, but with our last venture there were some really impressive banks wanting to do business with us. We're working with PNC, which is a really great bank.
Where do you find capital for expansion?
I don't go to partners. We use our own money and bank loans.
Have you used private equity, local banks, national banks, other institutions? Why/why not?
PNC is a national bank that offered us a great situation.
What are you doing to take care of your employees?
We offer great bonus plans and healthcare. Beyond that, we're making sure they're working in a safe environment. We're training them so they can be efficient and safe and make more money.
How are you handling rising employee costs (payroll, healthcare, etc.)?
I don't agree with Obamacare, and I'm not sure how things will look in the end, but we're always shopping around for insurance and medical plans.
How do you reward/recognize top-performing employees?
We reward them with our bonus system and fun events like family picnics and Olympic competitions between regions. We just took our two top-performing groups to a baseball game where we sat in the Coke suite. Our supervisors are going to Hawaii, and we give gas cards to great drivers.
What kind of exit strategy do you have in place?
As I said, I plan on semi-retiring onto the board and letting the children take over. If they decide to do something different, I may divide the areas up and see if some of our people would like to buy in and be partners. We have a great team.
Published: December 18th, 2013
Share this Feature
Recommended Reading:
Comments:
comments powered by

Disqus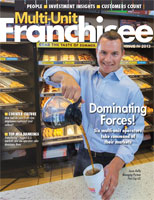 Multi-Unit Franchisee Magazine: Issue 4, 2013
PetWellClinic is a walk-in veterinary clinic offering basic health and wellness services to dogs and cats. PetWellClinic is the first vet clinic...
Cash Required:
$250,000
Sky Zone created the world's first wall-to-wall trampoline park in 2004, bringing high-flying fun to guests across the globe. Now you can be...
Cash Required:
$500,000