Creating Loyalists: Nurturing Existing Customers Must be a Key Strategic Goal
Until your organization figures out how to drive higher sales and profits at existing stores, adding new units is very risky. The only time McDonald's got in real trouble came when they focused on growing sales by adding new units while neglecting to grow same store sales.

The source of sales--customers--can be a tricky, fickle bunch. They say they like the way you treated them and the service they received, but then they go across the street and spend their money with your competitors. If only franchisees could figure out how to transform customers who visit once or twice into customers who are loyal! Customers who return again and again are by far the most profitable.

Without an ever-increasing stream of loyal regulars, franchisees find themselves anxiously looking at the franchisor's marketing calendar as the answer to generating the traffic needed to survive. But rarely will the "Five Dollar Footlong" come along and deliver a double-digit bump in sales for franchisees.

Marketing and innovation are crucial elements in driving traffic. But gaining customer awareness and customer trial is just the beginning of growth. Without sustained same store sales growth, multi-unit operators are on very shaky ground.

Ron Shaich, founder of Panera, sets an even higher bar for multi-unit leaders than same store sales growth. He recently wrote, "Earnings growth and real value creation occur only when a company is able to generate same store profit expansion over multiple years and add high return on investment, or ROI, to new units."

There are only three ways to grow profitable sales in existing units: 1) get current customers to increase their frequency; 2) get them to leave more gross profit dollars behind on each visit; or 3) get more new customers. The surest way to grow is to do all three at the same time.

Based on 100 million customer experience metrics in the SMG Benchmark Database, there is no doubt that loyal customers 1) visit more often, 2) spend more at full price, and 3) spread the positive word of mouth that causes new customers to try you. The insight here is that same store sales and profits are built on the shoulders of loyal customers.

This is why customer loyalty is such a big deal and must be a key strategic goal. Multi-unit franchisees must be relentless and consistent in nurturing existing customers. Successful franchise organizations survey their customers and provide franchisees with customer satisfaction and loyalty metrics for each of their locations. Multi-unit operators should use these metrics to keep their organizations focused on expanding sales and profits by increasing customer loyalty at existing locations. Proving you can do that is key to expanding the number of units you can successfully manage.

In The Rise of Analytic Performance Management, Thomas Davenport cites a compelling example of the correlation between customer loyalty and same store sales growth for multi-unit operators: Hilton Hotels concluded from 5 years of data at 42 hotels that a 5 percent improvement in customer retention (customers who say they are "likely to return to Hilton") would result in a 1.1 percent increase in annual revenues the following year at a typical property. Marriott found similar results

.

Davenport shows a number of statistical models that link nonfinancial variables (like customer loyalty) to business results. For example, the cause-and-effect between customer loyalty (retention) and sales is well-established. The obvious question for executives is: What causes customer loyalty? The basic business model looks like this:

The only way to make this model actionable is to discover which elements of the customer experience are the key drivers of customer loyalty. This can present a barrier to management because many franchise companies do not have the analytical skills to confidently create a predictive model. Davenport surveyed more than 4,000 companies of all types and found that most companies (64 percent) do not analyze the quantitative relationships between indicators of business performance, such as customer satisfaction and loyalty compared to sales and profits.
To be fair, it isn't easy to consider, or control for, all possible variables that might affect financial performance: customer satisfaction, employee attitudes and behaviors, marketing capability, level of innovation, etc. But there are franchise firms that have developed service models that allow statements such as, "With all other performance drivers held constant, an x-point rise in customer satisfaction yields a y-point increase in same store sales growth." If your franchisor hasn't provided you with this type of analytical support, ask for it.
SMG Vice President Jack Mackey helps multi-unit operators improve customer loyalty and drive growth. To request "Connecting with Customers Beyond the Survey," contact him at 816-448-4556 or jmackey@smg.com.
Published: July 11th, 2011
Share this Feature
Recommended Reading:
Comments:
comments powered by

Disqus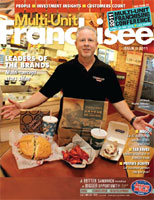 Multi-Unit Franchisee Magazine: Issue 2, 2011
Unlock the potential for remarkable returns on your investment by joining the Ducklings Early Learning Center Franchise, where our tried-and-true...
Cash Required:
$180,000
Join the growing $811 Billion grocery industry. Save A Lot is the nation's leading independent grocery chain. Our proven licensed model provides the...
Cash Required:
$300,000