Creativity on a Large Scale
Doug Castino discovers the beauty business, and neither will ever be the same
When Doug Castino decided it was time to get out of his hugely successful restaurant design and supply business, he'd never thought of franchising and didn't know what an area developer was.

What he did know was that he wanted to create something new and big. "I carry a big vision and a tremendous amount of drive," he says. "I want to be creative on a large scale. That's what drives me."

His brother, who was one of his partners in the restaurant business, didn't have the same vision. "I wanted to grow faster than my brother did," Castino says. "It was difficult for him to develop a 20-year plan, and I had to. My family thought I was insane to leave, but I figured if I could do it once I could do it again."

As it happens, he adds, it was "probably the best thing I ever did. Once you accomplish something, sometimes you want to step out and recreate that success." But where to step?

While he was doing research on the Internet, he came across the definition of an area developer, and once he understood what it was, he says, he knew "that was for me." Then the question became, which franchise? What kind of business?

Not restaurants, though. "I knew way too much to be an area developer for restaurants," he says. "There are not many people who would be suited to the food industry. It's a very complicated industry. The employee situation is a problem because turnover is high, and it's a big headache." In any case, his business had been helping other people open restaurants, and he saw enough doing that to know he wanted something different.

In his research he came across Glamour Secrets, a Canadian franchise that had no representation in the U.S. The franchise provides beauty services and products. The idea left Castino cold.

"I looked at it, and said, 'The beauty business... I don't think so,'" he says. "I didn't know if I could get behind it. Then my wife said, 'You don't know how much money I spend on my beauty parlor.'"

At that point, he says, the light went on. He realized that beauty services and products were in demand. They are expensive and appeal to the higher-end market.

"I scratched the surface a bit more and found it is a big business, and that a lot of women had a budget for their products," he says. "A lot of women will buy their beauty products anywhere, but the majority buy from their salon--not just hair care, but all the others."

That convinced him to talk to Glamour Secrets, and a visit to the home base in Toronto clinched the deal. He learned that the business was basically recession-proof. "Glamour Secrets had their largest growth in the early to mid-'90s," he says. "When people are not doing well, they still want to look good."
The lure of southern California
Castino's restaurant design and supply business was in northern California. When he decided to do the new business, he wanted to be away from Sonoma. He decided on the Los Angeles area, where Glamour Secrets was, in his view, a perfect match.

Glamour Secrets had been franchising in Canada since 1993, and had 60 stores in Ontario. But, Castino says, "Southern California is a huge beauty market, bigger than Toronto."

He bought a territory that includes Orange County, Riverside, and San Bernardino. There are other area developers in southern California and Castino doesn't begrudge their presence. His view is that you should develop what you can reasonably manage.

Marketing a relatively new and unknown franchise presents special problems, especially for an area developer who needs to get some stores up and running to show to potential franchisees.

"It's going to take a group a visionaries to start it," he says. "We need someone who is entrepreneurial but sees the potential of the beauty business because we're new. They're not going to take a risk with a brand-new brand, but if they're familiar with the beauty business, they'll understand it."

So he's used a lot of techniques: classified ads in the business opportunity section of newspapers, franchise websites, business journal ads, and local trade shows, as well as the IFA show and seminar. He's used some brokers, but finds that to be a challenge, since they have to understand the concept.

The main thing, he says, is to get stores open, which will make it easier to attract the right kind of franchisee. The first is open in Santa Ana, and the second is opening this summer in Riverside, followed closely by another in Anaheim; then Simi Valley and San Diego several months down the road.

Castino's wife Suzanne, who handles systems support for the stores, was a comptroller for a large automation firm. "She loves to do it," he says. "She is totally a systems person." But she, too, is focused on the need to open stores. "She's constantly saying 'We need to open a store. We need to develop a territory.'"
Multi-level support
Castino considers his role as providing ongoing support for the stores in his area--not just getting them open. "We'll help with product training, store operations, marketing, budgeting, and general business planning strategy. We're there to help them and make sure their business is running smoothly and profitably. Training is provided by the corporate office, but we provide additional training, especially in operations and sales."

Within the entire Glamour Secrets system, 65 percent of franchisees are multi-unit owners, and Castino expects that to happen in his own area as well. In fact, he says, "Our first operator is committed to a second location in just six months."

His focus on marketing is not just to bring in franchisees, but to bring in customers as well. That means, he says, constantly monitoring the marketing program, working at the franchisee level to create a training program, finding ways of fine-tuning the operation, and offering new product demos.

"The money is not in the services, but the products," Castino says. "If we can get 20 percent of the revenue from the services, we cover the overhead and it creates continual foot traffic. Having people in the building creates excitement. So we work at bringing in different products, and maybe discontinuing others. After six months of it, I can say we've done it really well. We have the same product mix for just about every ethnic group."

Castino is happy with his direction and new home in southern California--even though, he says, his northern California friends may tease him for moving to the Los Angeles area. "My water bill is huge," he says, laughing.

But his passion for the industry and the vision he has for something big are far more important reasons for making the move. "As far as our industry is concerned, once you scratch the surface and see all the benefits--that gets your attention."
Doug Castino: Up Close
Age: 43
Family: Wife Suzanne, Ben 17, Jacquelyn 19
Memorable first job: I think I was 8 years old. I was selling lemonade out of the back of my red wagon that I would pull through construction sites. What I remember most about it was when this guy asked how much to fill his thermos, and I was unprepared. I think I lost money on that deal!
Professional tip: Believe in yourself and trust your instincts.
Key education: School of hard knocks
Role model: I find President Lincoln's leadership ability most inspiring. While under increasing pressure, he made a personal stand to bring the people of this country together, and after many years of perseverance and tremendous personal sacrifice, he accomplished it.
Currently reading: The E-Myth Revisited, by Michael E. Gerber
Others say you are: This one scares me. When I was president of a service club, on two different occasions I was asked if was a politician, and they were serious! So I have been trying to change my ways since. However, most would say I am an easygoing, caring person committed to his family and friends.
Business news sources you regularly read: Los Angeles Times, Google News, Franchising World, and of course, Area Developer
Favorite web sites (besides your own): cars-on-line.com. I love this website because it has every type of classic muscle car for sale listed on it. I sold my first love, my car, right after I got married. I couldn't handle two relationships.
Franchise systems (besides your own) that are creative: I was visiting a friend and she told me about a concept called Dinner My Way. You go there once a week and they have pre-portioned ingredients to make five different dinner entrées quickly and in advance. They like it because it breaks them out of the same eating routines, they are eating healthier, and the whole family can sit down together at the diner table.
Favorite quote: "A man never stands so tall as when he kneels to help a child."
Best advice anyone ever gave you: If you can visualize it, you can achieve it.
Best advice you ever gave: Don't live your life looking through the rearview mirror.
Biggest project for the year: Setting the foundation for the Glamour Secrets Brand.
What you do to unwind: I find that beating a tennis or racquet ball clears my mind the best.
Published: January 2nd, 2007
Share this Feature
Recommended Reading:
Comments:
comments powered by

Disqus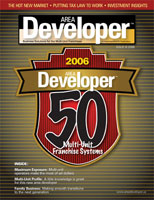 Multi-Unit Franchisee Magazine: Issue 3, 2006
A business-to-business franchise opportunity for executive entrepreneurs! AlphaGraphics is now celebrating 52 years of history, and is recognized...
Cash Required:
$125,000
Sport Clips is a winning concept-a great haircut experience for men and boys in a sports-themed environment. With more than 1,700+ stores and...
Cash Required:
$200,000