Development Minded: Michael Knobelock is Always Thinking Ahead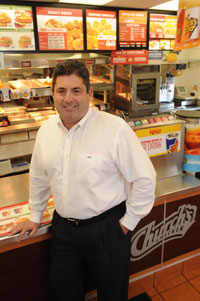 Michael Knobelock has always been in sales. As a 14-year-old growing up in Houston, he sold newspaper subscriptions and was a top salesman, earning between $400 and $500 a week in the 1970s. After high school he sold ads for the Yellow Pages where he was again a successful bell-ringer. But the real twist of fate in Knobelock's sales life came when a friend approached him about purchasing a convenience store.
"My parents loaned me $10,000 to purchase a closed-down convenience store and reopen it," says the 50-year-old Knobelock. It turned out to be a life-changing move. For the next six years he made the store more profitable than it had ever been, and in the process realized that he knew how to run a business. Of course, after making it successful, he turned around and sold the store for a hefty profit. He was just 29 years old.
The convenience store was his first taste of operating a business, but there would be much more to come. In the early 1990s, Knobelock looked at a variety of franchise brands. "There were a lot of company-owned franchise stores in Houston back then," he says. "Some of the franchise opportunities I could have had at the time were in other cities and states, and I wanted to stay in the Houston area." He says it was also important for him to sell something he believed in. "I loved the Church's Chicken brand. I ate there, and I knew I could sell that."
So he sold his home, his car, and his convenience store and used the proceeds to purchase and open his first Church's unit in 1992 in Houston. In fact, he was Church's very first Houston franchisee. And how did that work out? He recouped his initial investment in the first 8 months of operation. He continued to add Church's units, then in 2003 began adding Little Caesars Pizza to his portfolio. Today he has 34 Church's and 15 Little Caesars locations across five southern states (Texas, Arkansas, Mississippi, Alabama, and Florida). And in the Houston market, he has a commanding presence with both brands, with 18 Church's and 13 Little Caesars. And he's served as president of the Houston area Church's Chicken Marketing Co-op since it was founded.
Knobelock will be the first to tell you that he has ADD tendencies. "I discovered that what I like to do is search out locations and potential sites, get the deals going, get the units built, and then move on to the next project," he says. This character trait helped him discover that he needed great people and managers around him to oversee the stores once they were open. Knobelock says he has a great crew, which frees him to focus on his sweet spot: expansion and growth. His company, MSK Enterprises, even has its own construction department, which does about 90 percent of the building themselves, he says. "This allows us to do it for about half the cost that a typical franchisee would have to pay to get started."
His ongoing quest for development recently led him to test the waters of opening his own restaurant concept in Houston, Dekkers Mesquite Grill. The idea began when a friend approached him with the idea of converting a nearby burger joint into something more. "I knew he was a great chef and so we teamed up, bought the property, and built a new restaurant from the ground up," he says. Dekkers, a fine dining establishment with a large mesquite grill and rotisserie, opened in September 2011. The concept has done so well (Knobelock estimates sales will top $3 million in the first year) that he's already planning to build and open a fine Italian restaurant nearby in the near future.
He hasn't turned his back on franchising. Next up for Knobelock are more Little Caesars locations in Arkansas, Florida, and Alabama. All the deals are already inked.
"I like to keep moving," he says. "I have hired the right people in the right positions to handle our operations and that lets me do what I like to do."
Name: Michael Scott Knobelock
Title: Owner/CEO
Company: MSK Enterprises, Inc.
No. of units: Church's Chicken (34), Little Caesars Pizza (15), and 1 Dekkers Mesquite Grill, a full-service seafood/steakhouse restaurant
Age: 50
Family: Wife and two teenage daughters,
Years in franchising: 21
Years in current position: 21
Key accomplishments:
Started with a single restaurant and now own and manage 50 high-performing restaurants in 5 states.
Biggest mistake:
Not hiring my current COO, JJ Villafranca, in an earlier opportunity. We are so glad to have him here now!
Smartest mistake:
Because I did not have any experience in operating a full-service restaurant and bar, it was quite risky to invest $600,000 to open one. Fortunately, this restaurant, Dekkers Mesquite Grill, has been a big success and my initial investment will be recouped within our first year of operations.
How do you spend a typical day?
Checking sales at all restaurants and following up with operators. Checking and responding to emails. Participating in executive board meetings.
Favorite fun activities:
Traveling and vacationing with family, trophy hunting, attending NASCAR and other college and professional sporting events.
Exercise/workout:
Walking with my family on the beach, mountain biking with family and friends, stalk hunting in Africa and Alaska.
Favorite tech toys:
Smartphone and iPad.
What are you reading?
Wall Street Journal.
Do you have a favorite quote/advice?
From my late grandfather: "Don't go work for someone else."
Best advice you ever got:
Same as above.
Formative influences/events:
Almost 27 years ago, my friend pointed me to an opportunity to buy a defunct convenience store at a very good price. I bought, reopened, operated, and then several years later, sold that store for a significant profit. That's how I got my first start in business. My amazing parents contributed tremendously by spending a very significant amount of their time helping me to run that store. Later, when I sold it, I used the sales proceeds to buy into my first franchise store. Since then, I have been very fortunate to able to open additional franchise stores.
How do you balance life and work?
I am motivated to be there for my family because I know time goes by so quickly and I don't want to miss any opportunity to be there for them. Occasionally, my wife Patty will gently remind me to maintain a balance and to put family first.
Management
Business philosophy:
To reach our company goals, I must also hire good employees, give these employees clear job descriptions, and ensure the employees have the tools needed to accomplish their jobs. Also, I believe it is very important to give employees career opportunities by promoting from within.
Are you in the franchising, real estate, or customer service business? Why?
All three, because together the three help balance my business.
As an operator, what are the two most important things you rely on from your franchisor?
Building the brand through national marketing efforts including successful national advertising campaigns and the introduction of new and innovative products.
What gets you out of bed in the morning?
The excitement of being with my family and growing my business.
What's your passion in business?
To become the most respected QSR owner and operator in the country.
Management method or style:
I have a strong personal desire and commitment to influence people's actions. I hold people accountable for their actions by being straightforward and clear when discussing what and when actions should or should not be taken.
Greatest challenge:
Balancing competing goals like work time versus family time, company growth versus company stability, etc.
How close are you to operations?
I spend most of my time looking for acquisitions and ways to grow the company. However, I stay close to operations by consulting daily with my COO, JJ Villafranca and my CFO, Brian Distefano.
Have you changed your marketing strategy in response to the economy? How?
Our customers are primarily looking for "value" and "quality" when they go to our restaurants. Our advertising, store imaging, product offerings, and customer service all promote the great value and quality that is provided at our restaurants.
How is social media affecting your business operations?
We use customers' feedback collected on the franchisor websites to determine what is being done well and what needs to be improved.
Personality:
While I'm empathetic, I am also very competitive and have an intense desire to win.
How do others describe you?
Trustworthy and credible. Driven.
How do you hire and fire?
I like to meet job prospects face to face. Firing is based upon performance or lack of.
How do you train and retain?
We use the training programs provided by our franchisors.
How do you deal with problem employees?
We expect employees to perform. We determine if an employee has all the required tools and information needed to dot heir job before taking disciplinary actions.
Bottom Line
Annual revenue:
$45 million
2013 goals:
$50 million
Growth meter: How do you measure your growth?
Growth in total number of stores, sales, and profits.
Vision meter: Where do you want to be in 5 years? 10 years?
100 stores in 5 years; 150 stores in 10 years.
Are you experiencing economic growth/recovery in your market?
Yes, same-store sales are up.
What did you change or do differently in this economy that you plan to continue doing?
Continue to focus on controlled growth by taking advantage of profitable opportunities, while improving our margins and maintaining adequate cash reserves.
How do you forecast for your business in this economy?
We forecast flat sales growth and budget accordingly. If sales trend positively, then we are pleasantly surprised. If not, then we do not create a deficit in our spending.
Where do you find capital for expansion?
GE Capital Franchise Finance Corporation and internal funds.
Is capital getting easier to access? Why/why not?
About the same for us. However, loan applications are being more closely scrutinized.
Have you used private equity, local banks, national banks, other institutions? Why/why not?
GE Capital helped us in our recent expansion into three new states and they have been a pleasure to work with.
What kind of exit strategy do you have in place?
I really am enjoying my work at this time and have no plans to retire for many years.
How do you reward/recognize top-performing employees?
Top performers receive bonuses, plaques, and are promoted from within.
Published: October 31st, 2012
Share this Feature
Recommended Reading:
Comments:
comments powered by

Disqus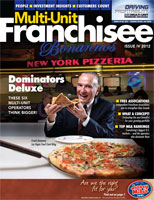 Multi-Unit Franchisee Magazine: Issue 4, 2012
With many attractive development territories available for multi-unit growth, there has never been a better time to become a Penn Station franchisee.
Cash Required:
$300,000
Salata is an 80-plus unit, built-to-order salad and wrap kitchen providing quick, healthy meal options. Known for excellent customer service, the...
Cash Required:
$300,000