Dominant Theme: Six Multi-Unit Operators Tell How They Take Territories and Own Them!
Domination is the battle plan. In this issue we once again take a look at franchisees intent on being the big boy, leading the pack, or simply, market domination - and where they do it. We've identified 6 multi-unit franchisees (two we've spoken with before). These franchisees aren't interested in just opening a store, they want to be the player in their cities and territories. If that means opening more stores, then that's what they do.
We took them to ask on why they chose the brands they did, how they took on their territories, how they've strategized their growth, and what lies ahead in their plans. They are tactical, savvy, and love attacking challenges.
Every time we put together this annual issue it's amazing to discover the tales of business discovery, determination, turnaround, shakeouts, and bare-knuckle expansion. Our interviews reveal operators who are passionate about their businesses, their employees, and their customers. Their stories are filled with the kind of payoff that's only generated by dedication and hard work.
Here's a quick look at this year's Dominators: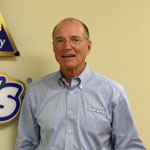 Charles Smithgall
sets big, hairy, audacious goals. "We're right in the middle of a 10 year goal to grow to 200 stores, $250 million in net revenue annually, $20 million in net profit annually, and to create 25 millionaires within our system," he says. And we believe it. When we last spoke in 2008, he was at 61 Aaron's units, today he's operating 105 locations in 10 states throughout New England. At 71, he's getting ready to hand over operations to his son but still has a few tricks left in his bag before then.

---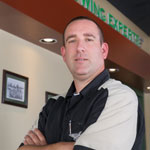 Charles Loflin
has faced personal turmoil since we last spoke to him in 2009. His wife was diagnosed with cancer and though she beat the disease, Loflin says it changed his perspective on life and business. He's been spending more time with his wife and kids but he still has the fire to grow his Wingstop franchise operation. He's been pushing beyond his Texas markets and into the Phoenix market - five of his 35 existing units are in Phoenix and he plans to open between six and eight more stores there by the end of 2014.

---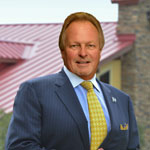 Eric Holm
owns 30 Golden Corral restaurants that generate $155 million in annual sales and provide jobs for more than 3,000 workers in Georgia and Florida. But it wasn't always peaches for this operator. He's filed for bankruptcy twice during his career but when he discovered Golden Corral he got his groove back. Today, 17 years later he knows how to turn around under-performing stores and find his name atop the Franchisee of the Year winner list.

---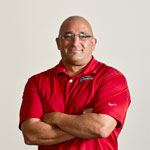 Charles Haney
understands the power of people as capital. The New Jersey-based multi-unit, multi-brand franchisee interviewed 800 people before handpicking a crew of 60 for his first Melting Pot restaurant. He's now got a Rodizio Brazilian Steak Grill Burger and a Burger 21, with more on the way. The 35-year-old has been named Franchisee of the Year and had become a die-hard advocate for franchising at Front Burner Brands. We're looking for big things with this young buck as he blazes a franchising trail through New Jersey.

---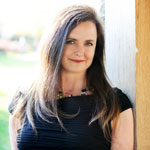 Mary Lynn Carraway
runs 74 Domino's Pizza restaurants in the Washington DC market. She's powerful and she definitely dominates. But she operates her 1,800-employee business with a kinder, gentler approach that has led to remarkable success. Eight years after her husband died and she took over the business, her Domino's Team Washington is number two in the system in profitability - second only to an organization with more than double the number of stores. She has blended spirituality, philanthropy, and hard work into a recipe for success.

---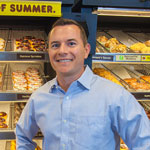 Jason Duffy
is just 38 years old, but this 'kid' is taking Dunkin' Donuts west and nothing has stopped him - including the Great Recession. You see, he opened his first unit "...in Phoenix on Aug. 15, 2008, during the worst economic times in 60 or 70 years." He survived...and thrived. Duffy's tale dates back two decades to a chance meeting with John Luther, a stint in the finance industry, and a chance to go west. Today, he operates 51 Dunkin' Donuts shops in Arizona, Nevada, Colorado, and California. He's definitely one to watch.

---
Also in this issue you'll once again find a list of the U.S. DMAs with the most franchised units, as well as the dominant franchisee organizations in each state and region. FRANdata provided the information. Maybe this info will inspire you to dominate!
Published: November 6th, 2013
Share this Feature
Recommended Reading:
Comments:
comments powered by

Disqus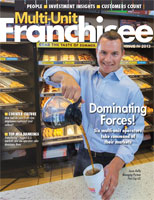 Multi-Unit Franchisee Magazine: Issue 4, 2013
A neighborhood butcher franchise is what every community needs. Learn more about joining Southern Steer franchise.
Cash Required:
$100,000
Buddy's Home Furnishings is one of the fastest growing rent-to-own franchises in America with a 60+ year legacy of proven success.
Cash Required:
$150,000