Employee Cross Training: How eLearning can Double Employee Value
Here's a scenario. You are looking to hire a new team member. You've reviewed applications, held interviews, and narrowed it down to two candidates. They both had strong interviews, have the same availability, and will take the same hourly salary. The only difference is that one has experience in the role, and the other has experience in the role, as well as training in other areas that could be useful.
Who do you chose for the position? The candidate who can fill more than just one role seems like a no-brainer. Right?
If an applicant with the ability to handle more roles seems like the obvious choice, then why isn't cross training employees common?
Why Companies Shy Away
Many businesses worry that cross training is too time and cost prohibitive. Cross training can require both the trainee and trainer to spend time that could otherwise be focused on operations.
Paying team members to put in extra time to be trained is an additional cost most business cannot afford. This is especially true, as the Affordable Care Act requires business to focus more closely on employee hours.
How eLearning Outmaneuvers Concerns
For companies that want to cross train employees, online training can make the process less labor intensive and more affordable. Web-based training helps key team members remain on floor -- managing customer experience -- and spend less time coaching new employees.
By offering online training, employees can manage the early training stages at their own pace and as their schedule affords them the ability to log on. This allows team members with different levels of experience or aptitude to balance out quickly. Then all the team members cross training on the floor can already have some of the basics down and learn the next steps more quickly.
High-quality training software provides users the ability to develop custom content -- with quick creation, easy delivery, and trackable testing. Most eLearning solutions offer training in multiple formats -- such as, PDFs, SCORM courses, or videos. Employers can have star employees use smartphones to video quick 'how-to' training clips and upload them into a training program.
Realizing the Benefits
By setting the expectation about cross-training programs from an employee's first day, companies are better equipped to extinguish the "that's not my job" mentality. New hires are introduced into a corporate culture with self-starting expectations. Training team members for multiple roles prepares them to confidently step up to help fill any need when you're in the weeds.
For example, when cashiers are trained to stock shelves and stockers are trained as cashiers, the stocker can step in and open a register during a customer rush. Hostesses can easily watch videos about server etiquette and practices, and then spend less time cross training on the floor. Team members who are already trained in multiple areas of the business more easily transition into management.
Cross training your team with online learning solutions helps operations reduce costs -- in training materials, labor, and possible travel -- increase scheduling flexibility, reduce turnover, and improve succession planning. As far as team benefits, increasing training and employee value improves team morale and overall productivity.
When the time comes to hire, you know you'll select the candidate with the most value. Take the time now to increase the efficiency of your current team through cross training.
Nate DaPore is president and chief executive officer of PeopleMatter. He is passionate about providing team members, including his own, with a rewarding workplace experience that values creativity and innovation
Published: November 20th, 2013
Share this Feature
Recommended Reading:
Comments:
comments powered by

Disqus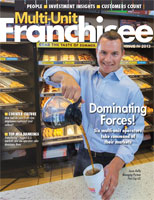 Multi-Unit Franchisee Magazine: Issue 4, 2013
Build a Future with the Computer Service Industry Pioneers. NerdsToGo is paving the way as innovators, entrepreneurs, franchisees, and successful...
Cash Required:
$70,000
Shakeaway is a unique global company with stores popping up all over the world! Get involved in this fun, fast growing and profitable franchise now...