Expect High Performance!: Don't Let Mediocrity Get in Your Way
Do you do your utmost to be recognized as the best? Or do you strive to be average, ordinary, run-of-the-mill? While it's not what anyone is aiming for, mediocrity is commonplace--mediocre products, mediocre services, and mediocre customer service are the norm. (When was the last time you were wowed by a receptionist, cashier, or server? When was the last time your front-line staff and managers wowed a customer or another team member?)
I was recently on the phone with the owner of a chain of pizza parlors who actually told me, "It just doesn't make any sense for us to even think about using pre-employment testing, making our jobs hard to get, or checking references. When we need new help, we always need it yesterday. We can't be taking that much time just to find a new driver or line person. And now it's worse than it's ever been because of the flood of applicants we get for every job opening. I'm working so hard to hang in this hypercompetitive market and I just don't have time to go through the whole recruiting, hiring, training routine again."
When I regained my composure, I did my best to set him straight, but it made me realize there are probably plenty of franchisors and franchisees out there in the same boat, thinking and doing the same things--resorting to desperation hiring practices and hanging on to only "okay" employees just because they're okay.
It was the visionary imagineer Walt Disney who said: "You can dream, create, design, and build the most wonderful place in the world, but it takes people to make your dream a reality." He didn't say it takes time or that it takes creative genius or that it takes a great business plan. No, he said it takes people and, if you've ever been to any one of the famous properties that bear his name, you know he meant at every single level of the organization.
What Walt understood was that no matter what your products, goods, or services are, somewhere along the line they will be manufactured or prepared or assembled or packaged or delivered by an hourly employee. The question then is why so little time and effort are spent hiring the people who really are the "face of the company," the ones on the ground responsible for quality control, customer service, and repeat business.
Walt knew lax hiring standards and low expectations inevitably lead to the preponderance of your employees being just average, C players who can be every bit as damaging to your reputation as bad publicity. First of all, your A and B players will tire of having to cover for the C and D players' mistakes and inadequacies. They will become frustrated and either lower their own standards or leave. Many of your MVPs will also resent the amount of time you spend with your poor performers trying to get and keep them on track.
It is actually better to make a mistake and hire "the employee from hell" than someone who is mediocre or just okay. A bad hire becomes painfully obvious early on, and the need to show the person the door is unquestionable.
But what happens with most mediocre players--the ones who get about 85 percent of it right and give you about 85 percent of expected performance for 100 percent of their paycheck? They are not good enough to be given more responsibility or a promotion, but not "bad" enough to fire.
Perhaps your less-than-stellar performer has a redeeming quality like reliability and you think that might be hard to find in someone else. Or perhaps this person is a relative, or has been with the company forever, or really needs the job. Perhaps these are not good reasons to keep an underperformer on the payroll, but they are just a few of the ones I hear over and over again.
Maybe you think one or two okay employees really isn't that bad, but look how low you've set the bar. And the truth is if you keep one or two on your team, you'll end up keeping them all. Mediocre players know where they stand and don't often go looking for new jobs. They just stay on and on, doing the same old things the same old ways, going through the motions. (The easiest way to reduce employee turnover is to hire okay employees. They never leave.)
It seems most supervisors and managers don't realize that the tougher they make their jobs to get and the higher their performance expectations, the easier their own jobs become. Unfortunately, most never see it this way because their gut instinct is that taking the time to do it right is just more work that there's no time for.
If you're saying to yourself, "But our staff is just as good as anyone else's," I have to ask: Is being only as good as your competition a worthwhile business goal? The idea that it's okay to settle for less because "everybody does it" was deftly countered a long time ago when your mom said: "If everyone decided to jump off a bridge, would you follow?" When you benchmark against your competition, in most cases you are lowering your standards.
If this is your modus operandi and you're comfortable with it, let me put it this way: Would you be happy if your investments only kept up with inflation? Your investment in your people is one of your top three expenses and the one you have the most control over. The only way to get a substantial ROI is to raise the bar when it comes to who gets hired and who gets retained. People who settle for second-best get second-best. What they must not know is that people who expect the best get what they're looking for too.
Employers with high hiring standards across all levels of the organization are household names: Southwest Airlines, Procter & Gamble, Disney, QuikTrip, Chick-fil-A, The Container Store, and Nordstrom. And they are magnets for top talent. Where do you stand? Do you want to lead or follow your competition?
British millionaire Scott Alexander aptly summed up the situation when he said: "All good is hard. All evil is easy. Dying, losing, cheating, and mediocrity are easy. Stay away from easy."
Mel Kleiman is a consultant, author, and Certified Speaking Professional on strategies for hiring and retaining the best hourly employees. He is president of Humetrics, a developer of systems, training processes, and tools for employee recruiting, selection, and retention. His books include The 5 Firsts: A Simple System to On-board, Engage & Retain Top Talent and 100+1 Top Tips, Tools, & Techniques to Attract & Recruit Top Talent. For more information visit www.Humetrics.com and www.KleimanHR.com. Or reach him directly at 713-771-4401 or mkleiman@humetrics.com.
Published: March 28th, 2011
Share this Feature
Recommended Reading:
Comments:
comments powered by

Disqus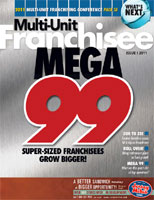 Multi-Unit Franchisee Magazine: Issue 1, 2011
Our first store opened in 1990 in California, growing quickly to a 5-store regional chain. PET DEPOT® started franchising locations in the USA in...
Cash Required:
$53,250
Founded in 1959, Ziebart provides premium automotive appearance and protection services to extend the life of vehicles. Recently ranked #1 in its...
Cash Required:
$150,000