Family First! 3 keys to creating a succession plan
We are currently working together as Amazing Brandz, owner of 18 Tropical Smoothie Cafe (TSC) locations throughout Orlando, Sarasota, and Fort Myers, Florida, as well as three future Florida locations of Another Broken Egg Cafe in the Lee County area. We'd been franchising separately with TSC since July 2013. Then, in 2018, we decided to merge our businesses together and operate under the Amazing Brandz banner.
Companies tend to have varied personalities at the helm, and ours is no exception. Ray is the visionary, excellent at negotiating deals and big-picture thinking. His wife Joy is the taskmaster, tirelessly making sure no detail goes overlooked. Andrew shines in the middle, using his customer service and communication skills to execute those big ideas.
All three of us are big believers in the family-first culture we have created, and our management teams and employees have thrived with the TSC brand. Within that environment, we find the customers are generally happier, and it's an easier schedule. We saw the same type of opportunity with Another Broken Egg Cafe, with its appealing one-shift business model and operational simplicity.
As we look farther down the road at our long-term growth plans and the future of Amazing Brandz, we have the security of knowing we are in this business together as a family. We can lean on each other's strengths, learn from our differences, and set a course for a smooth transition as Andrew eventually takes the helm. Here are a few things we've learned since going into business together.
Play to your strengths
Successful businesses put people in a position to win by playing to their skill sets. Merging our companies gave each of us an opportunity to focus on the tasks we enjoy the most and are best at handling. We've also learned how to collaborate and continually shift our workloads so that each person is bringing their very best gifts to the table.
For example, Andrew was happy to pass along the accounting and payroll responsibilities to Joy and have the opportunity to work more closely on operations and regular communication with our district managers. That division of duties worked very well for them for the first several years. Now we are seeing new opportunities for each of them to step into new responsibilities that will allow them to grow and nurture different skills.
Joy's attention to detail was a gift to the books. Now we have an opportunity for her to take on the director of operations role so Andrew can step into a larger leadership position with development. Negotiating leases and planning for future growth alongside Ray, who has decades of experience to draw from after 29 years as a multi-unit Meineke franchisee, will be an excellent way for Andrew to hone his skills in this area.
Learn from generational differences
Ray's father grew up among a generation that believed very strongly in duty and determination, pushing himself, and always working harder… until his early death at 71. Ray saw firsthand the consequences of that work ethos, but he also recognized the benefits of putting in the work to build a business. Self-employed since 1984, Ray is a problem-solver. He's been there, done that, and his wisdom means he knows when to pursue the right idea, even if he wasn't the one to think of it.
Andrew has had the good fortune to grow up with a front-row seat watching Ray's business dealings. He also learned the customer service ropes as a college student working for The Walt Disney Company. His Millennial mindset and Disney experience give him a fresh perspective on customer service that serves Amazing Brandz well.
Both of us have learned how to find a compromise and collaborate when the inevitable differences in ideas collide between a Baby Boomer and a Millennial. Ray typically needs time to work out a few things in his head; then he will call Andrew to discuss. Andrew usually has a twist or two to Ray's ideas that enhance the plan, and we plot a way forward from there. We respect the skills and life lessons each of us brings to the table, and we allow our different, yet complementary, styles to coexist.
For instance, the franchising model means there is a good bit of procedure to follow in our business, which really works well for Ray's personality. He was an award-winning franchisee with Meineke for three decades because he flourished in that structure, building his long and successful career one smart step at a time. Andrew's influence can be felt when solving a problem a little outside the box or by being more open to adaptations and change.
Prepare early
In our fourth year working together as Amazing Brandz, we have found our groove. Our TSC locations are doing well and we are developing new cafes. We have diversified into full-service restaurant ownership with Another Broken Egg Cafe and are going full-steam ahead with plans to open our first in Lee County.
Our experience as multi-unit franchisees has helped us recognize there is a tipping point as your company grows. Once you pass 15 stores, the workload compounds quickly. Just as it is important to build your bench ahead of time by adding employees and divvying the tasks well ahead of crunch time, we are building our bench in advance for eventual succession.
Andrew is starting his Executive MBA and growing as a leader every day. He is putting in the time and effort to network, earning appointments to boards and committees. The transition will happen organically over the next 2 to 5 years as he takes on more of the development duties and gains more experience in the industry.
In the process, we are grateful for this time together to continue learning from each other, leading by example, and putting family first.
Published: December 24th, 2021
Share this Feature
Recommended Reading:
Comments:
comments powered by

Disqus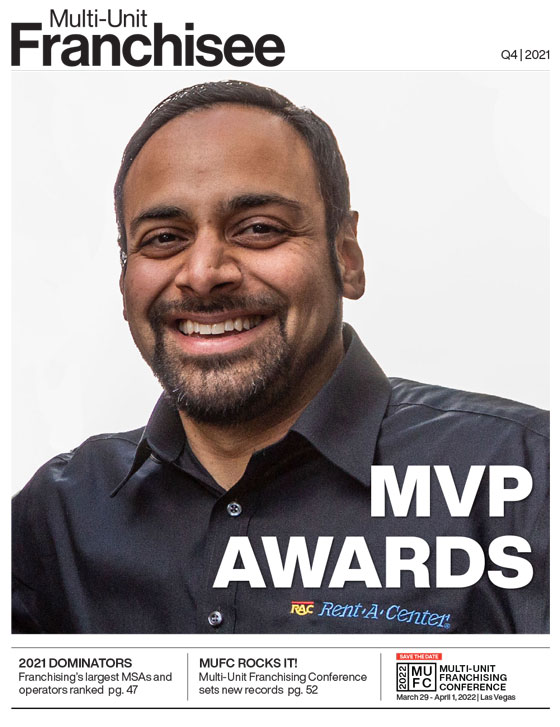 Multi-Unit Franchisee Magazine: Issue 4, 2021
Teriyaki Madness is the #1 Fastest-Growing Big Restaurant Chain for a reason: high-quality food, cutting-edge technology and incredible franchisee...
Cash Required:
$200,000
Basecamp Fitness is empowering entrepreneurs to build an innovative fitness franchise in their markets while helping create happier, healthier...
Cash Required:
$200,000