Finders Keepers: Become the Employer of Choice in Your Markets
After 25 years in the restaurant business, Mike Richey knows that an offer of a dollar more per hour from a competitor can be too much for an employee to refuse. Richey, who operates five Golden Corrals, wishes his employees well when they leave. But that's not the end of the story. A couple of weeks later he calls them to ask if they'd like to return to their old job--a practice that has paid off for him over the years.
"People are flattered that we care enough to call," says Richey, who once worked at Golden Corral corporate as a mid-level director. "We start by asking if they'd like to come back for at least one day a week, on whatever time off they have from their new job."
After about two weeks, Richey says, the honeymoon with the new job is over. Also, it takes about four weeks before an employee is officially terminated in his company's records system. Employees who return before that window closes retain their accumulated paid vacation time. For employees with five years' tenure or more, that amounts to three weeks.
"We don't call everybody back," says Richey. "We focus on the best and rely on our unit managers to make that call, but one in three people we call do come back."
Richey's come-on-back call is an effective response to one piece of the classic triad of key operational challenges multi-unit franchisee organizations confront: recruiting, training, and retaining the best people. Conquering this challenge requires thinking beyond the traditional, whether through "day in the life" job videos that appeal to Millennials, or through private Facebook groups for employees to exchange problem-solving tips and advice. We looked around for other innovative approaches to solving the employment "big three" and found several ideas worth sharing.
Finding the best
Social media platforms have become the go-to first step for recruiting hourly workers. Sites such as LinkedIn can be useful for higher-level jobs, but Brent Veach, whose 40 Del Taco restaurants make him the brand's largest single franchisee, uses other online recruitment websites to find hourly employees. These include PeopleMatter, Snagajob, and Indeed--and he updates his ads regularly.
He also offers his employees bonuses for successful referrals. And in this perhaps overly digital age, he adds another old-school technique: he posts notices for available positions in the windows and on the counters of his restaurants. These eye-catching notices, seen by thousands of people who visit his restaurants, tap into a pool of potential employees already familiar with the brand.
Familiarity is also at the core of another effective employee recruitment tool. Brandon Hill was just out of high school when he began working at Pinch A Penny Pool Patio and Spa stores, which today has more than 230 locations. He stayed with the franchise, rose through the ranks, and became part owner of multiple Pinch A Penny locations in Florida. Today Hill and his wife, Mackenzie Hill, own two locations in Louisiana, where he is duplicating his own path to success for his employees by considering them as high-priority candidates for advancement.
"Promotion from within has been our most effective tool," says Hill. "We've had great success in moving our hourly partners to certification as trainers, then to hourly shift leaders, and, finally, to management." He says half the open positions he posts are filled by current employees, a fact potential new hires find attractive. Seeing the opportunities for promotion from within, he says, "inspires our people to strive for that next position--and that's great for the quality of our operations, as well as morale."
Martha Moore and her family opened their first The Little Gym in 1996. They now own four gyms in North Carolina, South Carolina, and Tennessee. Moore could have continued to only use standard job posting websites, but about a year ago she added video to her array of recruitment tools. Videos appeal to a generation raised on them, and Moore has found them an effective hiring tool.
The Little Gym's recruitment videos feature employees talking about their jobs and demonstrating what their typical day is like. "Video gives people an insight into what we're about. It piques their interest. It also answers a lot of questions they may have," she says. And, she adds, "It brings in great candidates."
Acing the interview
Some franchise owners are crafting their employee interview process with long-term retention in mind. Richey has learned that relationships between employees and managers are an important element in building great job performance for the teams at his restaurants. He is looking for managers who understand that and value the connections they make with their team members.
"One of our interview questions is 'Should you have close relationships with your employees?' Most people say no. What we're listening for is 'Yes.' We ask them how they would foster a sense of family among their co-workers. We are looking for people who are out of the ordinary. That's the kind of folks we want to hire."
Brooke Wilson and her husband Les have been quite successful with their five Two Men and a Truck franchises in North Carolina and Georgia. (See their MVP profile in MUF Q3 2016.) Since opening their first franchise in 2004 as newlyweds, they've learned that the standard interview questions can miss an element they see as invaluable in finding the right people to work for them.
"Listen, listen, listen," she counsels, in a twist on the old real estate axiom. "You have to recognize the needs of applicants to determine if you can combine them with your needs. We want to find people whose goals fit well with what our franchise can offer," she says. "We take the time to discuss not just immediate job openings, but to set out the steps in a career path that could help them accomplish their professional and life-balance aspirations." This up-front discussion of a pathway for advancement can go a long way in both hiring and retaining good employees.
Training tips and tools
Moore, like most franchisees, draws on the comprehensive online training program from her franchisor. Then she begins to supplement that. "We immerse our new employees in our company culture by having different team members mentor them in different aspects of their job," she says. "We also use role playing to teach and we send employees to training workshops selected especially for them."
Team members also have a Facebook group, open only to employees, which acts as an additional resource for team members to share ideas, ask for suggestions, or celebrate accomplishments. "You don't have to reinvent the wheel," she says, "but we are constantly evolving."
It all begins with discovering what an employee's goals are, both short and long term, and letting them know that the brand's growth plan for them will be developed around those goals whenever possible, says Moore. "When you invest in your employees, it comes back a thousand times, even if they don't stay with The Little Gym forever."
Todd Jackson, whose growing Newk's Eatery portfolio is on target to make him the 69-unit chain's largest franchisee by 2019, knows that up-to-date technology is essential to effective training. "We use HotSchedules for communication and scheduling. Getting a message to a manager from the staff or the other way is so much easier than in the past," he says. "We also use Schoox online digital training. We're using it more and more. All of our training is now done on tablets or pads." In part that's driven by his awareness of how his younger employees respond to technology.
"Interactive versions of register training, line builds, and other tasks connect more directly with a new generation that enjoys interacting in a way they are used to," he says. Jackson has found video an effective tool for training beyond just teaching an employee how to do a job. "We can continue culture building by showing our new employees videos of their peers explaining what the culture means to them and how the new hire can live our values." Schoox, he says, also monitors whether training actually is taking place in the unit. "It helps us make sure our new hires are being taken care of."
Retaining the best
Benefits and bonuses are obvious motivators to keep employees happy, but money isn't everything. Experience has taught successful employers and managers that simple gestures--such as saying hello and goodbye and thank-you to employees--have a powerful positive impact. "If someone feels valued, they will stay," says Jackson. "Everyone talks about this, but it is true."
"We let people know we appreciate them," says Richey. "They work long hours and the job is physically demanding. We also encourage our managers to let people know how they're doing, instead of cutting their hours if they're not doing a good job. We sit down with people and find out what's going on."
For example, students might need extra time off during finals, or someone supporting a family might want the first crack at extra hours. But that won't happen unless managers take the time to learn more their employees than their names and shifts. "If you know people and care about them, you will do the right thing for them," says Richey.
Moore has established a practice that encourages teams at each location to create their own code of honor. "If you have a group of people who are unified in what they want to achieve, they are going to be more successful," she says. Team-building activities, chosen by each team, are an important part of creating a culture at her locations. One team held a pre-Super Bowl event that challenged employees to "hike" a roll of toilet paper into trash baskets. The winners received their choice of gift cards or a certificate for an hour off work. Sometimes managers will surprise their teams by thanking them for a job well done and treating them to lunch.
"We work hard but we want to have opportunities for fun, and we want team members to see that from the start," she says. And, in one more nod to her many part-time employees, Moore has moved away from viewing the static work schedule as inviolate. "We find that our team members value flexibility," she says. "So when we can, we provide flexibility to work with their schedules if they are in college or even just want to be able to watch their child's soccer game or piano recital. To them this flexibility is a job benefit." And a good way to keep great employees working for you.
Published: May 12th, 2017
Share this Feature
Recommended Reading:
Comments:
comments powered by

Disqus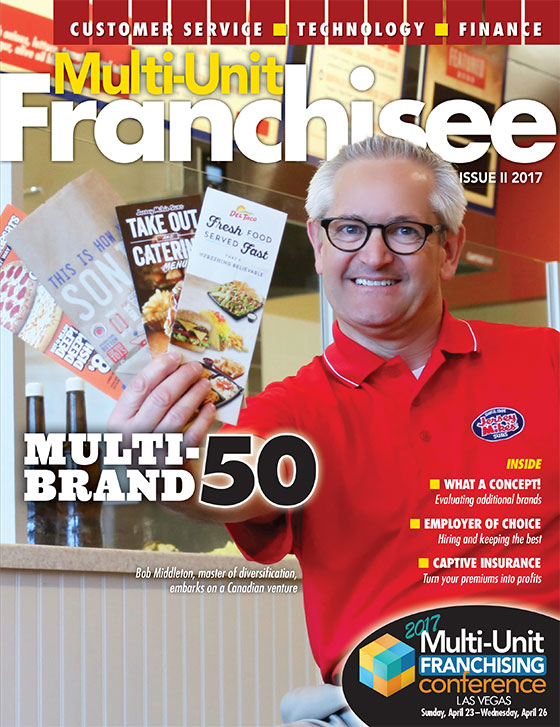 Multi-Unit Franchisee Magazine: Issue 2, 2017
Scooter's Coffee is in the midst of a strategic growth approaching 600 stores operating in 28 states and store commitments in 30 states. With a...
Cash Required:
$200,000
With more than 250 locations (and more on the way!), MY SALON Suite is the #1 salon suites franchise opportunity in North America.
Cash Required:
$500,000