For the Best Leads Click Here
Where are franchise leads coming from? What's the cost per lead? What recruitment tools work best? Those were just a few of the questions asked in Franchise Update Media Group's 2007 Annual Lead Generation & Sales Survey, presented this past October 4 - 6 at the 8th Annual Franchise Development & Leadership Conference, held this year at the Ritz-Carlton Hotel in Atlanta.

Gary Gardner, CEO of Franchise Update Media Group, presented the latest findings to a crowd of about 350 franchise executives from across the nation.

As expected, the Internet continues to be a dominant force for generating leads, but as Gardner was quick to explain, that technology doesn't exist in a vacuum. A well-constructed and balanced lead-generation and sales approach mixes a variety of tools and techniques in the best ways possible to identify and recruit top franchise candidates.

Now for the nuts and bolts of the study and presentation. Survey results were attained from 132 franchise organizations with data representing 15,032 company-owned units, 56,070 domestic franchise units, and 17,887 international units.

The amount of money spent on recruiting plays a pivotal part in any lead-generation and sales development strategy. This year's study found the average annual franchise budget was $153,000. That was down considerably from 2005's $282,000 figure.

Gardner reported that the Internet has become a dominant tool for franchise recruiting. Indeed, 51 percent of all money spent this year has been poured into Internet marketing efforts - an all-time high since the annual survey began. That's followed by print media (18 percent), trade shows (11 percent), PR (8 percent), and any additional methods falling into the "other" category (12 percent).

To further drive home the significance of the Internet, the study found a staggering 70 percent of all franchise leads were generated online. Another 16 percent came through referrals, while print dropped to a mere 2 percent. But as Gardner opined, "It's important to remember that although it appears that leads generated by print have seriously decreased, it's often print that drives people to the Internet. Print is continuing to play a significant role in driving people to the web sites."

Getting the sale
The question of what the top sales producers are among all the techniques once again finds the Internet on top, but also sheds light on the continuing emergence and popularity of brokers. One out of every five sales is a result of brokers who bring qualified candidates to the table. That number has doubled since last year's survey. Gardner addressed the finding that brokers are playing an ever-growing and important role in the franchise sales process. "In fact, 48 percent of the franchises surveyed use broker referral networks and 80 percent have closed deals that way," he said. The average broker commission was $11,200.

Overall, nearly half of those surveyed (46 percent) said their 2006 sales numbers were below their goals, while only 19 percent indicated they had exceeded their goals. The average closing period for a sale was pinned at 11 weeks. Gardner noted this number was down one week from last year's report.

Continuing the analysis of the survey's overall results, the study determined that 2 percent of all leads are eventually closed. Of those who complete applications, 15 percent are closed, and by the time they get to discovery days, one out of every two candidates signs on.

Cost analysis and trends
The study then turned to an evaluation of the costs involved in generating leads and closing sales. Surprisingly, only half of those surveyed even track their cost per lead. However, 81 percent of the respondents said they do use a lead management tracking tool. Nearly two thirds use a third-party service. The average cost per lead was found to be $396. As for cost per sale, only 44 percent said they track that number. The average cost per sale was found to be $8,000. "Tracking leads and measuring costs are very important indicators for franchises," Gardner commented.

Multi-unit franchising continues to be an emerging trend within franchising. The study found 64 percent of survey respondents sell both single and multiple units. Another 70 percent require an additional up-front fee for multi-unit franchisees. And interestingly, 53 percent of the franchises surveyed said they have franchisees who are also franchisees of other systems.

Sales department compensation always plays an important role in generating sales. The average sales department of the franchises surveyed had three salespeople who each were expected to sell 10 units per year. Eighty percent of those received a base salary and 85 percent received a commission on each franchise sold. But it wasn't just standard commission that was used to entice sales people. Forty-four percent receive additional perks such as quarterly and annual bonuses; health insurance; vacation; 401(k); cell phones; technology and other equipment; company cars; gym and tanning memberships and... the use of yachts around the world. Gardner lightheartedly asked for a show of hands from franchisors who offered that particular perk.

He wrapped up the presentation by pointing out that 70 percent of those surveyed reported business conditions at the unit level as good; and that 75 percent expect same-unit sales in the next six months to improve. These responses indicate that there's an overall good feeling among franchises concerning the economy in the short term.

The sales leads are out there, and they're being converted. Franchising continues to be a competitive and growing industry. Savvy franchise organizations are watching these lead-generation and sales trends and taking note. There's gold in those numbers - and the best ones are tracking their own as well.
Published: March 13th, 2007
Share this Feature
Recommended Reading:
Comments:
comments powered by

Disqus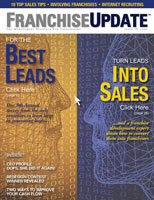 Franchise Update Magazine: Issue 4, 2006
919 Marketing Co. is a national content marketing, PR and social media agency serving franchise brands. Our proprietary social relations approach...
Gravity Software is a cloud-based, multi-entity accounting solution that simplifies inter-company transactions and financial reporting. Built-in...