Franchisee of the Year: Steven Keys, U.S. Lawns
Sharp as a Blade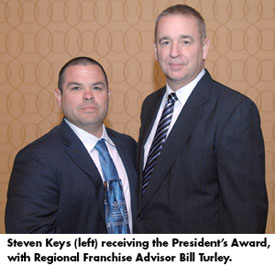 In October 1998, Steven Keys converted his residential lawn care business to a U.S. Lawns franchise. He was 25 and had a child on the way. "I wanted to have a sustainable business, be out in the field, and know that if something happened to me the business would go on," he says. Today he operates eight U.S. Lawns franchises: seven in South Carolina, and one in Augusta, Ga.
Keys is the 2011 winner of the company's President's Award, given to an owner-operator who not only "consistently meets or exceeds all U.S. Lawns standards for customer satisfaction and revenue," but who also spends time "mentoring and leading other franchisees in the system to success." Keys also is a U.S. Lawns Hall of Fame member, sits on the company's Franchise Advisory Council, and is a member of the brand's Million Dollar Club.
"The reason I believe we've done so well is that while we basically cut grass for a living (that's how the outside world looks at it), for us in the service industry we're basically problem-solvers for people who don't have the time." There's also the small matter of getting your name out there and grabbing market share from the competition--skills Keys had to learn when he started as a franchisee.
"While there are many tools to help you sell, there's nothing more important than the cold call, in asking somebody for their business," he says. "While it can be the most uncomfortable way to sell because of rejection and time consumption, somebody's got to do it. You can send emails, flyers, etc., which works, but nothing is as valuable as a cold call, sales-wise. That's how I got to where I am now."
That's a far cry from when he started. "When I bought the U.S. Lawns franchise, I was not comfortable with sales. A U.S. Lawns guy came here, we went over the spiel during breakfast, and as soon as we were done, we went on a cold call, my first. I sold it and they're still a customer." Today, he says, "It's hard to go anywhere for dinner and not ask the manager who does their lawns."
When he began, however, in many ways he was flying blind. "When I joined U.S. Lawns, I knew nothing. I didn't know what a P&L was, or a balance sheet," he says. "One of the older franchisees, Mike Carlo, made himself available to me." Today Keys is the older (as in veteran) franchisee, thankful for the advice he received on the way up--and glad to dispense tips to the newer kids on the block.
His path toward becoming a U.S. Lawns franchisee started after he came home from college and worked a couple of years for a franchisee in the lawn spray business. "The owner of that franchise wanted to start cutting residential grass and asked me if I was willing to do that. He provided the up-front equipment." The partnership--and business--grew, and Keys took it over as a sole proprietorship.
"Another franchise owner I looked up to owned Taco Bells. While I was doing residential lawns I worked for him," says Keys. "I found out about U.S. Lawns, got my franchise circular, and took it to him to read over it. At the time, I think U.S. Lawns would finance all but $5,000. He said, 'Five thousand dollars is not a whole lot of money. You might not understand that right now.'"
It's hardly been a one-way street for Keys. "There's no way I'm where I am today without the help of other U.S. Lawns owners," he says. "While the franchisor is very important, what you learn from the other owners is even more important." Beyond learning how to run the business and understand and manage his financials, Keys received plenty of advice from franchisees, including some you might not find in a manual--such as the time, early in his career, when a fellow U.S. Lawns franchisee told him, "You're an owner, you need to dress like an owner."
Says Keys, "That's what's great about the group of people at U.S. Lawns. They'll let you know what you need to be doing, give you a push in the right direction."
It's his time to return the largesse he's benefited from over the years--and he's eager to step into that role even more than he already has. "Now I do that, especially in South Carolina. I've gone through a lot of the trials and tribulations younger franchisees have not. That's my passion. I like helping other guys out." In fact, "We're always on the phone together and take vacations together," he says.
"The award is a validation that you're doing something the right way," he says. "Other franchisees notice that. You're succeeding so they trust you. It's the same thing I did: I watched Mike Carlo win awards. I was lucky he picked up the phone because he's a very busy person. Now I try to do the same thing. There's no way I would be here without the people who've helped me out."
Published: March 8th, 2012
Share this Feature
Recommended Reading:
Comments:
comments powered by

Disqus