Franchisee Turns Franchisor: Making the Best Of Both Worlds
When Michael Ansley was a teenager helping his father, a painter, with work at KFC and Wendy's restaurants in Springfield, Ohio, he soaked up both his father's entrepreneurial spirit and a basic knowledge of the food and franchising business.
After earning degrees in business administration and marketing at the University of Dayton, the intense young man worked as a sales manager for a large company, calling on Builder's Square, Home Quarters, and other stores across Ohio, Indiana, and Kentucky. Although he finished number-one in merchandising in the country, Ansley decided he didn't want to work for a big corporation. "I wanted to do my own thing," he says.
In 1996, he and his former college roommate asked their fathers for loans to buy their own Buffalo Wild Wings (then called BW3) unit near Ann Arbor, Mich. "We were young and didn't know what we were doing," he says. "But we learned how not to run a restaurant and where not to put it."
When go-getter Sally Smith took over as CEO at BW3 and changed the name to Buffalo Wild Wings, Ansley got a second wind and opened a location in front of a 30-screen movie theater. "That location took off, so we opened another," he says. Their Novi, Mich., unit was one of the first three to roll out full service in 2002, and his units have grabbed top honors for sales over the years. Nearly a decade later, Ansley has 22 Buffalo Wild Wings units in Michigan and Florida.
In 2006, looking at other concepts that were not so reliant on chicken, Ansley noticed that "Every town has a burger joint/tavern." Before creating his own concept, he called his uncle, an investment banker. "I said, 'Teach me how to do this,' and he said, 'Use other people's money.' So I worked with a designer on my ideas for Bagger Dave's Legendary Burger Tavern."
Ansley was ready to dive right into franchising the concept, but friend and veteran Buffalo Wild Wings franchise developer Bill McClintock told him he was not ready for that. "He told me I needed to walk before I could run, so I agreed, despite pressure from the board," says Ansley. A few years later, McClintock, impressed by the concept's performance, joined Bagger Dave's board. This past March he came on board as senior vice president of franchise sales and development. They hope to begin opening franchise units in 2012.
The busy husband and father of three sees no conflict between his roles as a Buffalo Wild Wings franchisee and Bagger Dave's franchisor. "A lot of franchisees have done this--the most famous is probably Dave Thomas of Wendy's," he says. "Thanks to having operational manuals and all the HR stuff on software--some of it our own--it's not that hard."
Name: Michael Ansley
Title: President, CEO, Chair
Company: Diversified Restaurant Holdings
No. of units: 22 Buffalo Wild Wings (14 in Michigan, 8 in Florida); 6 Bagger Dave's Legendary Burger Tavern (in Michigan)
Personal
Age: 40
Family: Wife and 3 children
Years in franchising: 16
Years in current position: 13
Key accomplishments:
The most important accomplishment was getting married and having a family. And then, it's been a tremendous experience being a Buffalo Wild Wings franchisee during the last 16 years. Sally Smith, the CEO, has transformed the company and let us be entrepreneurial. We had one of the three restaurants that rolled out full service in 2002 and also had the first location (Novi, Mich.) to hit $3 million and then $4 million.
Biggest mistake:
Choosing to go into Florida during the worst possible time. I was young and I signed an agreement for Buffalo Wild Wings in the Tampa-St. Pete-Fort Lauderdale area. My ego was somewhat inflated because of our success in Detroit, but I didn't do enough due diligence to realize that the area's real estate market was really hot. As a result, we wound up with a couple of locations that weren't so great. Since then, we've learned a lot about the culture in Florida and how to properly build out a patio in Florida.
Smartest mistake:
I've made a lot of those regarding our concept, Bagger Dave's. Sometimes with the concept, we weren't sure if we were doing the right thing. We looked at the counter service burger concept, but with Five Guys and Smashburger, that horse was already out of the gate, and we didn't want to be in the Red Robin camp with a 6,500-square-foot space. So we tried to create a nice niche with the craft beer segment. We've changed 300 things, and for whatever reason, we seem to be hitting all the current trends.
How do you spend a typical day?
There's not really a typical day right now. Things are chaotic because we're growing Buffalo Wild Wings in multiple states and working on developing franchising for Bagger Dave's. I travel a lot and on weekends, and I work a lot with different charity fundraisers. I'm on the board of the Children's Leukemia Foundation of Michigan, and we had an event with Bagger Dave's and Buffalo Wild Wings that raised $32,000 in one day.
Work week:
Right now, it's whatever is needed.
Favorite fun activities:
I'm lucky, because work is my hobby, I enjoy it. I also enjoy spending time with my family.
Exercise/workout:
Cardio and weights three times a week.
Favorite tech toys:
I'm not quite the techie that our CFO is, but I like my BlackBerry.
What are you reading?
Trade publications related to the restaurant industry and franchising.
Do you have a favorite quote/advice?
I like Warren Buffet: "Be fearful when others are greedy, and be greedy when others are fearful." Right now, you can find great employees, and reasonable real estate if you have the money. We just grabbed a former Big Boy in Grand Rapids on a short sale, and we're turning it into a Bagger Dave's.
Best advice you ever got:
I learned from my time with Buffalo Wild Wings that this business is all about people. A happy employee does mean a happy guest.
Formative influences/events:
I have some great colleagues and mentors. Bill McClintock, who now works for us as senior vice president of franchise sales and development, is the salt of the earth and has seen things done right and wrong over the years. Others who have been valuable are Phil Friedman of McAlister's Deli and franchisees David Fisher and Kent Ward, who are unbelievably bright and supportive.
How do you balance life and work?
My wife thinks I'm doing pretty well considering all that's going on, so I'll go with that.
Management
Business philosophy:
I believe in taking care of employees. They're our most important assets. They're the ones who are challenged to delight the guests at the end of the day. I remind our team all the time that I may sign the paychecks, but our guests pay all our salaries. I also believe that a clean, organized, well-groomed manager equals a clean, organized, well-groomed restaurant.
Are you in the franchising, real estate, or customer service business? Why?
We're in all of them. We're franchisees and we're going to be franchisors too, so we're definitely in franchising. We're in customer service because we're in the restaurant business, and we've become involved in real estate through building, buying, and leasing.
What gets you out of bed in the morning?
Every morning I'm starved for information. I want to know the numbers right away.
What's your passion in business?
Developing, building things, floor plans, leases, deals--all this excites me more than anything. On the other hand, it's rewarding to see former kitchen employees who are now regional managers. A great example is our COO, who started as a prep cook at Buffalo Wild Wings' first location when I was GM.
Management method or style:
I admit I used to be more of a micro-manager, but I've learned to back off and trust my people. The key is to surround yourself with bright people who think like you do. I don't like a lot of meetings--they're unproductive--but I'm in regular communication with my team.
Greatest challenge:
My greatest challenge has been coming from a single-restaurant background to moving the company forward as a larger entity. We're growing at a good clip, and every day is a challenge. We've had a field day in real estate in the past three years. We've taken advantage of the situation and found some good stuff. But with no new development or malls or strip centers being built, it's only going to get harder.
How close are you to operations?
I'm less involved with finance and accounting and more involved with operations and marketing because of my background.
Have you changed your marketing strategy in response to the economy? How?
Not at all. When we started Bagger Dave's, we decided it would be about the food first and the atmosphere second--not about discounting. Our pricing isn't bad. It falls into a price point like Buffalo Wild Wings or Chipotle. Our food is as fresh as you can get it and our sauces are made in-house, so we don't have to get into discounting or coupons.
Personality:
Passionate, intense.
How do others describe you?
Intense.
How do you hire and fire?
When we hire, everybody interviews with at least three people. We look for people with personality traits that are common in our company culture. We're working on a personality assessment test that will have candidates answer 60 questions before getting an interview. When it comes to firing, we're pretty quick. If you're here, we take care of you. If you're not cutting it and not fitting in, you're not here. We're not afraid to admit when we make a mistake, even if somebody's been here for only a couple of weeks.
How do you train and retain?
We're dealing with young people, especially at the restaurant level, so we try to (as the saying goes) hire smart, train hard, and manage easy. It makes sense, and we're spending extra money to intensify our training program.
How do you deal with problem employees?
We have a strict process: a verbal warning, a couple of write-ups, and you're gone.
Bottom Line
Annual revenue:
$45 million in 2010
2011 goals:
$60 million in revenue. We started this year with 19 Buffalo Wild Wings and we're ending the year with 22. We started the year with three Bagger Dave's and will end the year with six. Next year, in addition to three more Buffalo Wild Wings, we'll be adding five Bagger Dave's on the corporate side as well as opening some franchise locations.
Growth meter: How do you measure your growth?
Comparing nicely this year over last year's same-store sales.
Vision meter: Where do you want to be in 5 years? 10 years?
In five years, we'd like to have 40 Bagger Dave's units and closer to 50 Buffalo Wild Wings. 10 years? I can't even look that far ahead.
How has the most recent economic cycle affected you, your employees, your customers?
We weathered the storm nicely. When we went public in 2008, it wasn't a good time so we sold to family, friends, and employees as long-term investments. We've seen our customers suffer, but they've been loyal to us.
Are you experiencing economic growth or recovery in your market?
Definitely in Michigan. Florida is still a little weak since it depends so heavily on tourism and construction.
What did you change or do differently in today's economy that you plan to continue?
We remained focused on growth. Initially we panicked and did a wing promotion in Detroit that we regretted. We won't be doing that again. We went back to our base, focusing on our guests and reinvesting in our restaurants. We've put $1.3 million in refreshing and audio/video in our current restaurants.
How do you forecast for your business in this economy?
We keep things very conservative, flat.
Where do you find capital for expansion?
We have a line of credit with RBS, and we've self-funded--40 percent cash for Bagger Dave's and 30 percent for Buffalo. Eventually we'll go out for a larger secondary offering.
Is capital getting easier to access? Why/why not?
For bigger foodservice operators like us it's easier because we're less risk-averse for the banks. But on the Bagger Dave's side, our new franchisees will have a harder time since it's an unproven concept.
Have you used private equity, local banks, national banks, other institutions? Why/why not? No institutions other than commercial banks.
What kind of exit strategy do you have in place?
I still own 59 percent of the company, but as it gets bigger I'll need to diversify myself.
What are you doing to take care of your employees?
We pay fairly well and we offer an aggressive bonus program. We pay 100 percent of management insurance premiums and offer tuition reimbursement, cell phones, and annual trips for our GMs. For our hourly employees who work 20 hours or more a week, we cover 50 percent of their health insurance. We try to be flexible with scheduling, give all our employees Target gift cards at the holidays, and have a reward program every month for the top three restaurants.
How are you handling rising employee costs (payroll, healthcare, etc.)?
So far we've managed well with healthcare. Last year, our rates were flat; this year, they were up 3 percent. I'm a little worried about healthcare in the future, because nobody can seem to get their hands around what's going to happen. We've seen some commodity pressures on produce, but chicken wings have gone the opposite way so we've done all right. Bagger Dave's is harder to manage, because we're still too small to get great contracts. By the end of the year, we will be big enough to get better ones.
How do you reward/recognize top-performing employees?
As I mentioned, we're aggressive on bonuses and we look at salaries annually. We're looking into offering the three top-performing GMs a leased car, a trip, or a bonus kicker.
Published: October 3rd, 2011
Share this Feature
Recommended Reading:
Comments:
comments powered by

Disqus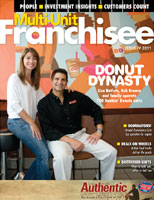 Multi-Unit Franchisee Magazine: Issue 4, 2011
Signage has never been more important. Right now, businesses are looking for new and better ways to compete.
Cash Required:
$80,000
Slim Chickens: Breakthrough Brand. Breathtaking Numbers.