Franchising Is for Girls!: Female Franchisees are Carving Out Their Own Success Stories
For most of her 40-year career, Linda Read says she has had to work harder, be smarter, and produce better results than the men in her field. Today she's the largest Auntie Anne's franchisee in California.
While she has seen improvement in attitudes toward women in business over the past four decades, she's also endured some seriously backward behavior in her earlier career as development director, first at a law school and then at two hospital foundations.
"I remember a man in a job interview asking, 'Are you sure a woman can ask a man for money?'" says Read. These days, such a question is not only verboten, hardly anyone even thinks to ask it anymore.
Proof of business success can be found in production, says Read, who operates 11 Auntie Anne's pretzel stores. "Results are the great equalizer, and a successful woman who out-achieves her male counterparts is a force to be reckoned with," says Read, president of Pretzel King, LLC in Glendale, Calif.
Whether seeking more control over their work lives or a fresh business start, women are increasingly choosing to make their own way in the world of business--and franchising: although data is limited, at last count, women accounted for 25 percent of franchisees.
Between 1997 and 2012, the number of women-owned firms in the United States grew 54 percent--a rate 1.5 times faster than the national average, according to a study from American Express Open. And women own about 8.3 million businesses in the U.S., 30 percent of the total, generating nearly $1.3 trillion in revenues and employing 7.7 million, according to AmEx's 2012 "State of Women-Owned Business Report."
Read, the mother of two young sons was seeking greater flexibility in her schedule when she traded in two decades in the corporate world to become her own boss. It didn't take long for the hands-on manager to discover that the skills she honed in the corporate world would serve her well in her new role as a franchisee.
Read was just 26 when she was tapped to run the development department of Southwestern Law School in Los Angeles, making her one of California's first female executives in the fundraising profession. Eventually, she was named assistant dean before moving on to serve as development director at two major hospital foundations. Along the way, Read, who hails from a family of entrepreneurs, cultivated her talents in the areas of public and community relations, marketing, finance, and sales.
A long-distance runner when she was younger, Read, who now prefers Pilates and weight training, was drawn to Auntie Anne's by the opportunity to get in on the ground floor of the chain's rapid expansion plans. When she opened her first location in the Glendale Galleria in 1994, the Southern California unit was among 200 stores nationwide. Today, Auntie Anne's can be found across the country in 1,200 malls, airports, and other quick-stop locations in 23 countries around the world.
With 11 stores and 125 "youthful" employees, Read, now 62, starts most work days at 5 a.m. with a review of the previous day's sales and daily inventory reports. Her friends think she's crazy for still working so hard, but Read says she can't resist the challenge.
"I thrive on growing my business. That is what makes me tick--not just growing in size, but growing in excellence," she says. "I want to be great at what I do, and I know that I am an overachiever in just about everything. I am not interested in complacency and have trouble being around people who like the status quo."
Flight to fitness
Christina Clark of Dassel, Minn., also is a high-energy go-getter. Clark went from flight attendant to a focus on fitness when she and husband Jason snatched up a Snap Fitness franchise in Montrose, Minn. A half-marathoner and mother of four, ages 1 to 9, she experienced the potential of the 24-hour gym center firsthand when, on maternity leave, she helped a friend manage a Snap Fitness facility. Soon there was another addition to the Clark family.
"I said to Jason, 'We need to own one of these babies, not manage them,'" says Clark, 37, who now operates 8 Snap Fitness locations--three newly constructed and the rest remodeled--under various ownership structures that include family and friends. Jason does the books and she is the face of the franchise, handling marketing and customer service.
In 2006, to secure the $200,000 franchise start-up fee needed open their first Snap Fitness location, the young couple combined borrowing from family with a bank loan. Since then, Clark says she is "loan averse," expanding one unit at a time, only when the $200,000 investment is in hand.
"I would suggest to women looking at any franchise to do their homework," says Clark. "Make sure you research the organization that you put your hard-earned money into, and look for companies that have longevity and the tools in place that you need to be successful--a franchise where you do not have to put in additional capital."
System resources also are important. While the goal is to find a franchisor with proven systems in place, and to work smart by taking advantage of technology, women who look to franchising to gain more control over their work lives often find themselves putting in more hours, particularly since more women than men are still primary caregivers.
For Clark, franchising has transformed the quality of her family life.
"On the outside, the differences between all working women and franchise working women might not look that different," says Clark. "I have balance in my life because of franchising. Snap Fitness has given me the tools and support and resources."
Destined for franchising
While entrepreneurs like Read and Clark transitioned into franchising from other fields, Little Caesars franchisee Vicki Dunn-Marshall seemed destined for business ownership from the start.
Dunn-Marshall, who owns 24 Little Caesars restaurants in West Virginia, Kentucky, and Ohio, began her journey with the chain as a crew member when she was 16. She was quickly promoted to assistant manager and then manager. Each time the young entrepreneur needed a new challenge, "There was always something else to grow into," she says. Dunn-Marshall served as carry-out supervisor of seven units, before joining the franchise sales department where she assisted franchisees with market development.
"The only reason I am not with the company is that I traveled the country to help franchisees open their stores and I saw how wealthy these people were getting," says Dunn-Marshall, president and CEO of VDM Management Group in Huntington, W. Va. An admitted risk taker, she also develops commercial and residential rental properties, is an investor in a health-related product manufacturing company, and owns a business that breeds, sells, and shows American Saddlebred horses, a passion of one of her two daughters.
Since she became a franchisee in 1982 at age 22, Dunn-Marshall has seen the role of women in franchising evolve. "In the beginning it was harder," she says. "I had landlords who didn't want to negotiate with me. I was blessed to have my father to use to go in together. We overcame those challenges."
As a result, Dunn-Marshall dedicates herself to mentoring her employees at every turn. With a self-described "lead by example" management style, she has helped former employees become Little Caesars franchisees--some of whom bought their stores from her.
"I want to help them to wherever or whatever they can dream," Dunn-Marshall says. "I want to do this with my daughters as well."
If the hats fit
"The nice thing about getting into franchising is that they give you all the tools, but obviously the implementation is up to you," says Tammy Toren, a Chicago-based Plato's Closet franchisee who previously worked in corporate training for a national restaurant chain.
Entrepreneurs like Toren simply learn what they don't know. In the past year and half, she has moved, opened, and expanded three of her four Chicago area retail locations, which cater to the teen and 20-something customer. While growing pains mean business is booming, her hands-on approach has forced Toren to add general contractor and shrewd negotiator to her skill set.
"In those trade fields, I'm dealing primarily with men who don't realize that you are as knowledgeable as you are," she says. "Gaining their respect, in that aspect, was daunting in the beginning."
To fill in her knowledge gaps Toren, who also owns a Once Upon a Child resale store (like Plato's Closet, a Winmark Corp. brand), believes strongly in fostering relationships among her fellow franchisees, and readily shares her expertise in training and hiring. She's also gone back to school, taking college classes at the University of Chicago on finance and social media.
"I have a wealth of knowledge at my disposal at any moment," says Toren, who in 2011 opened the largest Plato's Closet in Illinois, an 8,000-s.f. retail store that posted $1 million in sales in its first year--the highest opening in Winmark history.
The future is bright
Business success now affords these franchisees the freedom to keep learning, both personally and professionally, as well as to give back to their communities.
Dunn-Marshall, a member of the Young Presidents Organization, is also a big proponent of taking advantage of networking, educational opportunities, seminars, and conferences to keep growing, so you "don't sit on your laurels too long," she says.
Read, with bachelor and graduate degrees in political science, dreamed of becoming a political consultant. Now her passion is pretzels and doing good works. Her Auntie Anne's stores have donated hundreds of cases of water to homeless people during the hot summer months, donated 65,000 bookmarks to area libraries for summer reading programs, and hosted field trips and senior citizens groups at her stores. Auntie Anne's has also partnered with Alex's Lemonade Stand, a foundation dedicated to fighting childhood cancer. Read, who has since remarried, lost her first husband to cancer in 2004.
While the future for women in franchising looks bright, much work remains: the culture at large has evolved, but many individuals still have a long way to grow. Women are launching new businesses at more than twice the rate men are, yet government statistics reveal that, on average, women-owned businesses are smaller compared with male-owned businesses.
Still, women are projected to create more than half of the nearly 10 million new small-business jobs by 2018, according to The Guardian Life Small Business Research Institute. And you can bet female franchisees will be there to seize the opportunities.
"There are still challenges, insecurities, and barriers many of us feel from time to time, but today's environment is more conducive and welcoming to women then it was 10 or 20 years ago," Clark says. "This is such an exciting time for women."
Published: May 28th, 2013
Share this Feature
Recommended Reading:
Comments:
comments powered by

Disqus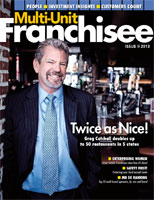 Multi-Unit Franchisee Magazine: Issue 2, 2013
$1M+ Avg. Revenue per Location. No medical experience necessary. Manage the manager franchise. Comprehensive training and support. Unique business...
Cash Required:
$75,000
Buddy's is one of the fastest growing rent-to-own franchises in America with 60 years of proven success. Franchise owners enjoy a 0% royalty fee the...
Cash Required:
$150,000