Franchising Without Walls: Oxi Fresh Franchisee Enjoys Freedom and Additional Income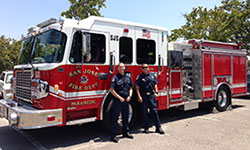 Franchising is a diverse world comprised of all kinds of brands, products, services, and opportunities. Many require brick and mortar offices and locations, but a number of brands have emerged in recent years that allow individuals to be a part of franchising without needing to build, purchase, or operate from a "brick and mortar" location. Some brands even allow people to continue working in other careers at the same time. One great example of the diversity in franchising these days is Alex Lee. The 45-year-old firefighter lives in the Bay Area of Northern California where he purchased and began operating an Oxi Fresh carpet cleaning franchise about a year ago.
The brand's "green," oxygen-powered carpet cleaning system has grown to include more than 250 territories in 45 states. There have been nearly 60 new locations in the last three years alone. It's a low-cost, home-based franchise opportunity. Lee says it's been a great business model for him and his dual career as a firefighter. He took some time out to answer some questions.
Name: Alex Lee
Title: Franchise Owner
Company: Oxi Fresh of East Bay
No. of units by brand: 1
Age: 45
Family: Married with two children
Years in franchising: 1
Years in current position: 1
Formative influences/events:
My children
Key accomplishments:
Being a career firefighter and becoming captain
Smartest mistake:
Smartest mistake was to have kids. LOL
Work week:
Firefighting - 80 hours a week; Oxi Fresh Carpet Cleaning - 24 hours a week
How do you spend a typical day?
Answering calls from apartment managers and supporting my techs.
What's your passion in business?
It offers the opportunity to serve as my own boss, while also allowing greater financial stability for my family.
How do you balance life and work?
Most people don't realize the schedule of firefighters, which for me means working 10 days a month for 24 hours straight. I've integrated Oxi Fresh into those "off" periods, and also make time for salsa dancing, fishing, and spending time with my children.
Business philosophy:
Always be nice to customers. Don't ever scam.
Management method or style:
I lead by supporting my crew. Always back them up, but put them in check when needed.
Greatest challenge:
Greatest challenge is to learn how to run a business on the fly
What are the two most important things you rely on from your franchisor?
Help with cleaning tips and the national advertising fund.
How is social media affecting your business?
I haven't noticed a significant affect in either a positive or negative way.
How do you deal with problem employees?
I deal with techs firmly, but fairly.
Annual income:
80K
Growth meter: How do you measure your growth?
Income, number of repeat customers, and overall customer satisfaction.
Vision meter: Where do you want to be in 5 years? 10 years?
I'd like to purchase two additional territories and have a total of six techs in the next five years. I'd like to have an annual income of $200K in the next 10 years.
How do you forecast for your business?
I forecast with a number of apartment managers with whom I have contracts, in addition to tracking the number of overall jobs worked.
Have you used private equity, local banks, national banks, other institutions? Why/why not?
I've used banks and credit unions because everything is both traceable and accountable.
What are you doing to take care of your employees?
I support my employees 100 percent
How do you reward/recognize top-performing employees?
I give cash bonuses or higher percentages
What kind of exit strategy do you have in place?
I do not have an exit strategy. Failure is not an option with this venture.
Published: April 9th, 2014
Share this Feature
Recommended Reading:
Comments:
comments powered by

Disqus
A neighborhood butcher franchise is what every community needs. Learn more about joining Southern Steer franchise.
Cash Required:
$100,000
Cicis is an iconic, modernized restaurant that pushes the limits of the regular family dining experience. With unlimited opportunities for revenue,...
Cash Required:
$250,000