From crew member to multi-unit owner
Jim Valentine began his franchising career as a McDonald's crew member more than 33 years ago. During his first 12 years in franchising, he was frequently promoted until he became the supervisor of several McDonald's restaurants. That's when he decided to gather all his accumulated knowledge and experience and try his hand at franchise ownership.

That was in 1985, when Valentine became the very first Cousins Subs franchisee, in Brookfield, Wis., and he hasn't looked back. That shop is still in business today, as are his six other locations throughout Greater Milwaukee. "I knew when I started over 20 years ago and had the opportunity to open my first location in Brookfield that I was on to something great with this company," says Valentine.

During his two decades with Cousins Subs, Valentine has received numerous awards from corporate. Among the most notable are the Cousins Subs Treasurers and the Sales Leadership awards. Other involvement with the franchisor includes participation on product development committees and marketing and advertising committees. He also was a founding member of the National Advisory Council Board of Directors and served as its president for several years. But perhaps one of the greatest testaments to his success is that several of his employees have gone on to purchase their own Cousins Subs franchises.

For all his success and accolades, Valentine is a quiet, reserved man. "I observe and evaluate before I speak," he says. "But I will confront issues when necessary." He describes himself as a driving force behind the scenes.

Valentine is a manager who empowers his employees and associates. "I concentrate on effectively training from the beginning, focusing on details and delegating responsibility and authority to empower others to make decisions and take ownership of their shifts. Then I follow up and evaluate so we can constantly be improving our employees, our product, our customer service, and our company," he says.

He's a big believer in training as an essential for success in any business. "I love to train and develop someone who is eager to learn and has a cooperative attitude. A challenge to the ability of a manager is to take a weak, undeveloped employee with great potential and cultivate him into a great asset." He says that it isn't always the most talented person who becomes a great asset, but the one with a great attitude to learn and grow in areas that can uncover their hidden talents and allow them to blossom.

"I think a person has to enjoy their job to do it effectively. I tell my employees they should find what they love to do and then do it wholeheartedly," says Valentine. "You have to have a passion about your job in order to hang in there through the tough times."

As for the future, Valentine says he tries to think innovatively about his products, service, and methods, striving to stay ahead of the competition. That strategy has been working for more than two decades now.

Name: Jim Valentine, owner/operator

Company: Cousins Subs

No. of units: 7 Cousins Subs, Greater Milwaukee

Years in current position: 21

Years in franchising: 33

Key accomplishments: I was the very first Cousins Subs franchisee in 1985; received the Distinguished Achievement Award from the International Franchise Association two years in a row.

Management method: I believe in delegating responsibility and authority to empower others to make decisions and take ownership.

How do you do it? After I have empowered others, I follow up and we evaluate results in order to improve employees, product, customer service, and our company.

Greatest challenge: To continue to have direct influence on my employees at each store. Having multiple stores means I can't be at each one every day. I have had to shift from being a single operator and having an immediate response to issues and many opportunities to rub elbows with all the employees and train them directly, to now having the position of an overseer and working through a supervisory staff to convey my wishes.

Personality: My personality is quiet and reserved. I make many observations and evaluations before I speak. I am bold to confront issues when needed, but I am not a socially talkative person. I am a behind-the-scenes driving force, and I am very task- and goal-oriented.

How do you find good people and retain them? I try to recognize the strengths and weaknesses in those around me and maximize their abilities while working on their weak points. I challenge employees to strive for excellence in all areas of their lives and to reach their potential. I think a person has to enjoy their job to do it effectively.

How close are you to actual operations? I oversee operations very closely through my supervisory staff, who report to me daily. I also have frequent communications with our general managers by email, and through monthly management meetings to keep everybody on the same page.

How do you spend a day, typically? My typical day is always changing. I have my office in my home, so my work doesn't fall into a 9-to-5 schedule. I work at my desk and computer at all hours of day or night. My job is a combination between administrative and operational, so my day is filled with paperwork, phone calls, and meetings. Although having a home office can be a blessing because I can incorporate family time during breaks in my work, the business needs can also invade my family and personal time. I have to be aware to balance time spent on work and home life.

What do you do for fun? Going to college basketball games (I enjoy Marquette), working out at the club, and camping with my family and friends. My family of 7 children and 3 grandchildren keep me busy and fill my life with laughter and love. I also enjoy keeping up on current political issues and world news. I am active in our church and weekly Bible study, serve as chairman of the ECFA Wisconsin Advisory Council, and I am a member on the ECFA Board of Directors out of Wheaton, Ill. (ECFA is a charitable organization that works with women in crisis pregnancies, adoption and foster care placement.)

Growth meter (how do you measure your growth?): I measure our success and growth both by statistical objectives as well as the maturity and advancement of myself and our employees. Some things are easy to measure and make adjustments accordingly, while other things add to our growth and understanding as people, even though the "bottom line" may not show it.

2007 goals: I have many goals for our future. Mostly though, we continue to pursue what we have been striving for every day, namely maximizing efficiency in our store operations, increasing our standards in customer service, and pressing toward the goal to be all that we can be.
Published: March 6th, 2007
Share this Feature
Recommended Reading:
Comments:
comments powered by

Disqus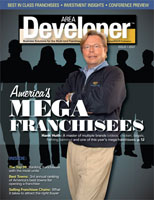 Multi-Unit Franchisee Magazine: Issue 1, 2007
Vitality Bowls specializes in acai bowls, smoothies, juices, salads, grain bowls, wraps, toast & panini, made with unique superfoods like pitaya,...
Cicis is an iconic, modernized restaurant that pushes the limits of the regular family dining experience. With unlimited opportunities for revenue,...
Cash Required:
$250,000