Full Steam Ahead: Lee Kleiner adds a 3rd brand with a 25-unit deal
In 2012, Lee Kleiner faced a crossroads when the multi-unit Dairy Queen operator found himself in the position to buy out his partner.
"He was fine with the business we had, but I had a bigger vision for myself and the company," he recalls. Kleiner took over from his partner, hired a CFO, and spent the next 3 years developing a business model that would help him scale up. He zeroed in on reinvesting in his operation, developing systems and routines, defining an organizational chart, and measuring results through monthly dashboards. It was a strategic move that worked.
In 2016, he diversified his portfolio by adding Which Wich, building four stores in 2½ years. He's also maintained and streamlined operations of three of those Dairy Queen stores. And in 2020 he'll become an area developer for Garbanzo Mediterranean Fresh in a deal to develop more than 25 units over the next 5 to 8 years in Indiana, Louisville, Lexington, and Cincinnati. "I plan to use my 20 years of franchisee experience to guide, coach, and mentor new franchisees." He also plans to open one location himself.
Over those two decades, Kleiner has proven his ability to manage and drive revenue with well-established brands like Dairy Queen, while identifying and growing with emerging concepts like Which Wich. With Garbanzo Mediterranean Fresh, he'll depend on his proven team culture to make the transition. "Some team members will be moving to a new brand, others will be promoted within the same brand, and I'll need some to be flexible and do what is best for the company," he says.
At 44, Kleiner still has a lot of gas in the tank and can't wait to see what the future holds. "Right now it's full steam ahead," he says.
Name: Lee Kleiner
Title: President
Company: Janes Franchising
No. of units: 3 Dairy Queen, 4 Which Wich, Garbanzo Mediterranean Fresh area developer
Age: 44
Family: Wife Stephanie, daughters Jayden and Alex
Years in franchising: 20
Personal
Key accomplishments:
In 2012, I was presented with an opportunity to buy out my business partner. We owned four Dairy Queen restaurants at the time. He was fine with the business we had, and I had a bigger vision for the company and myself. The first thing I did was hire a CFO/advisor to help me develop my plan of attack. We spent the better part of 3 years getting my Dairy Queen operations in order and ultimately developed a model that we could scale with growth. We focused on reinvesting in our current operation, developing systems and routines, and defining our organizational chart. In 2016, I diversified my portfolio and added the brand Which Wich. My partners in this new franchise and I built four stores in 2½ years. In 2020, we're ready to embark on an area directorship for Garbanzo Mediterranean Fresh, and we believe the sky is the limit with this brand.
Formative Influences/events:
I grew up in a hard-working family where we always supported one another. As I have grown my business over the years, I think I have always tried to instill in my employees that no matter the situation, they will always have my support. At times, maybe they could have handled it differently, but the fact that I support them has created a culture within my organization. As we bring on a third brand, Garbanzo Mediterranean Fresh, everyone in our organization will have to support one another. We have team members who will be moving to a new brand, some who will be promoted within their same brand, and some who will have to be flexible and do what is best for the company.
Biggest current challenge:
The unemployment rate is so low that hiring is our biggest challenge, and has been for the last 3 years.
Next big goal:
Being an area director for Garbanzo Mediterranean Fresh will be a huge focus of mine over the next several years. We plan to open 25 units in the next 5 to 8 years. I plan to use my 20 years of franchisee experience to guide, coach, and mentor new franchisees.
Best business decision:
Buying out my business partner in 2012. This purchase allowed me to become the person I am today, and at the same time help others along the way.
Hardest lesson learned:
Early in my career, a veteran Dairy Queen executive was watching me work as we had a meeting that day. As we were sitting he said, "Your sales would be better, but you work like a player/coach and you need to spend your time coaching your team." The sports analogy was very relatable for me and I have always kept that in the back of my mind.
Work week:
You will hear me use the word "culture" a lot. The culture within our organization allows me freedom, but I still work six days a week.
Exercise/workout:
Go figure, I love to work out at franchise concepts and do so three times a week. I am in the process of trying to get into the gym before 7 a.m., but as of now I am a night person.
Best advice you ever got:
Lean into the pain!
What is your passion in business?
Being in the service industry, my passion will always be guest satisfaction. I want everyone to walk out of one of our restaurants feeling better on the inside. In addition to the customer, I want all of our employees to feel valued and a part of the team.
How do you balance life and work?
I will say this is a work in progress for me. My children are at that age where they are very active. So as I always say, the real work begins after work. I try to balance my work week so I can make it to everything for them. My wife does a great job of reminding me where and when I need to be after work. Our organization is made up of so many wonderful people that it allows me to be flexible with my family and I make my own hours, so I can work Sunday if needed to take off early on a Friday. Everyone in our home knows and understands that work and school will always come first.
Guilty pleasure:
Seeing my kids involved in their activities. Nothing makes me feel better.
Favorite book:
I really do not read much outside of trade publications, but it just so happens I am in the middle of reading a book called The Phenomenon about former St. Louis Cardinals pitcher Rick Ankiel (go Cardinals!) and his career ending because of the "yips." It's a fantastic sports book about anxiety and how you are one day or one step away from losing it all.
Favorite movie:
"Miracle" is one of my all-time favorite movies. Within the movie there are so many lessons to be learned. Coach Brooks knew his team lacked the talent to compete, but he knew if they could be molded into the best "team" they had a chance to win. There is a scene in the movie where they lose a game and he states several times the name on the front of the jersey is more important than the name on the back. Anyone who knows me understands that I have built my business around culture. I may own the company, but I am just one piece of the puzzle and we all make up the team.
Pet peeve:
Not following systems and routines!
Last vacation:
My wife and I are both transplants to Indianapolis, so we tend to travel to see family more often and don't vacation much. Don't feel too bad for us: Chicago and Phoenix are our destinations often. We have a great mix of "city" and "warmth" when needed.
Person I'd like to have lunch with:
My wife.
Management
Business philosophy:
The competition we all face today is so stiff, and if you are not operating your business as a team you will not succeed. I am a huge believer in taking no shortcuts, and that to be successful you must tackle and block each day. The systems and routines are the lifeline of our business, and the team that can execute the best usually makes out in the end.
Management method or style:
Over the years, we have grown because we have developed good leaders within our organization. I spend a lot of my time guiding, coaching, and mentoring people. I am a firm believer that in order to grow people you must allow them to make decisions and be there for them when they get stuck. Everyone in my organization knows this, and it's the reason we have so many of our key people in positions for more than 10 years.
How do others describe you?
Caring, demanding, shirt-off-the-back kind of guy.
One thing I'm looking to do better:
I recently met with my consultant and we are trying to implement recognition programs in 2020. Frankly, it's something we don't focus on enough.
How I give my team room to innovate and experiment:
This is a big one for my team. I love when our team members take it upon themselves to think outside the box. They know my door is always open, and some of our best practices have come from the least likely of people.
How close are you to operations?
Twenty years ago, I was all hands-on, all the time. With growth has come less of that, but I try to be in a store or stores four times a week. It's always a challenge because at times I am pulled in so many directions, but I try to set a plan each week of where I need to be. I am pretty sure if you asked my key people, they would tell you I am relentless when it comes to operations.
What are the two most important things you rely on from your franchisor?
Training materials that are fast, easy, and accessible, and the brand must be innovative.
What I need from my vendors:
On-time delivery and willingness to help when in a pinch.
Have you changed your marketing strategy in response to the economy? How?
Everyone is so focused on digital and social, sometimes I think we forget about the basics. We definitely focus on digital and social, but recently we have been focusing on being more visible in our communities, getting out and doing table touches, focusing on greeting customers, and hitting the street handing out coupons or passing out information about new products we have.
How do you hire and fire?
We try to be as thorough as we can when it comes to hiring. I think the most important aspect of hiring is will they fit into your team. An example of this is some of my locations have very experienced staff members who have been there a long time. We need to think about them when we are trying to bring in someone new. It's amazing how one bad apple can spoil a bunch. Firing is never fun and we take the onus on ourselves to make sure everyone we hire is given a fair shot.
How do you train and retrain?
We rely heavily on tools the franchisor provides us. We tend to use a buddy system when training, and it's seen as an honor to be given the responsibility of helping train new team members. It's the easiest way to get a raise in our organization. If you can embrace training we can put more money in your pocket. Training is so important to providing consistent service day in and day out. Our GMs really focus on observing training from a distance, and before the training process is fully over they sign off on everyone. This allows for some retraining if needed for both the trainee and the trainer.
How do you deal with problem employees?
The most important aspect of dealing with employees is reading the situation. Over the years we have tried different methods of discipline, but I am a big proponent of face-to-face communication. Many times, a good conversation can resolve the situation. A perfect example of this is sometimes a new employee is late to work and, after talking with them face-to-face, you realize they have a study hall until 3:15 and getting to work by 3:30 is just not realistic. Some of our best employees started off rocky, but with good communication and patience they bought into the team mentality.
Fastest way into my doghouse:
Lack of communication.
Bottom Line
Growth meter: How do you measure your growth?
Year-to-year sales growth; it's not all about how many units are added.
Vision meter: Where do you want to be in 5 years? 10 years?
The next 5 years will be very exciting for our team. We have seven units that we still need to grow and maintain operational excellence. In addition, we are starting a new opportunity as an area developer for Garbanzo Mediterranean Fresh, and in the next 5 years we plan to have 25 stores open or in the development stage. The 10-year focus will be to maintain our seven units and oversee the success of the 25 Garbanzo Mediterranean Fresh locations throughout Indiana, Lexington, Louisville, and Cincinnati.
Do you have brands in different segments? Why/why not?
Yes. Our recent endeavor, Garbanzo Mediterranean Fresh, was discovered because we think the segment is going to be the next big thing. After doing all our due diligence, we discovered they were the best partner for us. The corporate team is excellent, the unit economics are fantastic, they are innovative, and the food is delicious and nutritious. It has major potential.
How is the economy in your region affecting you, your employees, your customers?
The markets where we are have had tremendous economic development over the last several years and with that comes new homes, which brings in a ton of new customers.
Are you experiencing economic growth in your market?
Yes, one of the exciting things happening in many of our markets is the constant building of new neighborhoods, schools, and office parks. In my job you often spend time driving, and I am amazed at the development and redevelopment.
How do changes in the economy affect the way you do business?
Many times, changes in the economy are what they are, changes. We as business owners can't always worry about what everyone else is doing. In 2007 when the recession hit, we adopted the term blocking and tackling. To us that meant doing the little things daily to win the day. If there was anything positive from the recession, it was that. So when changes occur in the market, we just block and tackle and offer the best possible service to our guests.
How do you forecast for your business?
As I mentioned, back in 2012 when I took over the business, forecasting was something we needed to upgrade. We created monthly dashboards and those have evolved over time, but we track guest transactions, sales, COGS/labor, profitability, and much more. In addition to a monthly dashboard, we also focus on yearly forecasts and budgets.
Experience with private equity, local banks, national banks, other institutions? Why/why not?
I only have experience dealing with local/regional banks. I appreciate the relationship I have with my banker and bank. Maybe I am a big fish in a little pond, but they have been very good to me and I'd like to think I have been good to them.
What are you doing to take care of your employees?
All my GMs have the ability to give team members raises without asking for permission. They have a good pulse on their team and if someone deserves it we try to make it happen. I do understand money is not the only thing that drives people, and that is why we are taking a hard look into team member recognition.
How are you handling rising employee costs (payroll, minimum wage, healthcare, etc.)
This is why systems and routines are so important to an organization. If you can operate to the standards you set and forecast, you can manage the increasing costs.
What kind of exit strategy do you have in place?
Truthfully, I have not given much thought to this. I still love the challenge of what I do and don't anticipate selling. I think in the next 10 to 15 years I will need to sit down with my wife and discuss this, but right now it's full steam ahead.
Published: January 16th, 2020
Share this Feature
Recommended Reading:
Comments:
comments powered by

Disqus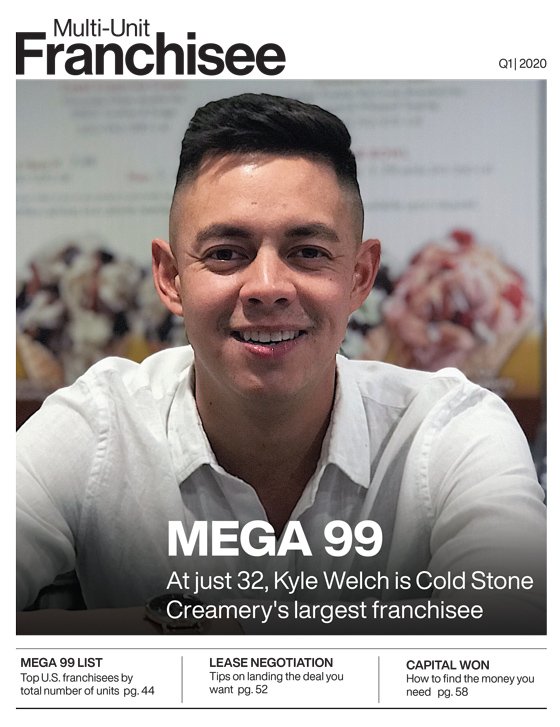 Multi-Unit Franchisee Magazine: Issue 1, 2020
Sport Clips is a winning concept-a great haircut experience for men and boys in a sports-themed environment. With almost 1900 stores and expanding...
Cash Required:
$200,000
Tropical Smoothie Cafe is a healthier, quick-casual restaurant brand with 1,175+ locations in 44 states. One of its key differentiators is what the...
Cash Required:
$125,000