Scooping Up Success: "Grow at the Speed of Your People"
Kyle Welch signed on for his first Cold Stone Creamery location in downtown Chicago in May 2014. He remembers it well because on that same day he told representatives from the brand's parent company, Kahala Brands, that he would become their largest franchisee. Today he operates 43 Cold Stone Creamery locations in 12 states--making him the brand's largest franchisee at just 32 years old.
Welch was no stranger to franchising when he signed on with Cold Stone. Fresh out of college, he found work at a large restaurant management company in Salt Lake City that was overseeing more than 300 locations. A couple of years later at 25, he left to start his own franchise business with Little Caesars.
When he discovered Cold Stone, he was drawn in by the customer experience. "Everyone who comes in the store believes that Cold Stone Creamery is the best ice cream, and we make it fresh every day so there's a freshness factor that sets us apart," he says.
Within 7 months of acquiring his first Cold Stone unit, Welch had 16 locations--rapid growth by anyone's measure. He credits his quick expansion to a philosophy he calls "grow at the speed of your people."
"When we open or acquire a new location, we make sure we have someone great who can run it," he says. Chicago Scoops promotes 90 percent of its store managers and district managers from within the company. "When we know we have someone who's ready, we acquire a new store and bring in more staff to develop," he says.
While quick growth brought scalability challenges, he says having great people on his team has made it all work out. "My goal has always been to build a large restaurant management company that runs franchises professionally, creates great jobs, and harbors great opportunities for people."
Name: Kyle Welch
Title: President
Company: Chicago Scoops
No. of units: 43 Cold Stone Creamery, 8 Epic Burger
Age: 32
Family: Recently married!
Years in franchising: 10+
Years in current position: 5+
Personal
First job:
In construction, framing houses.
Formative influences/events:
My mom is Filipino, which means hospitality was ingrained in me as an infant. It's part of the Filipino culture that our door was always open to friends, family, and the neighborhood. That definitely influenced my love for the hospitality industry.
Key accomplishments:
Most of the things that I view as big accomplishments can't be tracked on paper. My biggest accomplishments are the jobs and management opportunities we've created in the community. Being able to change wealth, provide opportunity, and help families drives me. Earning a degree from Michigan State University, and then being awarded the 2017 Spartan Innovator of the Year award was also pretty special.
Biggest current challenge:
A lot of the time people think when your business is growing quickly it's only good, but the difficulties of managing a rapidly growing business aren't frequently talked about. We're promoting from within so frequently that managing the emotions of people who are in a new job is a challenge for us. It's very difficult on human capital and the psychological side.
Next big goal:
Within Kahala/Cold Stone it's to continue to be a great brand ambassador for Kahala and help maintain Cold Stone as a dominant player in the ice cream industry. From an overall industry standpoint, the goal is to build a world-class restaurant management company.
First turning point in your career:
I did an internship at Sizzling Platter in Salt Lake City, thinking, "Let's see what this is like" and loved it. That internship led me to start my company because I thought, "Wow, I want to do this. I want to lead a group to do this."
Best business decision:
Trusting the Cold Stone Creamery brand and acquiring my first Cold Stone unit.
Hardest lesson learned:
The first franchise group I started was with Little Caesars. The first one was successful, but the second one was a miss. I learned then that you really have to do your due diligence when making a decision on new store builds. Research where you grow, why, and really know your community for your brand.
Work week:
I work every day, but I try to take Sundays off. I wake up at 4:30 a.m. and start my day by exercising. I have breakfast and drive into the office at 7 a.m. I use Mondays as an administrative day and stay in the office. Tuesdays I have meetings with all of my direct reports. Wednesdays through Saturdays are spent working in the stores.
Exercise/workout:
Men's league basketball is my passion. I also meditate, which has been a game changer for me. In the restaurant business there is a stigma that every decision you make has to be made fast, and meditation helps slow my brain down. I also looked into how to create serotonin through winning, exercise, and volunteer work. It helps me reach peak productivity.
Best advice you ever got:
You will become the five people you surround yourself with the most, so be hyper-focused on who you spend your time with. Be cognizant of who your mentors are and who your relationships are with.
What's your passion in business?
Developing people and watching them grow. Seeing my managers and staff move up in the world, improve their finances, etc.--that's better than the paycheck.
How do you balance life and work?
You have to almost dedicate time to your personal life the same way you do to your work. One of the best things my wife and I have done is have date night every Saturday. She runs a successful multi-unit chocolate business in Detroit, so we're both extremely busy, but every Saturday is dedicated to date night.
Guilty pleasure:
Classic Waves chips and French onion dip.
Favorite book:
Too many favorite books! Fight Club. Everyone talks about how great the movie is, but the book is phenomenal. Chuck Palahniuk is such a great writer.
Favorite movie:
"Goodfellas."
What do most people not know about you?
I own dozens of Cold Stone Creameries, but I am not a sweets person. I do love Cold Stone's ice cream though! Another fun fact is that my grandpa delivered my wife's dad.
Pet peeve:
I hate when a family member or someone you're living with leaves a tiny amount of chips in a bag and rolls it up to make it look like there's more left. It's not hospitable!
What did you want to be when you grew up?
A businessman or an NBA player. My dad's friends would ask why I wanted to be in the NBA and I would always say I wanted to have the summer off. Except, of course, every four years for the Summer Olympics.
Last vacation:
Honeymoon in Barcelona and the south of France.
Person I'd most like to have lunch with:
Benito Navarro, my mom's dad, who passed away when I was a baby. He ran his own business in Manila, managing imports/exports. He was a huge community figure and helped everyone he could.
Management
Business philosophy:
Grow at the speed of your people and invest in your people. That's how you should benchmark success.
Management method or style:
I try to be extremely approachable. People can come to me, call me, walk in my office. I'm approachable but unpredictable--it keeps people on their toes. Being approachable, unpredictable, and very personal helps me get to know my people professionally and personally.
Greatest challenge:
In a short time we went from a company that had zero locations and staff to having 40 GMs, 8 area managers, department heads, and more. Now we have everything. The sheer amount of training and sacrifice from the upper management was huge. Having so many people in new positions has been difficult to manage, but it's also why we're a big company--because we have these people who have helped build it up.
How do others describe you?
High energy. Fun and a little crazy. Likes to try new ideas.
One thing I'm looking to do better:
I would say I'm a hyperemotional being. I'm working on taking the emotion out of decision-making.
How I give my team room to innovate and experiment:
Whenever they call with a problem I ask, "What would you do?" And 90 percent of the time they come up with a great idea. Innovation is about your people, and we do activities all the time with our people to help find new solutions to problems. Some of the best ideas come from the ground troops, and we create programs to make sure we're getting their ideas. Something else I ensure all of my managers do is have time set on their calendar to work on whatever they want to work on--even if it has nothing to do with their day-to-day job duties.
How close are you to operations?
I'm extremely involved in operations and in the stores a ton. I will always be an operator first. When I'm feeling stressed, I work a shift in one of the locations. Scrubbing a floor will ground you and puts everything into perspective that you are in the hospitality industry.
What are the two most important things you rely on from your franchisor?
An open ear. It's so important to know you're being listened to and have respect. Kahala is so great at it. They are always there to listen. The second is a passion for training the franchisee. The first thing I ask is, What is the training like?
What I need from vendors:
To treat Cold Stone like a customer who comes into the store. If a customer comes in and is treated unfairly or it takes too long to get their ice cream, they get upset. Vendors have to understand that their shortfalls ultimately affect our customers.
Have you changed your marketing strategy in response to the economy? How?
No, we haven't. We have a unique item that gets better in a recession. Sales of ice cream, alcohol, and bacon go up in a recession, and Cold Stone acts as a 10-minute vacation. Families look toward our super-premium ice cream rather than going to the movies.
How is social media affecting your business?
It's all about adapting to your customer. Social media is how people are getting their news, and even ordering food. It helps that Cold Stone has always been such an Instagram and photo-friendly concept. One thing that has affected us is the speed of recovery and the speed of customer engagement. Twitter and Yelp have totally changed the expectations of getting back to your customers. With social media, customer engagement is all about the speed of service and speed of information.
How do you hire and fire?
I believe you can't get rid of a bad employee fast enough. When you know someone's bad for your organization, you have to get rid of them. The wrong fit culturally is 10 times worse than making a mistake on a report. We make a point of hiring for personality and character and leaning on training for skill. We work hard to find dynamic individuals who want to build something. So often, brands view employees as a puzzle piece where they have to find the right fit. Companies need to view it the other way around: the job needs to fit into the employee's life. They need a fun, appreciative culture. Teenagers and college kids are way smarter than I was at their age. They want to be taught why. To attract hires, we've built a startup mentality of fun and risk-taking with all of the staff. We are known for being a cool company to work for, and a lot of our new staff come from current staff referrals.
How do you train and retain?
The first four weeks are so important in training the individual when they take over their department or store. You have to make sure they are confident, because their confidence trickles down to the rest of the staff. You have to train them on confidence, and of course things like how many ounces are in a Like It, Love It, or Gotta Have It. Getting a job leaves you with a ton of serotonin. If you can keep that high going and provide every employee with a fun, active work environment you'll retain them.
How do you deal with problem employees?
Coach them first and learn from them why they might not be a good employee. Were they not trained well? Was there a misstep in process? Diagnose the problem and give them a second chance.
Fastest way into my doghouse:
Lack of trust. I'll trust you until you give me a reason not to.
Bottom Line
Annual revenue:
$20 million.
2020 goals:
Continue to grow with our people, maintain positive same store sales, and provide great customer interaction.
Growth meter: How do you measure your growth?
Through the people! If they develop and grow, that's a success.
Vision meter: Where do you want to be in 5 years? 10 years?
I want to be a world-class restaurant management group that provides guaranteed advancement. I want to continue to grow very quickly through our people. If we continue to focus on our people, the growth will accelerate.
Do you have brands in different segments? Why/why not?
We own and operate eight Epic Burger locations in Chicago and we have the same philosophy of high growth through our people.
How is the economy in your regions affecting you, your employees, your customers?
We're in 12 states from Utah to Rhode Island, so we have a unique micro- and macro-economic standpoint. We're dealing with all different issues in different markets. In New York City, Chicago, and Boston we're facing a potential rising minimum wage, while in some areas there might be an economic downturn. No matter where you are, you need a lot of community involvement and must adapt to your customers, environment, and staff.
Are you experiencing economic growth in your markets?
That's hard to answer since we have locations in so many different markets. Overall though, it's fair to say 2019 has been our strongest year in terms of same store sales. It has a lot to do with strong in-store operations.
How do changes in the economy affect the way you do business?
Changes in the economy affect the business in so many ways. We also see a major change in consumer spending. It also affects strategy, what promotions and discounts to run. The state of the economy also affects the employment pool. When the economy is really good it's harder for restaurants to hire, but when unemployment is high you can hire higher-skilled individuals. Real estate is also affected. When the economy is doing well, it's hard to get a great location. We always look to grow during a recession when our competition may be more conservative.
How do you forecast for your business?
We are incredibly data-driven. We use operational dashboards, spreadsheets, business intelligence software, and more. We are hyper-focused on using great technology to help in decision-making.
What are the best sources for capital expansion?
Private investments versus institutional is a pretty big fork in the road for a lot of people. Do they raise money privately or from institutions? I think there are pros and cons to both, but I think best sources for capital and growth would be to always be using your spreadsheets and forecasts to always keep your eyes on the prize and run your business with the correct overhead. Finding the right overhead is a huge challenge for our industry. Knowing the right amount of overhead is key to allowing you to raise money privately or through bank financing.
Experience with private equity, local banks, national banks, other institutions? Why/why not?
Yes, all of the above! Do your due diligence on who you're partnering with. No matter what route you go for financing, you have to be comfortable signing on the dotted line. Ask yourself are the terms reasonable? What is the track record of the private equity firm? Do they understand operations? Look at it as a marriage with the prospective group or bank.
What are you doing to take care of your employees?
I really try to envision where my management team is going to be in the next year and what is going to make them happy. Is it dollars, travel, experience, or something else? Early on in their employment I have a conversation with them and ask what their intentions are with the company and how they want to grow with the company. I go back to that conversation a lot in reviews and promotions for employees.
How are you handling rising employee costs (payroll, minimum wage, healthcare, etc.)?
The first thing I do is humble myself. This isn't the first time American wages have gone up. People tend to think that this is the craziest time, but this has been happening forever. This isn't any different than what has happened in the past. I believe it's my job to pay my people as much as possible. I want all of my people to have healthcare and benefits. To do this, you have to be innovative and get better. Minimum wage getting to $15 an hour is nerve-racking, but every person in every boardroom is talking about it. Cold Stone and Chicago Scoops are not alone in this. We know our entire competition is doing this. We've already started paying people more money and attracting better individuals, from upper management to hourly employees. You have to get creative and innovate to become more efficient.
What laws and regulations are affecting your business and how are you dealing with it?
We're dealing with everything by being innovative, streamlining technologies, and making sure we have just the right amount of overhead to run our business.
How do you reward/recognize top-performing employees?
We try to make incentives as personal as possible. For example, one of our managers loves the Boston Red Sox, so we'll send him and his girlfriend to a game if his store meets a certain sales percentage growth. It means a lot to the employee that you remember what their interests are, and that goes a long way.
What kind of exit strategy do you have in place?
Don't have one. I started this business to have a business forever. This is my baby and I've never thought about selling.
Published: January 17th, 2020
Share this Feature
Recommended Reading:
Comments:
comments powered by

Disqus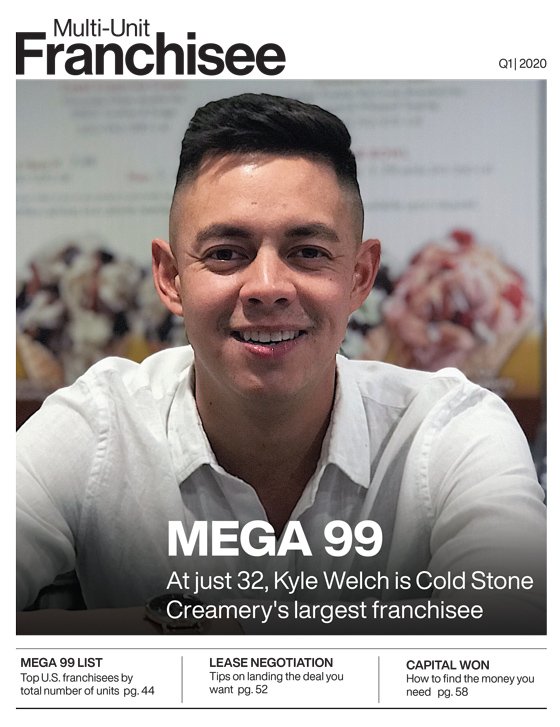 Multi-Unit Franchisee Magazine: Issue 1, 2020
The opportunity to grab a slice of the pie and partner with Perkins Restaurant & Bakery, a tried and true concept, is ready for the taking for...
Cash Required:
$600,000
Own a rewarding business and help children develop skills for life with The Little Gym, the world's largest children's motor skill development...
Cash Required:
$100,000