Future Certain: Third-Grade Wish Comes True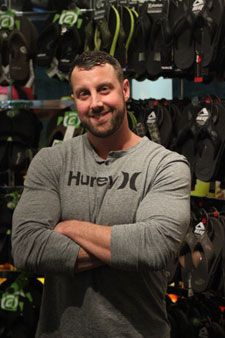 When Brandon Jones was in the third grade, his teacher asked the class to write about what they wanted to be when they grew up. "Most kids said things like 'Be a policeman or a firefighter,'" says the 33-year-old today. "I wrote 'Own a bar with my dad.'" It may have sounded funny to his teacher, but that's exactly what he went on to do.
Jones grew up in La Porte, Ind., a town of about 22,000. He was a hard-working kid who was throwing newspapers by age 13, earned enough money to buy his own moped at 14, and stayed busy doing various jobs when he wasn't on the athletic field or in the gym. When Jones was still a toddler, his father converted an old house into a small tavern, and it was here that Jones would finally fulfill his third-grade desire.
"The day I turned 21, I went to work with dad in the tavern," he says. That's where he spent the next six years, learning the ropes of the retail food and beverage business. With that under his belt, Jones, then in his late 20s, partnered up with his father to open their first Buffalo Wild Wings restaurant.
"We loved the concept and the business model of franchising," says Jones. And they did well, expanding to six locations throughout his home state of Indiana over the next six years. Today, Jones operates those six Buffalo Wild Wings stores, two Smashburgers in Kentucky, and in late 2012 opened his first Flip Flop Shops store in La Porte.
"I've always mainly been interested in the food business," he says. "But when I discovered Flip Flop Shops, I was intrigued by the brand and decided I wanted to give this a try. I thought it was more about the 'experience' than just the basic products; that's how I think of all of my brands."
He says that branching out beyond the restaurant business was not that difficult for him. "The retail environment is actually easier in many ways, because with restaurants you have a lot of moving parts, and that's not the case with my Flip Flop Shop." However, he says, his new shoe store does pose challenges, like making sure he has the right products at the right time. "I have to know what will sell in the Flip Flop Shop, and the brand has been great at providing the perfect recommendations." He does joke that opening a "sandal store in Indiana in the winter" has made for a challenging first few months.
Jones is always looking ahead, and says he'd love to expand each of his three concepts--or any other brand that might present itself. "If the opportunity is out there, I'm going to find it and make it work."
Name: Brandon Jones
Title: Franchisee
Company: Flip Flop Shops, Smashburger, Buffalo Wild Wings
No. of units: 6 Buffalo Wild Wing, 2 Smashburger, 1 Flip Flop Shops
Age: 33
Family: Three kids (two boys, 10 and 7, one girl, 4)
Years in franchising: 6
Years in current position: 6
Personal
First job:
Cook at my dad's tavern.

Formative influences/events:
My parents and my kids are the most formative influences in my life. I'm fortunate to have some of the best traits of each parent. I'm always learning from my kids as to how they think, learn, and act as they grow. If I don't learn something from one of them almost every day, I don't feel like I'm doing what I should be doing to grow as a person, son, and parent. I would add that my success and opportunities would not be possible without the great partners I have, including: Mike Jones (father), Mark Jones (uncle), Nathan Jones (cousin), Kevin O'Laughlin (family friend), and Bob Kelsey (family friend). Together we make one hell of a team!

Key accomplishments:
1) Top franchisee in all of Buffalo Wild Wings to raise the most money for St. Jude Children's Hospital in 2011 and 2012. 2) Inducted into the National Softball Association in 2011 for many years of sponsorship, support, and playing in the organization. 3) Picture in Sports Illustrated in December 2012 for one of my Buffalo Wild Wings locations winning a Secret Shop Program; only two stores of more than 840 Buffalo Wild Wings won this.

Biggest mistake:
Not buying into Flip Flop Shops sooner than I did

.

Smartest mistake:
Buying into Flip Flop Shops when I did.

Decision I wish I could do over:
Where do I start? I make a lot of decisions every day, and I make them with the information I have at my disposal. I don't always make the right decisions, but that doesn't slow me down from making my decisions. I think making mistakes and bad decisions are a very important part of life for learning, growing, and gaining knowledge.

Work week:
Is there a beginning or an end to a work week? I don't consider it work because I love what I do.

How do you spend a typical day?
Multi-tasking at its best: phone, text, email, store visits, and repeat. I go at 100 mph in all directions.

Favorite fun activities:
Spending time with my family and exercising.

Exercise/workout:
As often as possible.

Favorite tech toys:
Phone, laptop, iPad, iPod. How did I ever do it with just a pager so many years ago? Not that I'm old or anything...

What are you reading?
Everything I can to better myself as an operator, franchisee, and father.

Do you have a favorite quote?
"The person who thinks the world owes him a living is the same person who blames the world for his failures." I can't remember who said it, but it has always stuck with me.

Best advice you ever got:
Don't forget where you came from and who you are.

What gets you out of bed in the morning?
My iPhone. Ha! On a serious note, I know that each day I wake up I have hundreds of things I need to accomplish before I hit that same pillow again that evening. I love the feeling of accomplishment, therefore the minute I hit the ground in the morning, I do it with urgency to get things done.

What's your passion in business?
My passion in business is simple. I love to interact with people.

How do you balance life and work?
I really struggle with this. Sometimes I forget to let go of work, or I make myself believe that's not an option. I think we may need to revisit this question in another interview. In the meantime, I will be working on it.

Last vacation:
Vacation? What's that? I take several trips to fun places during the year for business. Most of it is networking, but it feels like a vacation because I'm usually a flight away from my everyday workplace.

Person I'd most like to have lunch with:
Donald Trump and Mark Cuban. Can you imagine who would control that conversation? I don't think I would get to talk or get a single question in, but it sure would be fun.
Management
Business philosophy:
You get out what you put in, as long as what you put in is done with integrity and aligns with your overall worthwhile goals. Management method or style:
Lead by example.
Greatest challenge:
Giving the right people my quality time. There are so many moving parts in my everyday schedule that sometimes I forget to stop and listen to the employees who really take care of the business inside the four walls.
How I give my team room to innovate and experiment:
I tell my employees that if they have an idea to improve our business, or if they want to try something different, ask themselves two questions: 1) Does it break any of our rules, policies, or procedures? 2) If your idea doesn't go as planned, will it cost the company money or negative publicity? If the answer to those questions is no, then go for it and do it the best you can.
How close are you to operations?
Can't get any closer or my family will disown me!
What are the two most important things you rely on from your franchisor?
I like to think of my franchisors as my partners. I look for my franchisors to work together with their franchisees to make the best decisions for the company as a whole. I think it's very important for franchisors to use their franchisees for their knowledge and expertise. I really believe that when you have franchisees and a franchisor who work together to understand each other's visions, the company as a whole is unstoppable in growth and success.
What I need from vendors:
Just a relationship. We just need to understand each other's best interests and work together to maximize both of our goals.
Have you changed your marketing strategy in response to the economy?
Not really. I have never been a believer in becoming a "discount house" for any reason. Just execute the best possible customer service standards, and as long as you have a great product or service you will be fine.
How is social media affecting your business?
It's definitely something to be on board with. I think it helps tremendously with brand awareness. Plus, it can often be used for little to no cost. That's priceless!!
How do you hire and fire?
Hire slooooooowwww, fire fast.
How do you train and retain?
Coach and develop every day. Praise as often as possible.
How do you deal with problem employees?
If I have put in every effort to coach them and bring them up to the company standard and they still aren't getting it, it's time to promote them to a guest or customer.
Fastest way into my doghouse:
Lie and lose integrity.
Bottom Line
2013 goals:
Open more units and increase sales and profit on existing units.
Growth meter: How do you measure your growth?
One store at a time.
Vision meter: Where do you want to be in 5 years? 10 years?
Still building brands and creating new relationships.
How is the economy affecting you, your employees, your customers?
I'm very pleased with the concepts I'm vested in. I don't think the economy is hurting those concepts as much as others. In Smashburger, we provide our guests with a great product at a decent price. Buffalo Wild Wings provides a great experience and an awesome atmosphere with an affordable menu. I could take the best of both Buffalo Wild Wings and Smashburger and apply it to what Flip Flop Shops offers: a cool atmosphere with great merchandise at an affordable price.
Are you experiencing economic growth or recovery in your market?
Knock on wood! We have grown every year and have had positive same-store sales every year, during good times and bad. I think, as long as we execute the personal experience and WOW factors within each of our stores' four walls, we are unstoppable.
What did you change or do differently in this economy that you plan to continue doing?
Spend wisely and seek opportunities for growth. There are better deals in a not-so-good economy than in a great economy. I don't wish for the economy to be bad just so we can get good rent factors, etc., but I believe in always finding the positives in any situation.
How do you forecast for your business in this economy?
I always forecast a challenge. I think that staying grounded makes you appreciate each accomplishment even more. The mindset of approaching every opportunity as a challenge, in some way, keeps me hungry for working that much harder to attain my goals.
Is capital getting easier to access? Why/why not?
Capital is not a challenge for me because the group I am partners with (my father being one) has an impressive debt-to-cash-flow ratio. Let's just say our banks love us.
Where do you find capital for expansion?
My dad always says "Son, don't ever bleed your business." I've learned over the years that if you want to grow, you reinvest in your business. For many years our companies didn't take dividends, and that has helped provide the capital for growth.
Have you used private equity, local banks, national banks, other institutions?
We use both local and national banks.
What kind of exit strategy do you have in place?
I'm a few years from planning an exit strategy for myself. Right now I just want to keep growing strong and staying strong. The time and opportunity will come to think about an exit strategy in the future. I just think I have more important things on my plate right now. I need to build a lot more before I have anything to "exit."
Published: May 1st, 2013
Share this Feature
Recommended Reading:
Comments:
comments powered by

Disqus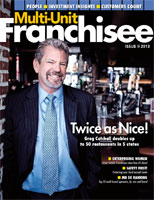 Multi-Unit Franchisee Magazine: Issue 2, 2013
Big Frog's proven-and-tested business model allows you to take charge of your financial future with a business concept that offers unlimited revenue...
Cash Required:
$50,000
With more than 250 locations (and more on the way!), MY SALON Suite is the #1 salon suites franchise opportunity in North America.
Cash Required:
$500,000