Good Vibrations: Trading In His Surfboard for the Restaurant Life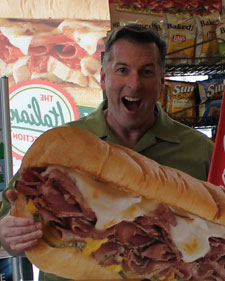 For William Bruce, chief operating officer at Abundant Brands in American Fork, Utah, a late night of channel surfing turned into a life-altering idea to feed the hungry.
After stumbling across a cable showing of "Dive!," a documentary that chronicles this nation's habit of throwing out massive amounts of edible food, Bruce was inspired to see how his company--whose portfolio includes 241 Subways and 14 Costa Vida Mexican Restaurants--could bring about its own change.
With a central kitchen for the company's Costa Vidas already in place, Bruce joined forces with The Rescue Mission in Salt Lake City to transform a weekly average of 300 pounds of excess rice, pork, beef, tortillas, and other food into a seven-layer burrito dish. These days, the regular delivery of 450 meals is known on the streets as "Costa Vida Thursday," says Bruce, who hopes to start including leftover bread from his Subway shops in the donation program.
"I'm so happy that we are not wasting a lot of food as a restaurant company," says Bruce, a trained chef who has also been known to serve food at the mission with his wife Tali. "I feel good about it, our company does, and even the kids who make the tortillas late at night feel good knowing the extra is going to feed the community."
Bruce is energetic, warm, and friendly, and his desire to do good seems a natural part of a corporate culture he strives to have permeate throughout Abundant Brands, whose holdings also include Roxberry Smoothies, Big Al's Bar-B-Q, and the Utah Blaze arena football team. This self-described operating philosophy of "good and human progression," or "good vibrations," is fitting for a guy who grew up surfing every day in Southern California and whose parents owned a consumer marketing company that rated restaurant quality and service.
Bruce joined Abundant Brands in 2008 after serving as director of operations at ARG Restaurant group, which operated Arby's restaurants in California and Texas. He's been in the foodservice business a long time, starting out by tossing pizzas at a beachside restaurant at age 16. His restaurant experience also includes stints with Paradise Bakery & Cafe, Souper Salad, and Souplantation & Sweet Tomatoes.
His recipe for success includes his belief in strong operational systems, checklists for all facets of a restaurant, and hiring and training the right people. "My main thing is our people," says Bruce. "We hire great people with the same vibration I have, that our company has, and our culture has. We have low attrition, and that is a good win for us in all our restaurants."
For Bruce, a father of five, finding time to work hard and play hard is everything. An avid reader who counts snowboarding, date night with his wife, watching his kids' sports, and cleaning house among his hobbies, also admits to one "toy:" a Big Dog K-9 custom chopper complete with flames on the tank and tail.
"For me, balance is real easy because it just keeps you vibrant, healthy, and awake," he says. Who knows what his next late night of channel surfing might bring?
Name: William Ray Bruce
Title: Chief operating officer
Company: Abundant Brands, LLC
No. of units: 283: 241 Subways (developing agent for Utah; 16 are AB LLC owned, the rest franchised); 14 Costa Vida Mexican Grills; 11 Roxberry Smoothies; 1 Big Al's Bar-B-Q
Age: 49
Family: Beautiful wife Tali; three boys, Austin, Baron, Kai; two girls, Kelby and Kenzie; and one Schnoodle puppy.
Years in franchising: Our company has been franchising since the late 1970s. I have been doing franchising for about 18 years with other companies: Paradise Bakery and Cafe, El Pollo Loco, and now Abundant Brands.
Years in current position: 4
Key accomplishments:
1) We deliver food to our Costa Vida restaurants each day from the central kitchen. I set up the restaurants and kitchen to bring back the food that was left over and slated for waste from the night before. Each week I have the kitchen make 300 pounds of seven-layer burrito. We change the flavor each week. We then deliver and feed about 500 less fortunate folks at our Salt Lake City Rescue Missions. On the street, "Costa Vida Thursdays" is the word! 2) Wonderful profitability increases for a 26-year-old company. Like scooping up money with a butterfly net! 3) Building the first central kitchen for Costa Vida Mexican Grills and having successes in costs and consistency.
Biggest mistake:
Hand wrote my resignation on a paper napkin at a table with my new supervisor when I was young. If I had taken a more mature avenue, I may have had a faster career path to upper leadership.
Smartest mistake:
I thought that P&L labor percentages were awkward to predict at Subway, so I invented a SPAH (Sales Per Artist Hour) to have all units on the same playing field. At first, I thought, "Oh no!" It turned out to be a significant way to maximize labor.
How do you spend a typical day?
Setting the Operational Vision! What is the right thing to do now, forward, and 2 years forward?
Work week:
Depends on goals. Opening new units, coaching management teams, P&L reviews, planning, motivating new leaders and recognizing their strengths to allow them to improve our company better than I could. Focus daily on relationships and company vision.
Favorite fun activities:
Date night, kids' sports and living their successes, surfing, snowboarding, personal journal update writing, and you won't believe this (my wife will concur) I love cleaning house.
Exercise/workout:
Weights! My knees are shot from surfing all day as a kid and high school and college basketball. Lifting weights is magic for my body and attitude.
Favorite tech toys:
A good PC. A great smartphone is right up there too.
What are you reading?
I am a heavy magazine reader: QSR, Salt Lake, Surfer, Snowboarder, Restaurant News, iD (Ideas & Discoveries), theology. I love the Internet for fast reads and topics. I started 50 Shades of Grey, but I just got bored! Please do not tell my mom!
Do you have a favorite quote/advice?
"Reach higher."
Best advice you ever got:
When it came to restaurants, Vern O. Curtis from the 1980s who led Denny's and its subsidiaries as the CEO: "Location, Location, Location, for restaurant success!"
Formative influences/events:
I believe family members, your spouse, educating events, and spiritual experiences drive how we influence ourselves and others. These have all been helpful throughout my life experiences.
How do you balance life and work?
I feel balance is everything. Family time, healthy outlook, work duties, husband honey-do lists, spiritual experiences, helping our community. There is probably more, but balance is key to loving your life.
Management
Business philosophy:
When company leaders ask can we do this? And your experience says I know how, speak up and say: We can!
Are you in the franchising, real estate, or customer service business? Why?
I believe we are in all three. We approve sites with our franchisees. We send out evaluators each month to keep the Subway brand "top shelf," and when we are doing the values that your company holds high, guest service is paramount!
As an operator, what are the two most important things you rely on from your franchisor?
1) A good relationship. 2) Savvy business ideas in P&L management, marketing, unit improvement, and leadership styles.
What gets you out of bed in the morning?
Good night's sleep or my mind is so busy with solutions. I need to get them on paper and see if they can work.
What's your passion in business?
Getting others to mentor and lead others to better results!
Management method or style:
Proactive. Planning, preparing, executing plan, and follow-up on results. There is always risk with new innovations, but being proactive minimizes the fallout. However, sometimes we must go back to the drawing board no matter what.
Greatest challenge:
Thinking I am right.
How close are you to operations?
Very close. In our home office there is not a cash register. No money being made there!
Have you changed your marketing strategy in response to the economy? How?
We have given this a lot of thought. Radio? Stay on television with people choosing Internet TV and no ads, and DVRs to fast forward through ads? Many things to decide. With everyone holding a cell phone, text messaging to folks who sign up for text deals is really successful for us. They are our love group, and it shows when we run texting deals. But changing views on marketing is a monthly decision.
How is social media affecting your business operations?
We are on Facebook and others. I believe social marketing was really big in 2009-2010. We have really seen some slumps in the social media arena. Perhaps the Facebook IPO is drowning our Facebook love. Our Costa Vida and Roxberry brands seem to get laughs on YouTube with Dr. Roxberry videos (I am the star--take a peek!). We play these during our Utah Blaze arena football games (we own the Blaze also). We get a lot of comments from those spots on cable TV, even though they are really for social media.
Personality:
Sharp-witted and happy.
How do others describe you?
Tall and energetic!
How do you hire and fire?
In hiring and terminations, I feel the culture of our company has a vibration of good and human progression. When people are being interviewed you want to feel they vibrate at the same level as you and your company. When employees are doing something other than great performance, they vibrate themselves out. They really fire themselves.
How do you train and retain?
Our attrition is really low. Making good hires and giving them the tools to grow, and giving franchisees the tools to succeed in their upcoming unit really sharpens them and makes them want to win.
How do you deal with problem employees?
I still believe all employees have talent. If I cannot get them to decide with leading questions, or guide them with experienced coaching, or even use fellow associates to help, they will usually decide. That vibration idea. If not, sometimes you will have to upgrade to a more qualified person.
Bottom Line
Annual revenue:
Our yearly growth in sales is up in 2009-2012.
2013 goals:
Finalize transitions of all Bajio Mexican Grills to our New Costa Vida Grills, and we plan to expand our Subway units and acquire more for our ownership.
Growth meter: How do you measure your growth?
Profitability, other results, our culture being lived, having good relationships with team members and franchisees, and life balance.
Vision meter: Where do you want to be in 5 years? 10 years?
Operating more units. More responsibility and making managers better people is always my goal.
How has the most recent economic cycle affected you, your employees, your customers?
With Subway, the $5 Footlong has been a success story for us. Employees wish their pay would increase substantially more. However, during these economic times, we all must hunker down and deliver. The guest is always looking for the best deals in town. However, people will pay for a super meal, even during these times.
Are you experiencing economic growth/recovery in your market?
We are steady in Utah. Our company is growing slowly. We opened two restaurants in August, one Subway and one Costa Vida. We are excited for our growth in our market.
What did you change or do differently in this economy that you plan to continue doing?
We really trained our GMs how to read a P&L in every category--not just food and labor costs, but all non-controllable costs. Knowledge for GMs is profit growth for companies.
How do you forecast for your business in this economy?
We will stay ahead of competitors. The economy is always up and down. I feel we always need to do better: be innovating, listen to managers, keep fresh ideas, and download with executive team to make ideas grand.
Where do you find capital for expansion?
Investors, our current bank relations, our own profits.
Is capital getting easier to access? Why/why not?
Tough question. It ebbs and flows; just depends on many facets.
Have you used private equity, local banks, national banks, other institutions? Why/why not?
We never shy away from opportunity. If money needs to be raised, we find a way.
What kind of exit strategy do you have in place?
We have not talked about an exit strategy. We like our business.
What are you doing to take care of your employees?
I always have a New Year goal-setting seminar, and mid-year we do awards. Bonus potential is available, and we have an open-door policy if a team player needs help. I feel that one-on-ones with an executive team member is always a large bonus for crew and us alike. Always take time with employees in the business atmosphere. I think they watch us closely.
How are you handling rising employee costs (payroll, healthcare, etc.)?
Best we can. Hurdles always come. Certainly we can overcome obstacles that arise.
How do you reward/recognize top-performing employees?
We have many items to reward on. Results are measurable. We have Mindshare (guest feedback program at Costa Vida) and Evaluators who measure operations and every aspect (Costa Vida and Subway). Rewarding is made simple with these tools. We always have holiday parties and monthly manager meetings. Sometimes in management meetings if something really cool came up that month we let all the managers know and single out that manager for great performance and a job well done. If the manager had a great idea, and we as a group run with it, recognizing them is very important.
Published: December 5th, 2012
Share this Feature
Recommended Reading:
Comments:
comments powered by

Disqus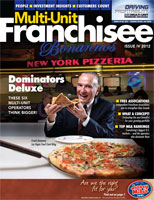 Multi-Unit Franchisee Magazine: Issue 4, 2012
$1M+ Avg. Revenue per Location. No medical experience necessary. Manage the manager franchise. Comprehensive training and support. Unique business...
Cash Required:
$75,000
At Nautical Bowls, we combine healthy, fresh superfood bowls with an uplifting atmosphere, giving you energy to life a full life! Our goal is to...
Cash Required:
$100,000