Ground Round Bound: All the Little Things He Does Pays Off Big
John Scharnweber grew up in the restaurant business, starting at the bottom as a dishwasher and busboy growing up in Minneapolis. He went on to major in hotel, motel, and restaurant management at junior college, eventually breaking into good jobs managing restaurants. These days, he oversees the operation of seven top-performing franchise locations in the Dakotas.
Scharnweber's big break came after he had risen to the top job as general manager at a Ground Round restaurant in Bismarck, N.D. The partners at the restaurant were looking at opening a different kind of restaurant franchise. They selected Denny's and brought Scharnweber in on the deal. "It helps to have success in your first couple of ventures," he says.
The winning streak continued as the group added more Denny's and Ground Round locations in the region. Today, the franchise group may not be the biggest in terms of number of locations, but it's one of the very best, with top performers in two different concepts in the Dakotas. And he's done it in a market that may not look overly rich to anyone who doesn't understand like he does.
For Scharnweber, doing well means hiring great people and paying attention to all of the smallest details. And that means every day, starting from his 4 a.m. wake time. That kind of commitment means interviewing everyone who comes in the door, in the hopes of capturing that one, special individual who can help make a restaurant into a top performer. The same approach applies to managing costs. If you watch all the details like a hawk, he says, you can gain much better control over how much money drops to the bottom line.
"You make sure your back doors are locked, pay more attention to all the little things, like vendor billing," he says. "You turn the gas down lower at night. Double check how you count steaks, chicken, ribs. Do more food counts. Add security cameras, pay attention to everything. Do we really need a logo on the cocktail napkins? Do you need to put matches in the ashtrays?"
That may not seem like a lot, but it's a practical approach that adds up, and which has put him at the very top of the Ground Round performers. Also, he says, not all the best marketing ideas need to be original. If an idea like offering two pizzas for the price of one works in the pizza business, doing it with burgers can be a great way to pack a location on a slow weekday night. Customers love it.
It's no surprise that the unassuming Scharnweber turns to a down-to-earth football coach for inspiration on how to work with others. "Do things right, do your best, and always follow the Golden Rule," he says, citing the legendary Lou Holtz.
Work hard, stay focused, and never abandon your bedrock beliefs, says Scharnweber, and you just might surprise yourself with just how well you can do in this business.
QUESTIONS
Name: John Scharnweber
Title: COO, part owner
Company: Classic Restaurants
No. of units: 3 Ground Rounds, 4 Denny's
PERSONAL
Age: 54
Family: Married (and two dogs)
Years in current position: 20
Years in franchising: 25
Key accomplishments:
Being a multiple winner of the Restaurant-of-the-Year award.
Biggest mistake:
I try to look past those.
How do you spend a typical day?
The day starts at about 4 a.m. I'll feed the dogs and do a 40-minute workout. I'm usually in the office by six. I have two regional people, one for Ground Round and one that does Denny's. I oversee the whole company, including marketing, human resources, menus, you name it.
Work week:
I don't necessarily have a routine, other than making sure I speak with each location. It varies according to the week. I'm on the boards of the National Restaurant Association, the North Dakota Hospitality Association, and the Ground Round Franchisee Board. And I meet with suppliers.
Favorite fun activities:
I like to play golf and watch sports.
Exercise/workout:
Just ride the elliptical most every day. I also lift small weights. It's nothing to brag about.
Favorite stuff/tech toys:
All the usual, a computer, a BlackBerry. I'm not an iPadder.
What are you reading?
I just read Vince Flynn's American Assassin. I also like to read Nelson DeMille and Dan Brown.
Do you have a favorite quote or advice you give?
Manage the little things. I'm a very "Please and thank you" kind of person.
Best advice you ever got:
In my early days in the restaurant business I wasn't chosen for the position I wanted. My father told me, "Don't pout about it. Work harder so you're chosen next time." Don't pout about what you didn't get. Make sure you're working as hard as you can so you'll be chosen next time.
Formative influences/events:
I was around for the Kennedy assassination, the walk on the moon, but I don't know that there was necessarily a formative influence other than the fact that I was very active in sports: baseball, hockey, football. It did make me very competitive.
How do you balance life and work?
I don't want our managers working 70 to 80 hours a week. I don't think any of us are healthy if all we do is work. At the end of the day I want us to work hard, but also to spend time with our families and take vacation time so there is balance in our lives. If managers are working 6 or 7 days a week, I tell them that they don't necessarily have to be a workaholic to be successful.
Management
Business philosophy:
Put a premium on hiring great people. Everything is secondary to that. We interview everyone because without great employees there's no company.
Would you say you are in the franchising, real estate, or customer service business? Why?
I'd say customer service. Whether we have the Ground Round name or Denny's name or John's Restaurant, what makes us tick when the doors open is making sure people are happy. Good food and good service.
What gets you out of bed in the morning?
It's in my blood now. You want to get up and get the day going. And I want to take care of my small family, my wife and two dogs.
What's your passion in business?
Passion for me is doing the best I can so when someone else says they've been at a Ground Round or Denny's they had a great experience. We do the very best we can so that when I see somebody outside the restaurant they'll tell me it was absolutely awesome. We try to be as close to perfect as we can every day.
Management method or style:
Very organized. Plan ahead. Fair but firm.
Greatest challenge:
I can think of instances when we lost managers or employees to a competitor. Right now it's the economy. North and South Dakota don't get the highs and lows, but whether it's food, fuel, or healthcare costs, I'd say the economy, and sometimes government.
How close are you to operations?
I used to oversee all the restaurants. I've learned that you can work 80 hours a week and not do the job, that with two people you can if you're focused. I work with regional directors, they work with managers. And I'm pretty close to all the employees.
How do others describe you?
I would say organized, polite, competitive. My personality is very competitive.
How do you hire and fire?
I still do most of the manager hiring. I hire the regional managers. The day-to-day stuff, the general managers do that.
How do you train and retain?
We have trainers in each location. We do have two training stores. There's a Ground Round training store, where we train most of the managers. And we have trainer meetings once a year in Bismarck. We train our trainers.
How do you deal with problem employees?
It's basically verbal, written, termination. You don't really see it unless you're there day to day. In a restaurant there's just a variety of problems: drugs, problems waking up, drinking, school problems. And sometimes they're just not good employees; late, lazy, or they just don't understand. The GMs deal with that daily. Our employees are 16 to 24 on average. Each situation is unique.
Bottom Line
Annual revenue:
$15 million to $20 million
2011 goals:
A 3 percent increase in sales and profit.
Growth meter: How do you measure your growth?
With the profit-and-loss statement.
Vision meter: Where do you want to be in 5 years? 10 years?
We want to have at least 10 restaurants, hopefully more.
How has the most recent economic cycle affected you, your employees, your customers?
North and South Dakota are in the middle of the country. There are no peaks or valleys. The economy in our bigger cities was hit a little harder than others, but the economy in general has been pretty good. More concerning for me is that costs have been going up. You can't continue to raise prices and raise prices, so you end up eating some of the cost. Then the more cost you eat, the less expansion you do as you work to stay afloat.
Are you experiencing economic growth/recovery in your market?
As of today North Dakota is doing pretty well. There's a big oil boom in the state. Unemployment is 3 percent, one of the lowest in the country. One challenge we have (in addition to the price increases) is finding good help, good managers, and good employees.
What did you change/do differently during the recent tough economic times that you plan to continue doing into the future?
I can't give you all the particulars. Labor costs have been difficult, so we've gotten more efficient over the last three or four years.
How do you forecast for your business during trying times? Can you even forecast at all?
We forecast every year and month.
Where do you find capital for expansion?
We use a local bank. We've been fortunate to be fairly successful. That's where we do most of our business. It's never been easy, but it hasn't stopped us from growing.
Is capital getting easier to access? Why/why not?
I would say it's the same for us.
Have you used private equity, local banks, national banks, other institutions? Why/why not?
Other than the local bank, we don't use anyone else.
What kind of exit strategy do you have in place for your business?
We own most of our properties. I don't think we did that with an idea of exit strategy, but I don't think we're looking to sell or get out of the business.
What kinds of things are you doing to take care of your employees?
Every four months we choose three employees at each location as a Hospitality Hero. They get cash and are recognized with their name on plaques. We also give them pins for years of service. As they get up to 20 years, they get cash as well. We do a Silver Spatula contest where employees can suggest food entrees. We choose a couple of winners. Employees get cash if they make it to the finals. Managers bring two items to the home location and employees get credit on the menu if their entry is chosen for the menu.
How are you handling rising employee costs (payroll, healthcare, etc.)?
It's trained us all to manage our labor costs as tightly as we possibly can. We project every day and every week.
How do you reward/recognize top-performing employees?
Definitely our Hospitality Heroes. All our managers also have an opportunity to get a quarterly bonus. There's a target they have to hit. If they do they get a bonus.
2011 MVP AWARD WINNER
You were recognized for demonstrating outstanding performance and innovation in growing your organization and brands. Tell us what you did.
I don't know, I'm not a great backslapper. I don't tell everyone how great I am, or how great our company is. I do know that we have three Ground Round franchises and four Denny's restaurants. On the Ground Round side we do have the number-one grossing restaurant in the company: our location in Bismarck is number one, our Fargo restaurant is number two, and we have two others in the top six. We also train a lot of the managers that go through the system.
As a multi-unit franchisee, how have you raised the bar within your organization?
I think we have a good philosophy. We have great managers and great employees, and that is the truth. We try as a group to interview anybody that walks in the door. We don't ever want to miss a great employee or a great manager. I think on the Ground Round side we did a good job of promoting our concepts, the restaurant and the bar: the restaurant is more for family and kids, and in the bar we have lounge drink specials, sports on TV (NBA, NFL, and so on). We promote nights we do happy hours and we do drink specials. We promote it as if it's a separate bar.
What innovations have you created and used to build your company?
In the late '80s, early '90s, we did a few things before anybody else. We did 2-for-1 burgers every Tuesday. That's a half-pound--buy one get one free. That idea, Pizza-Pizza, caught our ear. It's been a huge success. We have a Long Island Tea night every Wednesday night. There's a quick lunch menu, a smaller-size menu with lighter portions. In '88, well before everybody else had done it, we did Margarita Monday in the lounge, with a free taco bar. We do a very good job of promoting the bar side, the special days like Halloween, St. Patrick's Day, the night before Thanksgiving. We go all out. On the restaurant side there's New Year's Day, Valentine's Day, and more, when we will do specials like everybody else.
What core values do you feel led you to win this award?
Lou Holtz, a coach at Arkansas and Notre Dame, said in a video there are three things you need to always do: Do things right, do your best, and always follow the Golden Rule. As a group we're very "Please and thank you" oriented. We always give back to the community: the Red Cross, Special Olympics. Ever since 9/11 our restaurants have picked a fire department or police department to go and give some food to. And we sponsor local teams.
Published: September 21st, 2011
Share this Feature
Recommended Reading:
Comments:
comments powered by

Disqus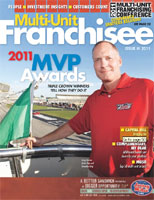 Multi-Unit Franchisee Magazine: Issue 3, 2011
Get more than 35 years of experience behind you and the opportunity for years of success ahead of you as a Jackson Hewitt franchise owner. Our...
Cash Required:
$50,000
Another Broken Egg is an upscale breakfast, brunch and lunch restaurant that specializes in Southern-inspired menu options and signature cocktails....
Cash Required:
$250,000