Growing Up in the Business: This young hands-on operator is on the road to success
Name: Wasif Saddique
Title: Operator
Company: Wayback Burgers of Roseville and Folsom, CA
Units: 2 Wayback Burgers
Age: 30
Family: Married, no children
Years in franchising: 10
Years in current position: 3½
Becoming a Wayback Burgers franchisee was a natural progression for Wasif Saddique. He grew up working in his uncle's restaurants where he learned the ropes and advanced through the management ranks. Today, at 30, he operates two of his own Wayback Burgers locations in Roseville and Folsom, California.
Married with no children, Saddique has been clocking 70-hour work weeks as he approaches his fourth complete year as a franchisee with the burger brand. He says he loves it, is proud of his team members, and from time to time still rolls up his sleeves to help out when things get busy. "I communicate with our managers throughout the day, and I often find myself back in the restaurant helping out in any way that I can," he says.
For Sadique, 2020 has been a year for the record books. Covid-19 forced him to close his dining rooms and transition both his restaurants to take-out-only operations with increased operating costs. But he and his team made adjustments, business remained strong, and his team members were even able to maintain their hours through it all.
One of the cornerstones of his success has been his keen focus on customer service and his striving to create repeat customers. This strategy seems to be working, even during the challenging year gone by. He says comparable sales at both restaurants have remained strong. For example, this past October his two locations posted positive comp sales increases of 73% and 34%, their highest increases of the year at the time. "I see this as the ultimate validation that we are doing a good job," he says.
He remains passionate and dedicated to the Wayback Burgers brand and says he would like to expand its presence in the Sacramento market in the future.
PERSONAL
First job: Gas station manager.
Formative influences/events: Managing the gas station gave me experience in numerous important areas: dealing with the different personalities of guests and team members, ordering and inventory management, paperwork and compliance systems, etc.
Key accomplishments: I am fortunate to have been able to grow sales with every business I have been involved with, but the sales growth with Wayback Burgers has been the biggest of all. We are doing a good job and the results have been great!
Biggest current challenge: Hiring and staffing has been very challenging. For the most part, jobs have been plentiful, which gives them a big advantage. Add in rising wages and this is a real challenge for us.
Next big goal: Open additional locations.
First turning point in your career: The sales growth that followed my first experience as a manager gave me confidence. It let me know that I was focusing on the right things and helped create more opportunities.
Best business decision: When it comes to selecting leadership, I am a big believer in promoting from within. Both of our managers began as regular team members, worked hard, performed well, and were promoted to the manager position as a result. I am very happy with their performance and feel this is a practice I will continue in the future.
Hardest lesson learned: There will be a lot of wasted product if we are not careful. Reviewing the waste numbers at the end of the year and quantifying waste in terms of dollars was an extremely frustrating feeling that compelled me to take action to correct inventory management problems.
Work week: 70 hours.
Exercise/workout: I enjoy running.
Best advice you ever got: Keep things simple and stay within your area of expertise. It is great if people want to try new things and take on new challenges, but I find mastering and focusing on one thing is the quickest path to success.
What's your passion in business? I am highly motivated to grow our brand recognition within our local market. I want everyone in the greater area to know our company and associate it with positive feelings.
How do you balance life and work? It is difficult. The business is open 7 days a week from morning until late at night. Scheduling is definitely challenging when one is focused on growth, but I do my best to make everything work.
Guilty pleasure: None, I am pretty by the book.
Favorite book: My favorite book is actually I find the concepts very interesting.
Favorite movie: The Bourne series.
What do most people not know about you? I am usually very upbeat and positive about everything, which can make me difficult to read when I'm unhappy. I hide negative emotions well.
Pet peeve: People showing up late for their shifts. Not only does it have an impact on our guests' experience, it also negatively affects their fellow team members, which is something that frustrates me greatly.
What did you want to be when you grew up? I have always wanted to be a businessman!
Last vacation: In 2019 to Punjab, Pakistan. It was a great time.
Person I'd most like to have lunch with: I have an uncle who is extremely experienced in this industry. Whenever we can, I enjoy meeting up and picking his brain to learn more about this business.
MANAGEMENT
Business philosophy: It is important to stay on top of things so that we can proactively build business, as opposed to reactively solve existing problems. This starts with preparation and following the right hiring, training, and management practices with the team. It means mapping out the right marketing plan. It means implementing the right cost controls, etc.
Management method or style: I am a big believer in empowering, recognizing, and rewarding high-performing team members. So much of the business's success depends on them. It is important for me to keep them performing well, and I find they respond best to this approach.
Greatest challenge: Staffing is very hard for us. We have had great success with management, but the hourly part-timers come and go very quickly, sometimes with little or no notice of departure.
How do others describe you? Happy, hard-working, respectful.
One thing I'm looking to do better: I need to find a way to reduce turnover with part-time team members. We are all trying to think of creative, unique ways to improve in this area.
How I give my team room to innovate and experiment: I listen to and understand every idea that someone has and encourage them to offer feedback with things like local marketing and team member retention. It is important for them to know they are heard and that their ideas are valued.
How close are you to operations? Very close. I communicate with our managers throughout the day. On the days we are busier than we expected, I often find myself back in the restaurant helping out in any way I can.
What are the two most important things you rely on from your franchisor? The franchisor takes care of the technological side of things, everything with our POS system and our digital platforms. This has become a critical piece of our business and is something where they have more expertise than I do. They also take care of chain-wide advertising and come up with limited time offers and so forth.
What I need from vendors: Consistency and communication. There has been supply chain disruption everywhere in 2020. It is important that when a problem arises, we know about it as soon as possible so we can get started on addressing it.
Have you changed your marketing strategy in response to the economy? How? We are very fortunate that business has gone very well this year, so we have not changed much. In general, people are always looking for a great experience, especially during tough economic times when they're going out to eat less frequently. They need to be very confident that they are going to be happy with what they receive. As a result, we have continued to promote our service and best products.
How is social media affecting your business? Social media allows word of mouth to spread extremely fast—everyone knows if something is good or bad very quickly. It makes it all the more important that we do a great job in the restaurant. Social media also provides some highly effective marketing channels for us.
How do you hire and fire? We look for friendly, outgoing people we know will get along with both our team members and our guests. We ask them questions that bring out their friendliness. With performance management, we put everyone through the proper process. Expectations are made clear from the beginning, so if the time comes for us to part ways, it is not a surprise.
How do you train and retain? We use the training materials provided to us by corporate, and schedule shifts so trainees can shadow our more experienced team members. For retention, we keep the atmosphere relaxed and upbeat in hopes that people will enjoy it and choose to stick around. Not every restaurant is pleasant to work in, and we want to be one of the good ones.
How do you deal with problem employees? I always address them very respectfully and in one-on-one situations, but I will be direct about the issue. It is important that they know where I am coming from and that I respect them as an individual. This usually helps get them on the same page and back on track.
Fastest way into my doghouse: Any type of negative attitude that can affect the comfort levels of the other team members, or showing up late.
COVID-19
What are the biggest impacts of Covid-19 on your business? The closure of dining rooms forced us to shift entirely to take-out, which has increased costs associated with it. The supply chain also experienced widespread disruption at times, which was not easy to manage.
How have you responded? We have adjusted our schedule and positioning within the restaurant and have learned a lot about the supply chain system itself in order to resolve issues quickly as they arise.
What changes do you think will be permanent? The increased focus on cleanliness and sanitation from the guest's perspective will remain, and I feel this is a very good thing. Guests are much more educated with these items now than previously, which is very important. It is not good for any restaurant guest if a restaurant is slacking in these areas.
BOTTOM LINE
Annual revenue: $1.5 million.
2021 goals: $2 million-plus.
Growth meter: How do you measure your growth? Year-over-year improvement with sales and guest counts.
Vision meter: Where do you want to be in 5 years? 10 years? To have a larger presence with this same brand in our current market. We are happy with the response, and there is much more room to grow.
Do you have brands in different segments? Why/why not? My focus is on Wayback Burgers right now.
How is the economy in your region affecting you, your employees, your customers? We are very fortunate that our business has remained strong. This has been good for me, for our guests who want our product, and for our team who have been able to keep their hours. We have all been lucky so far.
Are you experiencing economic growth in your market? Yes.
How do changes in the economy affect the way you do business? The increased costs associated with only offering takeout ordering is something we have to consider in planning, but overall we will keep things relatively status quo.
How do you forecast for your business? We measure year-over-year and month-to-month trends.
What are the best sources for capital expansion? There are many sources, but my personal preference is internal. Banks are useful as well.
Experience with private equity, local banks, national banks, other institutions? Why/why not? Not at this time.
What are you doing to take care of your employees? I believe in maintaining a happy, positive working environment that they will not dread spending time in. I also know the importance of recognizing and rewarding hard work.
How are you handling rising employee costs (payroll, minimum wage, healthcare, etc.)? Retention and cross-training help with labor efficiency and productivity significantly. The expenses are certainly going up, but this affects everyone in the market. It can be balanced in other areas too.
What laws and regulations are affecting your business and how are you dealing with this? The Covid-related laws certainly had an impact, but this is good when they help ensure that everyone remains safe. Wage increases also certainly affect things, but on the other side these wage increases put more money into the pockets of many of our guests, so there is likely some benefit there.
How do you reward/recognize top-performing employees? Bonus programs, added time off, things of this nature. There are lots of ways to be creative, but nothing beats money or increased free time.
What kind of exit strategy do you have in place, if any? None. I am here for the long haul.
Published: February 11th, 2021
Share this Feature
Recommended Reading:
Comments:
comments powered by

Disqus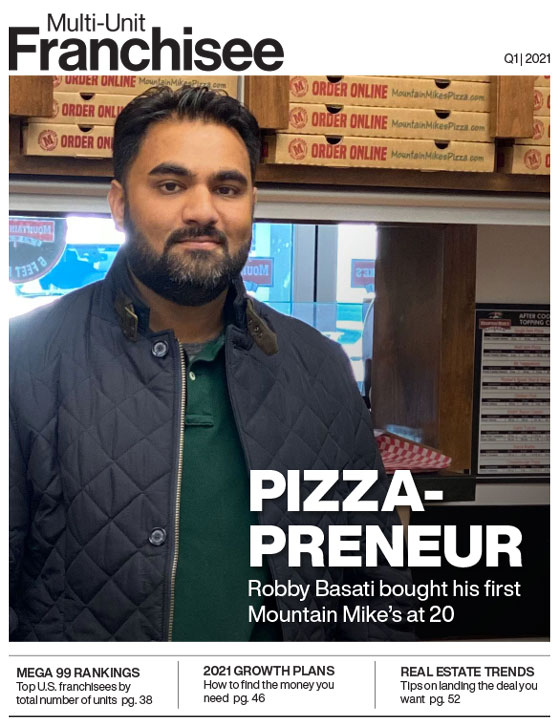 Multi-Unit Franchisee Magazine: Issue 1, 2021
Unlock the potential for remarkable returns on your investment by joining the Ducklings Early Learning Center Franchise, where our tried-and-true...
Cash Required:
$180,000
Hungry Howie's is currently EXPANDING! Top Markets are available for single or multiple unit development. Get the EDGE over the competition with...
Cash Required:
$220,000