High Flier: Gina Puente Makes Life Tasty for Travelers
Innovation in non-traditional locations defines Gina Puente's approach to business. When we profiled her in 2010, she told us how her family business, Puente Enterprises, had created La Bodega Winery, a winery in an airport, in the mid-1990s. She also had a half-dozen other concepts going in the Dallas/Fort Worth International Airport. We caught up with her recently and she's been at it again.
In 2013, Puente created and launched Sky Canyon by Stephan Pyles, a unique restaurant that serves contemporary Texas cuisine along with a dose of Southern hospitality and charm. It too, of course, is located in an airport--one at DFW and another at Dallas Love Field. She likes to say her company's "unique-ability" is to create and adapt new, innovative concepts into non-traditional environments.
Since we last spoke with her, Puente has also added four more Travelex locations: one more at DFW for a total of six there, and three at Houston's George Bush Intercontinental Airport. In May 2013 she opened Sky Canyon by Stephan Pyles at Love Field, and in December she opened a second at DFW. She currently operates 10 different brands in 19 locations.
In early September, she was the successful bidder on a lease for a quick-service barbecue space at DFW. "Chef Pyles and I are again collaborating and we are bringing Stampede 66 Express to DFW," says Puente. "I am thrilled to have the opportunity of turning up a notch what people perceive as quick-service barbecue. I am not a typical barbecue lover, but when I first tasted Chef Pyles' brisket and sandwiches, I knew a whole concept could be carved out to answer this bid."
With all she has going on, Puente keeps a close eye on the markets where she operates--and beyond. "Watching global shifts of retail and food trends, the impact of Millennials and Baby Boomers, and the changing needs of the traveler are all the groundwork for why I have added new concepts," she says. "My company has been completely out in front of the curve on opening airport locations that offer wine, healthy offerings, unique concepts that pique interest, and, more recently, the need for higher-quality food and drinks."
She says her company's continued emphasis on chef-driven concepts, quality farm-to-table offerings, and craft cocktails is not accidental. "When such global leaders as McDonald's are having issues with their brand, and with the rise of fast casual, these are the indicators I research to determine what concept we will open next," she says.
Business is always front and center for Puente, but it's been a tumultuous time for personally over the past few years. She divorced her husband, who had been chief operations officer, and earlier this year her father, Victor Puente, Sr., died. "He was without a doubt, in addition to being an incredible father, my mentor in business," says Puente.
Name: Gina Puente
Title: CEO/owner
Company: Puente Enterprises, Inc.
No. of units: 1 Main Street News, 2 Wall Street News, 9 Travelex, 1 UFood Grill, 1 Urban Taco, 2 Blimpie/Cereality Cereal Bar/Nrgize Lifestyle Cafe (tri-branded locations), 2 Sky Canyon by Stephan Pyles, 1 La Buena Vida Vineyards
Age: 47
Family: Single but with 170 extended family members who are a part of the PEI team.
Years in franchising: 19
Years in current position: 21
Personal
First job:
Child actress in TV commercials and stage productions. I received my first paycheck at the age of 9 for performing in South Pacific at the Dallas Summer Musicals.
Formative influences/events
: Raised in an entrepreneurial family, I was mentored in business by my father, Victor Puente, Sr., who knew the value of treating people with respect and had a great gut instinct. My mom, Virginia Puente, was my female role model. She was a lady with moxie and assertiveness.
Key accomplishments:
Creator of La Bodega Winery, the world's first winery in an airport, in 1995, and creator of Sky Canyon by Stephan Pyles, which opened in 2013. My company's "unique-ability" is creating or adapting new innovative concepts into non-traditional environments.
Biggest current challenge:
Mining great talent is our current challenge. Successfully obtaining annual growth opportunities for our company is not an obstacle, however increasing our bench strength can be very difficult. Every single day we are seeking quality people who are not intimidated by working in an airport environment, who are flexible in their job tasks, and who have a clean background to pass TSA requirements. The good news is that once we identify and make offers, it is easy to see within 90 days if new hires will make it in their roles long term. I have noticed that all employees either love or hate being in an airport environment, which allows for long-tenured team members if they make it past the first three months.
Next big goal:
My business, like many others, went through an overhaul in 2009 because of the recession. We were top-heavy in management before 2009 and in a structure that was not effective and unproductive in some areas. I eliminated some jobs and outsourced others. Now because of growth and the turn in the economic picture, I need to add the right bench strength to my management team. This is my current big goal.
First turning point in your career:
The total experience of exercising all skill sets in creating a concept like La Bodega Winery was an incredible foundation to have at the age of 27. The saying "an owner has to wear many hats" definitely came to life for me with having to field regulatory issues, approvals (state, federal, and DFW), meet and negotiate with wineries (getting them comfortable with a another "competitor" winery selling their wines), to marketing, location design, purchasing, hiring, training, wine production (for the La Bodega Winery brand), and finance. It was a great challenge that set up my mindset that anything is possible!
Best business decision:
Outsourcing where possible such as payroll support (we use a PEO), IT needs, and consultants who can fill strategic areas when I wasn't quite ready to hire a full-time manager for that role or skill set.
Hardest lesson learned:
Never pass up bidding on a project you feel is beyond your company's reach. I saw a competitor who went for something that I didn't because I thought we could not possibly get the location. Well, he did and beat a lot of other bigger companies than ours. I thought that was cool of him and have often told him he taught me a valuable lesson about how to "Go for it!!"
Work week:
Sunday to Sunday, mostly 24/7/365.
Exercise/workout:
Not consistent enough, but definitely an improvement area that I see value in and work to add more consistency every week.
Best advice you ever got:
Cash is king.
What's your passion in business?
Creating concepts with magnetic and innovative products or services that fulfill unmet needs of airport traveling guests.
How do you balance life and work?
Domestic and international travel when possible. I call it my "R&R&R" time. In addition to rest and relaxation, I fit in research time. I receive inspiration and rejuvenation with international travel and often bring back concept ideas or product lines to the airport.
Favorite movie:
The Godfather. There are some good family business lessons in that entire series.
What do most people not know about you?
I am actually an introvert by nature. I push myself to accept speaking engagements and take on high-profile board positions that are very much against my nature.
Pet peeve:
People who have a strong BS factor. I want honest answers.
What did you want to be when you grew up?
I wanted to be the next Barbara Walters.
Last vacation:
New Orleans (domestic); Spain and Portugal (international).
Person I'd most like to have lunch with:
My mom and dad. I lost my dad this year and my mom in 2009, so I would welcome the opportunity to have one more lunch with them.
Management
Business philosophy:
Always strive to be the best. Even small- to mid-sized companies can compete with multinational companies such as my direct competition in the airports.
Management method or style:
Don't take yourself too seriously and always remember your team can make you or break you, so treat them with the respect and care they deserve.
Greatest challenge:
Work-life balance.
How do others describe you?
Energizer Bunny. Most people wonder if I sleep.
One thing I'm looking to do better:
With some additional management placements I hope to visit all my locations in person more frequently. I get buried behind the computer with what I call "administrivia" and get hit hard with an average of 250-plus emails daily. When I identify and hire the right executive assistant--and more importantly a director of operations--the handcuffs to my desk will be removed.
How I give my team room to innovate and experiment:
I encourage them to try new things and reiterate that just because something fails the first time, we often "trial" it again to show that ideas sometimes are just too early, or to realize that circumstances change.
How close are you to operations?
I currently have 8 direct reports and stay in constant connection with them. However, I realize the buck stops with me and my reputation is on the line every day.
What are the two most important things you rely on from your franchisor?
1) I ask that the franchisors I choose to work with will trust in my 25 years of operating experience in high-profile, non-traditional locations. If there is something better for both the brand and my individual business that may push up against the contract, then I will ask them to work with me and hope we can mutually agree that even a contract can just be the framework, but good decisions will supersede. 2) As a franchisee or licensee, we all pay a percentage of sales for royalty fees. I know all of us can have either a good or bad feeling if we feel the franchisor actually does something of value for those fees... or not. If the franchisor is not obviously reinvesting in the brand, providing new offerings, advertising, support that is of value to the operator, then it most certainly affects future growth of the brand and the respect of the franchisee.
What I need from vendors:
Competency in product knowledge at a fair price.
Have you changed your marketing strategy in response to the economy? How?
At an airport, we have fees that contribute to the marketing fund for all airport locations, so those funds and their usage are dictated by the airport.
How is social media affecting your business?
It underscores the customer service values we already have in place.
How do you hire and fire?
For hiring, layers of candidate screens, including phone and in-person interviews by several sets of managers. Firing is normally a verbal and three written write-ups.
How do you train and retain?
We use a series of training webinars and written training materials.
How do you deal with problem employees?
Counseling and retraining.
Fastest way into my doghouse:
Dishonesty.
Bottom Line
Annual revenue:
$62.7 million.
2016 goals:
Succession planning.
Growth meter: How do you measure your growth?
By adding leases, incremental locations, and brands to our portfolio.
Vision meter: Where do you want to be in 5 years? 10 years?
Self-financed operations in 5 years and a succession plan at a halfway completion point by 2025.
How is the economy in your region affecting you, your employees, your customers?
The global economy, in addition to the regional economy, affects our daily business as we operate in an international airport. Traffic patterns, new routes, new airlines, or airline bankruptcy or strikes all can affect foot traffic in positive and negative ways. In addition, the global economy directly affects currency rates, which causes transactional changes in our Travelex currency locations at DFW and George Bush Intercontinental.
Are you experiencing economic growth in your market?
Yes, especially at Love Field now that the Wright Amendment has been lifted. However in addition, most airlines have lifted out of their bankruptcy or near-bankruptcy status and have soared back to the profit zone, which equates to more airline traffic overall.
How do changes in the economy affect the way you do business?
Staffing and reviews of price points if needed.
How do you forecast for your business?
Based on traffic enplanement information.
What are the best sources for capital expansion?
Traditional bank loans.
Experience with private equity, local banks, national banks, other institutions? Why/why not?
We work with several Texas banks for our lending needs.
What are you doing to take care of your employees?
Working to add back more training programs to increase their job satisfaction.
How are you handling rising employee costs (payroll, minimum wage, healthcare, etc.)?
We are watching this closely. It makes our analysis of each new opportunity more of a precise exercise.
How do you reward/recognize top-performing employees?
Recognition and monetary thank-you's.
What kind of exit strategy do you have in place?
I am currently working on an exit strategy that will be completed by 2016.
Published: February 18th, 2016
Share this Feature
Recommended Reading:
Comments:
comments powered by

Disqus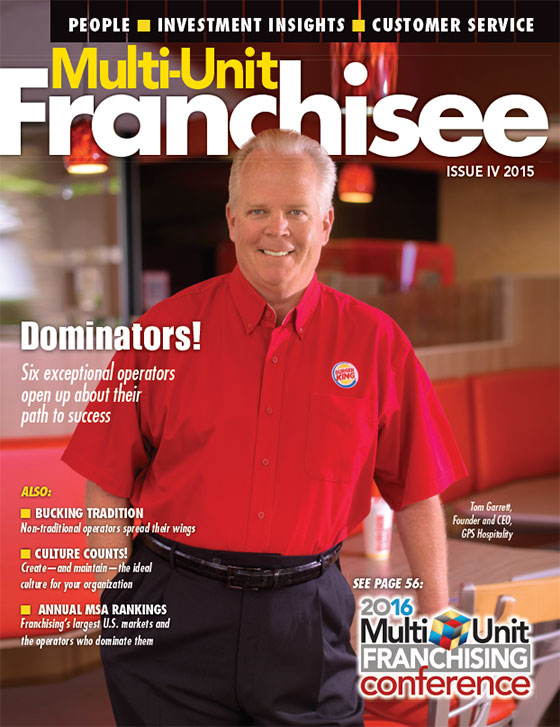 Multi-Unit Franchisee Magazine: Issue 4, 2015
Bonchon is an internationally recognized Korean Fried Chicken concept. Bonchon means "my hometown" in Korean, and represents our...
Cash Required:
$250,000
If you are looking for a business that is meaningful and fulfilling, you should take a closer look at Bruster's® Real Ice Cream Franchise!
Cash Required:
$125,000