High Stakes: Players Go All in at Annual Multi-Unit Franchisee Event
The big multi-unit rollers who convened in Vegas this April represented more than $1.6 billion in annual revenues, and they were playing to win.

It was all part of the 2009 Multi-Unit Franchising conference, sponsored by Franchise Update Media Group this past April 15-17 at the Bellagio hotel. The annual event, which attracted a record 500-plus multi-unit franchisees, franchisors, and vendors from across the country, was a sure bet for attendees.

"We built the event around today's most immediate issues--and what we should be thinking about for tomorrow," said Gary Grace, this year's conference chair and a Supercuts operator with 36 units. "This is the only conference focused exclusively on multi-unit franchising," he noted.

The three-day event was packed with educational sessions, topical panel discussions, four keynote speakers, and a sold-out exhibit hall. Attendees came from far and wide: 41 percent from the Western U.S., 30 percent from the East, 20 percent from the Heartland, and 8 percent from Canada. And they covered a wide swath of industry sectors. Food dominated, of course. Service sectors included hotel/lodging, gas stations, convenience stores, fitness/weight loss, hair care, business services, and senior care.

Steve Olson, publisher of Franchise Update Media Group, opened an early conference session by revealing that 110 multi-unit franchisees (out of the 187 who responded to a pre-conference survey) generated $1.6 billion in annual revenue. Further, he noted that 47 percent of those 110 franchisees generated more than $10 million in annual revenue--each. Big numbers in a town known for high stakes. (See below for more survey results.)

Multi-unit franchisees were drawn to the event to find new information, Olson said, as well as leads on new brands and concepts. "Seven of 10 franchisees in attendance told us they were looking for additional brands," he said. Good news for the franchisors in attendance.

Between sessions and after hours, attendees took advantage of the luxurious surroundings to network with fellow franchisees and to rub elbows with franchisors and vendors... in pursuit of those gold nuggets that make the prospect of three days in Nevada so worthwhile. Of course, it wasn't all work all the time for those who came to this desert playground. There were glitzy shows, glamorous dining and, of course, plenty of chances to gamble.
Day 1: Focus on growth
The conference opened Wednesday with three sessions focused on multi-unit growth strategies at different stages of development. Individual sessions on growing to 10 units, 20 units, and 50 units were packed with franchisees eager to hear the panelist's successful strategies and techniques. One sign of optimism in today's economy: several requests to add a session next year on growing to 100 units.

Multi-unit operators panelists including Gary Robins (32 Supercuts), Dave Meyers (28 Papa Murphy's), and Ali Keshani and Arun Roy (38 Jack in the Boxes) emphasized that they enjoy the challenge--and the payoff--of growing their systems. They also highlighted the need to tighten internal processes and efficiencies and described the unique HR strategies that helped them build their organizations.

In another morning session, "Due Diligence in Selecting Additional Brands," Lyndon Johnson (13 Church's Chickens) and David Ostrowe (8 Burger Kings) shared their insights into how they have become turnaround masters (see related story). They identified brand relevance, cost of conversion, and capital requirements as keys to taking over a weak performer and turning it into a titan.

Following a franchisee-only luncheon on leadership, Wednesday afternoon featured sessions on integrating new concepts into existing portfolios, buying and selling in today's market, and accelerating growth through area representation.

With the day's sessions completed, attendees took a short break before gathering for a pair of cocktail receptions, the first for franchisees only, followed by another marking the grand opening of the exhibit hall. Dozens of franchise brands filled the hall, where franchisees and franchisors mixed to get to know one another and learn more about what each had to offer. The hall buzzed with goodwill and deals in the making--helped along by coffee and donuts from Dunkin' Donuts, the event's Platinum Sponsor, and ice cream from Baskin-Robbins, also a Dunkin' brand.
Day 2: Keynoters inspire
Thursday was a day of positivity and words of inspiration from the day's four keynoters--although none ignored with the sobering realities of the recession and the problems of finding financing. FRANdata's president, Darrell Johnson, began the day with his take on the state of the economy and how it is affecting multi-unit franchising.

"The pace of consumer spending was not sustainable from 2001 to 2008," he said. A new reality has set in, with consumer spending down an estimated $10 trillion and saving replacing spending. That $10 trillion is not coming back, he said.

Johnson expects access to capital to remain tight and said that lending has become more relationship-driven and more locally and regionally accessible. Noting that franchising grew during the last four recessions, he said, "Franchising is an important part of the nation's economic solution." However bad things may seem, he reminded attendees, "In turmoil there is opportunity."

Next up was the dynamic Herman Cain, president and CEO of The New Voice. His message centered around how to "navigate in tough times." The longtime industry veteran is perhaps most well-known for turning around a struggling Godfather's Pizza in the 1980s. His message for getting through tough times revolved around three nuggets: Simplify (complexity leads to failure); Stabilize (evaluate your leverage, watch your cash flow, and look for fat to trim); and Energize (over-communicate with your people).

Cain was followed by Russ Umphenour, the new CEO of FOCUS Brands. His former company, RTM Restaurant Group, once owned 870 Arby's. Umphenour's message was simple and powerful: great franchisees equal great brands. He focused on how good franchisees make consistently good choices, whether that's in choosing "A" sites, sticking with the system, or being actively involved in the brand. He summed up his talk by telling franchisees to "love your brand" and franchisors to "love your franchisees."

Breakout sessions covering topics that included refranchising, performance forecasting and measuring, and private equity followed before the doors of the exhibit hall were opened again for a networking lunch.

Tom Feltenstein, who held high-level marketing/advertising positions at McDonald's and Burger King, kicked off the afternoon with a keynote address. The CEO and founder of consulting firm Power Marketing Academy addressed the critical role of marketing and proper recruiting in franchise growth and development. "The number-one responsibility of a franchisee is recruiting," he said. He said there are two kinds of employees: turkeys and eagles. "Get rid of the turkeys," he told the audience.

An afternoon panel of multi-unit franchisees fielded questions from conference chair and Supercuts franchisee Gary Grace on how they are driving performance during the recession. Ted Torres (hotels and real estate), Greg Cutchall (6 food brands at 22 locations), and Tom Barnett (22 Burger Kings, 20 Good Eggs, and more) detailed how they are watching labor and commodity costs. Compensation and recruiting were big points of discussion. Each noted it's more difficult to raise capital these days, but that it can be done.

That moved right into a second discussion led by attorney Joyce Mazero, with panelists Jeff Rogers of Gracies Legacy (and former CEO at Heartland Food, which ran 248 Burger Kings); Lynette McKee, vice president of franchising at Dunkin' Brands; and Ron Millard, a partner at Redstone Capital Partners. Talk revolved around the role of private equity in the franchise marketplace, touching on the pros and cons of private equity vs. local banks on such issues as personal guarantees, exit strategies, lending restrictions, and contract requirements.

The entire group gathered in the main hall for the day's final keynoter, James Bradley, son of WWII hero John Bradley, one of the men raising the U.S. flag in the iconic photo on Iwo Jima. He recounted his more than two-year struggle to find a publisher for his best-selling book, Flags of Our Fathers, continually underscoring the power of persistence and faith in one's belief and vision.

Day 2 wrapped up in the exhibit hall where franchisees, franchisors, and vendors had one more opportunity to talk business.
Day 3: Wrap-up
Friday began with breakfast and focused roundtable discussions that buzzed with intimate and frank discourse on topics that included buying franchisees out of bankruptcy, customer loyalty strategies, real estate development, and transition planning.

Jim Sullivan, president of Sullivision.com and expert on multi-unit managers (MUMs), hosted the final session. After years of research and interviews, Sullivan has identified the best practices of high-performing MUMs. These often unsung heroes, he said, are ambassadors, talent scouts, servant leaders, coaches, and more and play a critical role in system growth as they support franchisees in the field.

Sullivan's theme echoed that of many other speakers and panelists at the conference. Managing a brand takes time and effort, strategy and smarts, delegation and development. In a tough economic climate like today's, there simply is no room for poor management. Successful business operations don't happen by accident. Are you playing to win?

The next Franchise Update Media Group conference is the Franchise Leadership & Development Conference, September 23-25 at the Drake Hotel in Chicago.
Attendees by the Numbers
Of the 500 attendees, nearly 4 in 10 (187) were franchisees, representing 134 different brands. The operators who responded to a pre-conference survey displayed an impressive economic heft and influence:
Units (77 responses): 3,050
Employees (118 responses): 51,310
Total revenues (110 responses): $1.6 billion in the last 12 months (50 of these 110 generated $1.4 billion)
Individual revenues (110 responses): 34 percent generated more than $20 million each in the last 12 months.
Published: October 5th, 2009
Share this Feature
Recommended Reading:
Comments:
comments powered by

Disqus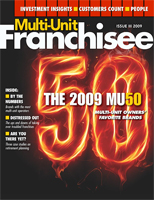 Multi-Unit Franchisee Magazine: Issue 3, 2009
Our commitment to developing the best drive-thru espresso led us to franchising. Unlike nearly all other franchises, we do not charge...
Cash Required:
$100,000
Hungry Howie's is currently EXPANDING! Top Markets are available for single or multiple unit development. Get the EDGE over the competition with...
Cash Required:
$200,000