Hire, Train, Retain, Repeat: Tips for Finding and Keeping Employees
Not since 1969 have so few people been unemployed in the United States. Evidence of a strong economy, but that doesn't mean franchisees can relax. On the contrary, today's record low unemployment rate means they must work harder than ever to hire and keep the kind of employees whose work sustains a successful business.
"It's the hot topic of the day," says PuroClean franchisee Keegan Trudgen. "We're at full employment and everyone is looking for qualified workers." Add in the high turnover typical of certain industries (think restaurants), and that makes good solutions for effective hiring, training, and retention essential.
Some of those solutions are right at hand. "It's not in the least bit sexy," says Trudgen, "but we've had success with a friends and family approach, combined with word of mouth." He has also begun reaching out to local high school and community colleges and counselors at career centers to showcase the professional options PuroClean offers. "We're giving people a path," he says.
Offering a future that's more than short-term is an effective strategy, says Lance Vaught, vice president of operations for Penn Station East Coast Subs. "Competing for employees on starting wage alone is not effective in today's ultra-competitive hiring environment. We have always felt the type of employee our franchisees are looking to recruit is someone who wants to work their way up the ladder from day one."
With that in mind, Vaught says, "We developed the My Penn Path development aid, which allows franchisees who are recruiting job candidates to more clearly articulate a candidate's career path. It engages them in the process from the start and allows franchisees to compete on opportunity as much as wage."
Technology is a popular solution for initial outreach. "Our franchisees use various online recruiting platforms, in-person restaurant recruiters, and traditional employee referrals from their crew," says Vaught. Candidates are also asked to complete personality profiles. "These profiles help ensure that the candidate is a good fit culturally and emotionally. They also help assess which candidates stand out--those we want to quickly move on to a fast-pace promotional track."
TJ Schier, founder and president of SMART Restaurant Group and owner of 14 franchised Which Wich sandwich locations, likes a broad spread to attract prospects. "It's like fishing. You need to have a presence, many hooks in the water--job boards, ads, in-store, social media--with the right bait, like catchy ads." If prospective employees nibble, they are directed to a "Day in the Life" web page where they can see what the actual workplace looks like.
Wisconsin-based BrightStar Care multi-unit franchisee Susan Rather respects in-house recommendations for recruits, but she's doing more than just putting up posters or distributing flyers. "We are also doing mock interviews at job centers, and we're on the boards of organizations such as Centro Hispano, which supports the Hispanic population in Madison with job coaching and resource navigation," she says. Also helpful, she says, is that BrightStar corporate has recorded videos of its caregivers working with simulated clients.
When it comes to finding potential employees, Rather has adapted to today's job seekers. "I've changed my stance on communicating with applicants by text. Previously, I thought it wouldn't help us make a connection, but I see now that we have to communicate in the way they're accustomed to. After we get them onboarded, we do stress the importance of having face-to-face and voice-to-voice conversations."
Jeff Meyer, president of Meyer Foods, a franchisee of eight Culver's restaurants in Indiana, looks for something that can be hard to find. "We believe we can teach any skills within the restaurant, but we cannot teach drive, passion, and motivation for success," he says. "Those are key skills that we keep top of mind during our interview process." He also keeps a close eye on his customers. "We view everyone as a potential team member. Many of our current team members were guests in our restaurants and liked the environment so much that they inquired about job opportunities."
Jeremiah Bowe, another Culver's franchisee, also looks close to home. "I would say greater than 50 percent of all the people employed in our restaurants are there through word of mouth from our employees--brothers and sisters and friends," he says. And with a workforce that's 70 percent part-time, he works extra hard to keep those employees coming back, despite the temptation of other seasonal jobs. He offers comeback bonuses and, something quite remarkable for part-timers, paid time off and affordable health insurance.
Train 'em
With each successful hire, training begins--or should. "We've all worked in jobs where we were hired, then been thrown in to sink or swim," says Todd Jackson, a longtime Newk's Eatery franchisee. "A proper orientation that puts your culture at the forefront sets the standard for every new hire," he says. "Having someone in charge of training who does not have the mindset, or who does not exhibit the restaurant's desired culture hurts you in the long run. Commit the dollars to training. You will benefit in the end with lower turnover and lower training wages."
Jackson is using whatever technology supports the communication of that training. "In our organization we are relying more and more on technology- and video-based training. This allows us to give consistent messages to each new hire, whether it is about culture, how to properly make a dressing, or how to set up our restaurants," he says. "Our hourly partner demographic is shifting to a group that embraces technology. We must do the same. The key is to blend that technology with motivated and qualified trainers and with tracking that reduces the odds that someone will fall through the cracks."
To accomplish that, Jackson and his team use HotSchedules for communication and scheduling, and Schoox for online digital training. "We're using Schoox more and more with all of our training now being done on tablets, pads, or phones," Jackson says. "Interactive versions of register training, line builds, and other items are made in a way that the new generation enjoys interacting with, and in a way they are familiar with. We are also able to continue culture building by using this vehicle to have employees watch videos of their peers explaining what the culture means to them and how the new hire can live our values." Schoox also can be used to monitor whether training is taking place and to ensure new hires are being cared for properly.
At Penn Station East Coast Subs, training starts right away, with a tool called "My Penn Path," says Don Robinson. His 18 locations make him the brand's largest multi-unit franchisee. "We have incorporated My Penn Path into a local training program that we have had in place for many years. This has allowed us the opportunity to have a clear and precise outline of expectations for both the employee and our management team. We let them know on day one how the training process will go and exactly how they can earn raises as fast as they can master each station. Some may earn 50 cent increases as fast as two weeks and some may take six months."
Before any employee is allowed to work a shift, they must attend an orientation from one of Penn Station's operations directors--supervisors who oversee multiple locations. "This orientation allows us the opportunity to have a high-level supervisor be the voice of the company and outline the training process, our culture, and how the employee can move up or earn raises," he says. "These are performed a few times every week in our regional office or at the store level on occasion. It is another huge commitment of time, but worth every minute."
For the past 3 years, says Vaught, Penn Station's training program has made Training magazine's Top 125 list for organizations with the most successful learning and development programs in the world.
For his Which Wich stores, Schier has found employee development can be guided with an assessment that finds what he calls right-fit talent. "We lay out the development ladder on their first day of employment and have a philosophy of 'Train until they can't get it wrong.' We help guide the employee up the ladder." The materials are a mix of e-learning modules, books on management, on-the-job training, and interactive exercises.
Meyer likes employee training for his Culver's employees to be available on a consistent basis. "We feel that we must continue to invest in our team members, and a large part of that is providing them with a best-in-class training team. We provide monthly workshops that allow team members from different locations to come to our central office and participate in a learning environment while sharing best practices," he says. "We actively coach and train to emotional intelligence and leadership-style coaching."
Keep 'em
A few years ago, Robinson changed up his hiring process. "I decided to do a final interview for every single hourly manager before they are promoted," he says. "With 20 locations this was a huge commitment of time, but worth every moment." His goal then, as now, is "to show them we care about their development and their time here with the company." It also allows him to identify future leaders he can start training to become assistant managers and eventually GMs or higher. "This also allows me to develop relationships with our newly promoted team leaders and give them a comfort level of reaching out if they feel something isn't right within the store."
For Keegan and his PuroClean team, one new change has had tremendous effect. "Just about a year ago we really started stressing culture, the idea that we want to be the best, pushing the culture of who we are and what we do--our mission, our values, our anchors," he says. "When we did that, all of a sudden people's mindsets started to change. We started holding each other accountable. When we did that, our turnover dramatically decreased--by at least half. I really think it's about people feeling as though they belong to a team where everyone is holding everyone accountable, that they have a purpose, and that gives them some satisfaction."
As others have learned, Meyer knows that flexible scheduling is a useful perk, but so are other incentives. "Our teams really like our ongoing monthly team contests where they can win different prizes and recognition across our group of restaurants," he says. More than that, he adds, the monthly meetings create a platform for team members to bring up ideas for discussion on how to improve operations and the working environment. He says this gives team members an opportunity to have a larger impact on their jobs and feel a greater part of the company.
Robinson says he discovered that once a person was promoted to general manager, training and development diminished. To remedy this, he added several continuing education classes that assistant managers and GMs must attend throughout the year. He and his operations directors teach these classes, which cover hiring, interviewing, coaching, profitability, inventory, point-of-sale features, and more. "This has been a great addition for our company that I believe will be a big step in increasing profits and reducing turnover," he says.
Schier's tactics for Which Wich include considering some unusual approaches to retain employees. "We are looking into gig economy sites that have popped up as a way to keep a solid, well-paid core, instead of having a merry-go-round of turnover. We are also looking at supplementing when needed with people hired on gig sites--Qwick.com is an example. We are also going to start testing a pay-as-you-go option that an employee can select to get paid the next day, similar to how Uber works. If that is well-received, it's another message we can recruit with--getting paid quickly."
Tom Baber, an IHOP and Money Mailer franchisee, is also thinking creatively with meaningful rewards for work well done. "We keep the environment positive with small extra bonuses, for example. We recently raised all pay $1 per hour. Sales and customer satisfaction were strong so it was earned," he says. "We have a mandated dollar increase in the minimum wage coming soon, and our goal is to be a certain amount above that to start, as we are today, and to keep that space at all levels in the organization. This will mean another pay rise coming soon, but this last one was proactive and very much appreciated. Again, it was earned. Our managers and team have done a very good job."
He also offers other benefits, including partially paid Aflac insurance. "We also offer a telephone and online medical service for every employee and their families. It is not very pricey and does not replace health insurance, but is very handy and has been very well-received. Both of these have led to higher satisfaction and retention."
Baber understands that kindness and respect for employees is not always about money. "Whether it be a normal greeting when we meet, a more difficult conversation like a discipline issue, or the aforementioned pay raises and other benefits, we treat it all like the employee is our customer and we will do all that we can within reason to make them feel welcomed, appreciated, valuable, and needed," he says. "While there is no doubt we and the brand create high expectations, we also treat our employees just as we would like our customers to be treated."
He does one more thing that he sees as a way to communicate his dedication to his employees. "I work personally at a store on Mother's Day and Father's Day. I am not part of any regular schedule at any location, but on those days I work up front and as hard as I am able. I know how rough those days are. It never goes unnoticed, plus it is a teaching opportunity for how to handle the toughest days, both from an attitude and a customer service perspective."
At Newk's Eatery, Jackson has figured out that retention is all about treating people right. "All of this is in the culture or environment. If an hourly partner or manager feels valued, they will stay. Everyone talks about this, and it is true. You make someone feel valued by doing the little things--saying hello, good-bye, and thank-you every shift," he says.
"You also do this by providing an environment that is disciplined where everyone knows what is expected. Good people want to stay working with good people. If the environment starts to change because people are slacking off, the good people are the first to go.`" says Jackson. "If turnover is too high, culture is most likely to be the culprit, and it starts with the leadership." That leadership, he says, can be the GM, the area director, or the franchisee.
Jackson agrees that employees need to know that they have longer-term career options. "It is important for people to feel like they are working toward a goal. If advancement is possible and demonstrated, they work harder. For us, the most effective tool has been promotion from within. We've had great success taking hourly partners from starting in a position, moving to a certified trainer, then to an hourly shift leader, and finally into management. When others see this progression is possible, it inspires them to strive for the next position as well. When everyone is trying to get to the next level, it is great for quality of operations as well as morale."
That helps with recruitment, too, he says. "In our organization, we have approximately a 1-to-1 ratio of internal promotions to external hires--and that's attractive to people coming from the outside."
At Culver's, keeping things simple is working for Bowe. "We ask people to show up when scheduled, to respect others, and to show up with a good attitude for work. If people do those three things, I tell them they can work for us forever."
Published: August 29th, 2019
Share this Feature
Recommended Reading:
Comments:
comments powered by

Disqus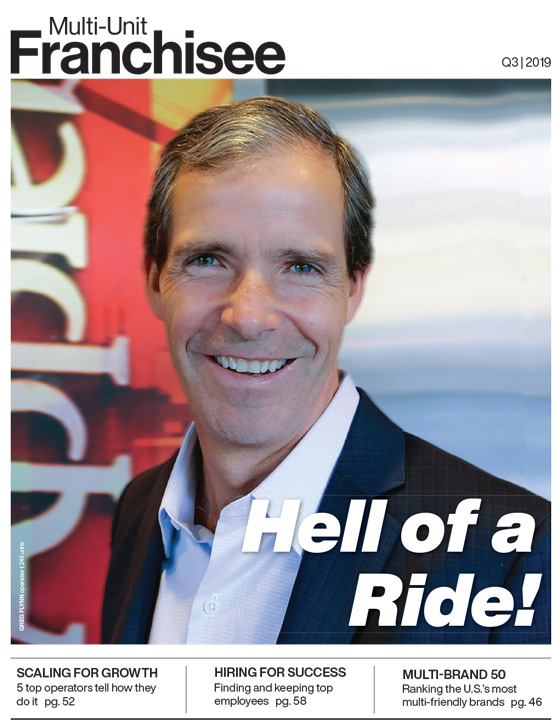 Multi-Unit Franchisee Magazine: Issue 3, 2019
With over 2,000 locations globally, Midas is the auto repair and service shop people know and trust. Multi-unit ownership with Midas is a terrific...
Re-Bath is the nation's largest full bathroom remodeler. Customers know it as a one-stop shop, providing remodels from design to done.
Cash Required:
$50,000