Built To Scale: How 5 Top Operators Do It
Raj Patel's family-owned multi-brand franchise company, The Hari Group, is at a crossroads.
Founded in 2011 with eight Dunkin' Donuts owned by Patel's father, the Naperville, Illinois-based business has aggressively expanded into a diversified portfolio of 60 locations in three states. While Dunkin' is Patel's biggest brand, he also owns Baskin-Robbins, Tide Dry Cleaners, and McAlister's Deli locations.
"The first 10 years, our goal was to get to $50 million, and we did it through growth and acquisition," says Patel. "Now we are taking a step back and analyzing what our next step will be. We are at an interesting spot where most of our debt rolls off in the next few years. The question is: Do we want to go over $60 million now? $100 million? Or are we happy where we are and just go with the flow?"
For multi-brand franchisees like Patel, scaling a business to get to the next level isn't just about getting bigger. It's about getting better. "You want to make sure you are staying at the top of your game all the way through," he says.
Franchising is built for scale. It's why any plan for growth starts by choosing a franchisor with a proven track record of success. "A good partnership with the franchisor is key," says Kyle Norcutt, a longtime franchisee of Two Men and a Truck. "Your vision has to align with their vision because you are really managing assets for them in the end, and you have to make sure you are on the same page."
Strong franchise support, training, and simplified operations allow franchisees to scale up and stay dialed in on costs, company culture, and--most of all--cash for sustainable growth.
"For me, the time to diversify is when one of my brands is doing exceptionally well," says veteran franchisee Bob Middleton. "You need a lot of cash to grow, and having a really strong cash flow company can be a catalyst to making that happen. Trying to diversify because your company is losing a lot of money could end up bad if that new company you decided to add to your portfolio does not work out."
Middleton, a multi-brand operator of Little Caesars, Jersey Mike's Subs, Sonic Drive-In, and Del Taco, has built his business heeding advice received long ago: focus on one thing and do it well to build wealth--and preserve that wealth by diversifying. Middleton, who has spent his career in the restaurant industry, chose to diversify so one brand didn't determine his success. And once you go choose a brand, he says, focus on executing the business model, not changing it.
"One of the things I learned, and still remember, is that you cannot be an expert in everything. Every brand has its own DNA, culture, personality, and point of difference, and that is why you do not want to have the same person running two different brands," says Middleton. "I have an equity partner in every brand and keep the operations people completely separate from my other businesses. I use the same attorney, accountant, and all report to me, but basically, my equity partners are the real experts in their brand and run the operational side of the business."
Stay ahead of the curve
Building infrastructure for growth doesn't mean the business has to be overloaded with hierarchy. Franchisee organizations are increasingly coming up with creative ways to simplify their structures through smaller, well-coordinated teams, a regional focus, or developing org charts based on geography and the complexity of the business.
Seasoned multi-unit franchisees also emphasize the need to stay ahead of growth. Putting systems and procedures in place earlier can avoid fixing problems later, says David Blackburn, CEO, and COO of Southern Rock Restaurants, McAlister's Deli's largest franchisee. "Plan for the worst and the odds will be in your favor," says Blackburn. "Chance favors the prepared mind."
Building the right team is critical to scale up successfully. Norcutt, who joined Two Men and a Truck in 1997, admits he enjoys the challenge of opening new locations more than maintaining them. Over the years, he has acquired 22 franchise markets and operated as many as 16 territories at once. Currently, he has 11 markets with locations in Michigan, Washington, Colorado, and Texas.
As his moving brand business grew, the longtime operator learned to surround himself with people who provided complementary skill sets. He has also become more nimble, while still remaining future-focused.
"We set one, three, and 10-year goals," says Norcutt. "We know where we want to go long term, and if there is a little step back, if we know it is a for a long-term gain of getting to where we want to be, we are fine with that. If we sell a location, we don't get hung up on whether it is a win or loss for us. Sometimes it's just a better fit."
As the largest franchisee of McAlister's Deli, Blackburn is no stranger to scale. With more than 80 locations open and 7 more under development for 2019, Blackburn developed a flair for solid operating principles and disciplined execution during his 15-year run with O'Charley's. As regional vice president of operations and vice president of business development, he led a 70-unit region to company-leading sales and profit improvements for 11 years.
In 2011, he founded Southern Rock with the acquisition of 23 McAlister's. He is looking to add another 35 locations to his fast-casual brand, spread across Tennessee, Mississippi, Missouri, Kentucky, Illinois, Indiana, and Ohio. His team is led by AJ Baird, president of operations and a 21-year veteran of McAlister's; two vice presidents "competing for best results," he says; and 13 area directors with two more set to come on board.
"They are our heartbeat, and they tune into their stores daily with the highest level of commitment to communicate and assist their stores in their weak areas to be both effective and efficient," Blackburn says. "We have 83 general managers, and all of our stores have in-house leaders. While it is difficult to find the right talent to staff our stores, it isn't impossible. Remember to recruit harder, train harder, and build the bridges with those new relationships quicker, while always hoping for the best outcome."
Blackburn considers himself an "old school" operator who has used a lifetime of experience to understand the right time to grow and how to best approach his company's growth. "You have to research each local market, understand your brand, and determine the best location to develop," he says. "Then, it's absolutely essential that you've identified the right building blocks to help each location succeed. And, as you grow, you'll need to create a business and staffing plan that will help develop a smooth-running operation."
When Blackburn weighs whether to grow or grow rapidly, the economy, interest rates, his team's appetite, and their ability to grow a leadership bench also come into play. "Don't take unnecessary risks. I like to think of it as a race car: You want to go fast, but you also have to use your clutch to shift gears into the turns, brake for trouble, and be wide open in the straightaways."
Patel, at the Hari Group, agrees. He learned early that there is no such thing as perfect growth. To weather the bumps in the road, he says, avoid growth for growth's sake. When your current operations are tight, humming, and profitable, it makes life as a multi-unit franchisee much easier, he says.
"The mistakes I continually see is when someone signs a multi-unit development and makes the wrong move, or opens in the wrong location because of a time crunch," he says. "Obviously, franchisors want to get their locations open, but more so, they want successful franchisees."
When franchisees are ready to scale, adding new brands serves up both new opportunities and new challenges. Patel estimates that with every new concept it has taken his company about a year to learn the system, operations, how to make money, and identify the right type of hire to ensure success before he ramps up growth. He uses a two-pronged back and front of the house approach to infrastructure for each brand, without touching his other people, he says. With an infrastructure in place built to handle 100 stores, Patel has turned his focus to beefing up the front of the house, growing from within with the right people.
"We have a lot of good, single-store managers, and they aren't going to be with us forever if we can't figure out how to increase their earnings," he says. "Our focus is on how we can take a single-store manager and help grow them to get to two, five, or maybe even seven to 10 stores one day. That is how we are able to retain employees, by showing them a path. We can't do it all at once, but that is the people piece."
Jesse Keyser, whose brands include Sport Clips, Little Caesars, and Oxi Fresh Carpet Cleaning, meets the challenge to grow bigger and better head-on, linking management compensation to productivity and sales growth.
"It's simple: we explain to them that our goal is everyone makes more every year!" Keyser says. "To do this, we determine what key business indicators affect those two things the most, and then we dial in on those. We have a store report card that comes out every four weeks. They have to identify two things that are working really well and two things that can be improved. Four weeks is long enough to see a change, but not too long to lose momentum."
Develop a winning culture
No matter how you choose to scale, through organic growth, acquisition, or diversification, franchising pros say don't forget about the internal needs of the business that may require a shift in mindset.
"You cannot build a steady infrastructure that incorporates the right people, processes, and systems unless you have a culture that is rock-solid," says Blackburn.
This can be accomplished in a multitude of ways. Southern Rock created "Rock Stars" to engage with the team. The best performers get autographed electric guitars, and rock bands often accompany meetings, says Blackburn. Last year, Southern Rock's general managers, above-store leadership, and the entire corporate support team took a trip to Disney and Universal Studios.
"We called it a meeting, but it was mostly just having fun and celebrating our progress," says Blackburn, "something that we need to do. After all, building restaurants is fun."
He also travels to his restaurants as often as possible. It is important, he says, to thank the team for their hard work, validate the standards they have achieved, and honor a key operating principle of the company: "Must Be Present To Win." Blackburn, who considers himself a second-generation operator, strives to lead by the examples set by people he calls "great first-generation operators" he has worked with in the past at O'Charley's: Dave Wachtel, Phil Hickey, and Steve Hislop.
"They all had something in common--a relentless pursuit to visit stores and to give the team something to believe in," says Blackburn. "It seems these days, at the root cause of each failing concept is a lack of belief in the company and concept. This industry craves involvement and engagement from its leaders, and that's what we must give them. We have to be involved every step of the way."
To form the culture of your team, Keyser, who has served on the advisory councils for all three of his brands, believes in the practice of gratitude in the workplace. He says a team that operates from a position of gratitude toward their customers and fellow team members and has an appreciation for the structure and reliability of a solid organization is happy and has a strong culture.
Sustained growth and scaling to make it work requires constant planning. Middleton, after more than three decades of building businesses, is now hard at work on learning how to create a succession plan for his equity partners and family--and "hopefully, showing them what it takes to become successful in this business," he says.
"With success comes more confidence to grow and get bigger--and less control. That is the number-one reason, in my opinion, that some people can never get to the multi-unit level, because it is so hard to give up control," says Middleton. "To grow you must go from managing to leading. Leading means mentoring and developing more people, trusting people more, believing in others more. You have to inspire others to do the job, not because they have to, but because they want to. You have to have a vision that helps others advance and win with you. Why else should they follow you? Sharing success is what leadership is really about."
Published: September 13th, 2019
Share this Feature
Recommended Reading:
Comments:
comments powered by

Disqus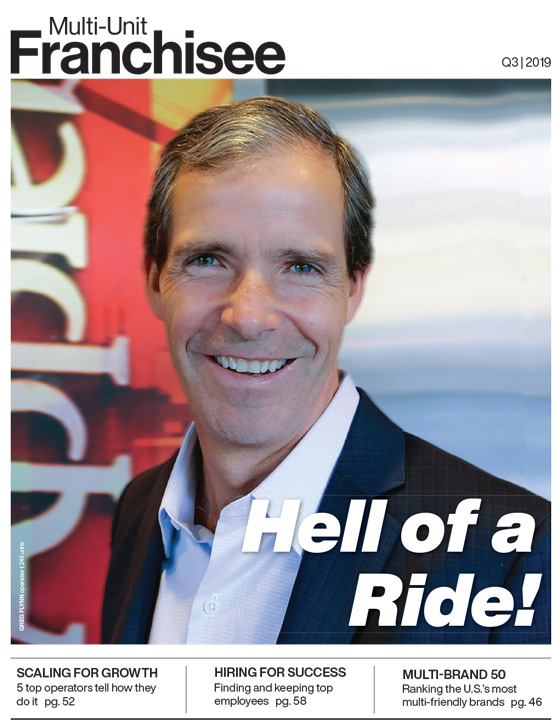 Multi-Unit Franchisee Magazine: Issue 3, 2019
Phenix Salon Suites is awarding our scalable, semi-absentee opportunity to motivated entrepreneurs. With no salon experience required, franchisees...
Cash Required:
$300,000
Tropical Smoothie Cafe is a healthier, quick-casual restaurant brand with 1,175+ locations in 44 states. One of its key differentiators is what the...
Cash Required:
$125,000