Hourly Hiring Shifts: Supply, Technology, and Legislation – Oh My!
Let's begin with three facts: 1) 78.2 million Americans are hourly workers; 2) hourly workers represent 58.5 percent of all jobs in the U.S.; and 3) 80 percent of all hires made in the U.S. each year are for hourly jobs.
Given these facts, it's clear that hourly workers are the backbone of the U.S. economy. And now, more than ever, the hourly job market is in the spotlight. Recent legislation and economic trends are driving people to rethink work as we know it. For multi-unit franchisees, it's vital to understand how these factors are affecting your units, managers, and hourly workers.
Decreased supply, increased demand. In July, the U.S. Bureau of Labor Statistics reported an unemployment rate of 4.9 percent, the lowest in 8 years. Economic recovery is driving an increase in the demand for hourly work, resulting in more available job openings. TDn2K, a firm focused on the hourly sector, reported job growth of 4.6 percent from 2014 to 2015 in the restaurant industry; and at Snagajob, we saw a 26 percent increase in the number of job postings on our platform year-over-year. Yet there is not enough supply to meet this growing need. In fact, the labor participation rate continues to decrease, with a small uptick in July 2016 at 62.8 percent. With the candidate pool shrinking, employers must compete with one another even more than before to recruit, hire, and retain quality workers.
Legislative landscape. The Pew Research Center recently reported that 84 percent of registered voters say the state of the economy will be very important to them when deciding who to vote for in the upcoming presidential election. Several hot topics that fall under the economy umbrella and that directly affect the hourly job industry are gaining traction in the media and on Capitol Hill. Here are just a few examples.
Fight for $15 is an international movement to raise the U.S. minimum wage from $7.25 to $15 per hour. Led by workers in more than 300 cities on 6 different continents, Fight for $15 seeks to accomplish one goal: to reward hard work with higher pay so that hourly employees can pay their bills and put food on their tables without struggling to get by. While it's no surprise that workers are in favor of this, it is surprising to see a growing number of employers supporting minimum wage legislation; in fact, Snagajob found in a recent survey that 91 percent support raising the minimum wage.
Shift scheduling. According to our research, 88 percent of hourly workers are willing to work multiple jobs for different employers each week to get needed hours. Campaigns such as San Francisco's Retail Workers Bill of Rights and California's Fair Scheduling Act encourage more predictable and dependable schedules for hourly workers by ensuring that employers give at least two weeks' notice on schedule changes. Not only does this provide workers with ample time to make other arrangements for factors such as child care, it also helps make their jobs more reliable. All of this activity has pushed the need for better tools to manage multiple shifts into the forefront.
The new overtime work regulation, which goes into effect on December 1, increases the overtime pay threshold to $47,476 a year. The Dept. of Labor predicts this will increase wages by $12 billion over 10 years, while the National Retail Federation predicts this change will cost retail and restaurant business approximately $745 million to comply with the new rules. There is a chance employers will hire a greater number of hourly workers for fewer hours each to maintain existing levels of production without additional costs. This is similar to what the economy saw in 2010 when the Affordable Care Act (ACA) launched.
ACA. In continuation from the above statement, the Congressional Budget Office (CBO) states that the ACA's largest impact on labor markets will occur after 2016, the first year the law is in full effect. The CBO predicts that labor supply and productivity will potentially suffer as a result of the ACA.
Reaching Millennials
Last year, Millennials became the largest portion of the U.S. workforce and are expected to make up 75 percent of the labor pool by 2025. Millennials and Gen Zs are tech-savvy digital natives driving workforce trends for today and tomorrow. Most have never submitted a paper job application; in fact, 90 percent of Millennials use a smartphone to find and apply for jobs.
This demographic shift disrupts how today's workers are finding and applying for jobs. More than 80 percent of job seekers say they don't complete job applications because they are too lengthy and time-consuming. Yet Snagajob sees a 98 percent completion rate when applications are mobile-friendly. Last year, we saw nearly 50 million job applications, half of them from mobile devices, submitted through our online platform. Employers must meet job seekers where they are: on mobile devices.
So what?
With a low unemployment rate and steadily declining labor participation rate, this is a job seeker's market. The situation is further complicated by the legislative landscape, which will require employers to use new tools to stay compliant and organized. This leaves hourly employers with the need to understand how to hire and retain top talent. Above all, employers must use technology to reinvent the entire hiring and talent management process.
If the hourly job industry embraces the possibilities of technology--and more specifically mobile--employers can better manage the full lifecycle of an employee, from finding and screening to onboarding, training, and scheduling. The more employers can do this, the more workers they will attract and the more engaged those workers will be. That's good not just for productivity and morale, but also for your bottom line.
Peter Harrison is CEO of Snagajob where he leverages technology to reimagine the future of work through instant and quality connections between workers and employers. Last year, the company had a direct hand in hiring more than 3 million people.
Published: December 22nd, 2016
Share this Feature
Recommended Reading:
Comments:
comments powered by

Disqus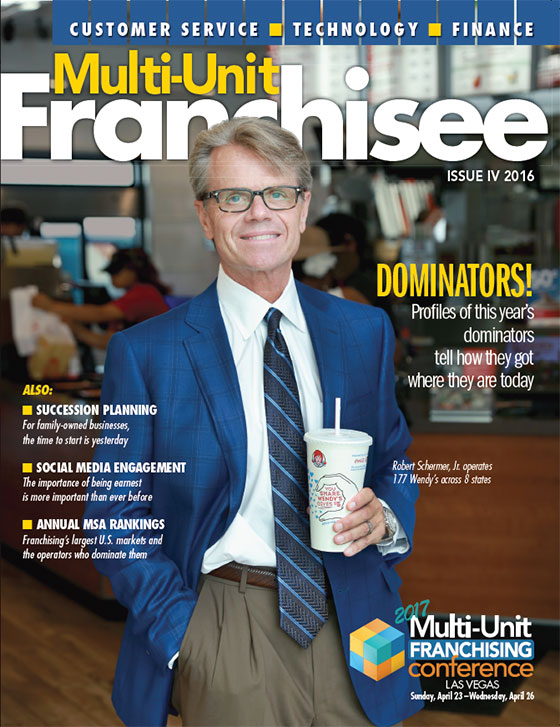 Multi-Unit Franchisee Magazine: Issue 4, 2016
With a 46-year track record, 1.3M+ Avg. Gross Sales* and flexible footprints, Potbelly is a perfect addition to your portfolio. *Top 25% of...
Cash Required:
$250,000
Own a rewarding business and help children develop skills for life with The Little Gym, the world's largest children's motor skill development...
Cash Required:
$100,000