Ideas And Innovation: Joe Hertzman has Both at his Three Brands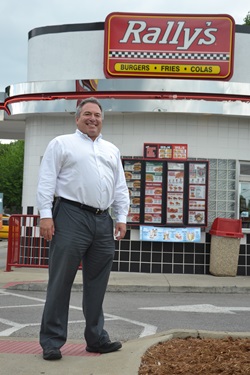 As the father of four attending sporting events with his children, Joe Hertzman noticed that when they ordered ice cream they always requested waffle cones. So when Rally's decided to add new Cold Creations items to the brand's menu, Hertzman had a suggestion.
"I said, 'Look guys, why don't we put the ice cream in waffle cones and we can get another buck on the transaction and make another 80 to 85 cents?'" he recalls. "Around the office, we jokingly call it the JoeCone.'"
That kind of innovation over the years is what earned Hertzman the Franchisee of the Year Award from Rally's/Checkers and the 2013 Multi-Unit Franchisee magazine Innovation Award.
"Rally's has great brand relevance, and we truly appreciate their leadership. They do a great job with strategies, menu development, and cost effectiveness," says Hertzman, a member the brand's franchise advisory committee who played a critical role in developing the brand's Peak 150 program to improve lunch performance.
Born and raised in Louisville, Hertzman is proud of being a second-generation franchisee: his father was one of the original franchisees for Long John Silver's. "I'm grateful that I got to learn this business from my dad as a teenager, and that my brother Charles and I have worked to grow that business into the future," he says.
Rally's awarded Hertzman the brand's Legacy Award the first year it was given to a franchisee. "With Rally's, we've really tried to stick to brand heritage, which is great, bold tastes within the value niche, and with Papa John's, which my brother heads up, for its great quality and competitive pricing," he says. Two years ago, Joe won Rally's Franchisee of the Year Award and Charles won Papa John's Franchisee of the Year Award.
Even as the business continues to grow, Hertzman still considers the company a family affair. With a sister with a Ph.D. and a brother with an MBA, he jokes that he's the family member with the "M.O.P." degree, referring to his early days cleaning stores--although he did earn a B.S. in business from Miami of Ohio University.
Hertzman, who opened his first Rally's 28 years ago, is quick to add that none of the success his family has enjoyed would have been possible without their operating partners: Darren and Dawn Haggard, at Rally's in Evansville, Ind.; and Charles Burris at Papa John's in the Ohio office. "We are so lucky to have these people on our team," says Hertzman. "When you know you have great operators out there, you can sleep at night."
Name: Joe Hertzman
Title: President
Company: Radcliff Group
No. of units by brand: Papa John's, 24; Rally's, 13; Long John Silver's, 7
Age: 56
Family: Four children
Years in franchising: I've been involved since my dad became one of the first Long John Silver's franchisees in 1969. We've been with Rally's for 28 years, and my brother Charles and I have been with Papa John's since 1991.
Years in current position: Decades, since our company is an extension of our father's.
Published: October 9th, 2013
Share this Feature
Recommended Reading:
Comments:
comments powered by

Disqus
Minuteman Press is the world's largest & number 1 rated printing & marketing franchise. Our business model features multiple revenue streams,...
Cash Required:
$30,000
Phenix Salon Suites is awarding our scalable, semi-absentee opportunity to motivated entrepreneurs. With no salon experience required, franchisees...
Cash Required:
$300,000