IFA's Franchise Action Network: Building Industry Strength
The franchise business model is under unprecedented attack by anti-business activists launching a coordinated campaign in cities, states, and at the federal level. From discriminatory wage increases in Seattle and potentially Chicago, to federal regulations that would recast franchisors as employers of their franchisees' employees, these attacks are like nothing we have ever experienced. Franchise businesses must unite under a single, unswerving, strong, and collective voice to defend the franchise model against these increasing threats.
1) It's time to mobilize, now.
This summer, the IFA board approved a new strategic initiative, the Franchise Action Network (FAN) to mobilize and unify the franchise community. Through FAN, franchisees, franchisors, and suppliers are working to educate lawmakers, regulators, key influencers, and the public about the crucial economic advantages provided by the franchise business model across the country. Moreover, FAN is helping its members to speak out against those who would seek to weaken the franchise business model.
2) Why join FAN?
In addition to keeping you in the loop about the latest news affecting franchises in your area, FAN will work to neutralize anti-franchising forces, simultaneously educating policymakers that locally owned franchise businesses are indeed essential small businesses. As a member of the franchise community, you know that behind many familiar logos and trusted brands are small-business owners seeking to increase opportunity--not just for themselves, but for their entire communities. By joining FAN, individuals can play a critical part in delivering this message to policymakers in Congress, the states, and in cities across the U.S. The time to act is now. We must come together to do this immediately.
3) Key objectives.
By launching FAN, franchising aims to seize control of the debate, build our network of grassroots supporters, and educate policymakers and the public about the benefits of franchising. FAN's objectives are as follows:
recruit current franchisees, franchisors, and suppliers in each state to educate them on public policy issues;
motivate these individuals to come together for a common industry cause; and
prepare and position FAN for legislative activity in the 2015 legislative sessions and beyond.
4) Key issue: NLRB joint employer status.
In July, the National Labor Relations Board's Division of Advice announced that a franchisor could be designated as a joint employer of its franchisees' employees. IFA is fighting this dangerous assertion because it is unlawful and will harm job growth, the economy, and locally owned franchised small businesses in every state.
The Service Employees International Union (SEIU) is leading organized attacks against franchising. This well-financed, national campaign against franchising is a desperate, special-interest ploy by the SEIU to replenish its dwindling coffers and membership. The labor union's multi-pronged attack at the local, state, and national levels includes having the federal government declare entire franchise systems as a single unit rather than the collection of separate, small-business owners they actually are. The SEIU wants to undermine the franchise business model so it can more easily unionize entire franchise systems, as it is much more difficult for unions to organize thousands of independent small businesses under the current regulatory system.
5) Key points.
The NLRB's Division of Advice ignored decades of regulatory, legal, and legislative precedents which make it clear that franchisees are separate businesses from their franchisors. Their legally binding contracts also make this clear.
A franchise is an agreement or license between two independent businesses. Many franchise businesses with familiar brand names are locally owned and operated small businesses that pay an initial fee and ongoing royalties to use the trademarks of the franchisor.
Franchisors are responsible for brand standards and quality, while franchisees are responsible for day-to-day operations and employment decisions that include hiring, firing, wages and benefits, and working conditions.
Franchisees have invested their capital in the business and stand to lose equity in their businesses if their franchisors are deemed joint employers.
Disputes over liability will only produce costly litigation for both franchisees and the franchisor.
6) Leveraging our voices.
FAN launched this summer, but we are already leveraging the voices of our members to address unfair wage hikes in cities such as Chicago and Los Angeles on minimum wage, at the state level in California against a harmful franchise relations bill (vetoed by Gov. Jerry Brown on Sept. 29), and at the federal level on joint employer issues. In Seattle, FAN has been working to educate the public about a proposal that would single out independently owned franchises for an "accelerated adoption" of a minimum wage increase. And in Los Angeles, FAN is getting the word out about a proposal that would increase the current minimum wage by a whopping 70 percent.
7) Taking the game to them.
At the recent IFE in New York City, IFA board member and Fastsigns International CEO Catherine Monson said it best: "Politics is a contact sport."
The fact is that those who make laws affecting our businesses often know very little about how franchising works and how their regulations affect our day-to-day operations. If we want to get our message out, we have to take the game to them by forming relationships with lawmakers at every level.
If you want to ensure that lawmakers listen to the franchise community, the most important thing you can do is to become a FAN today by visiting FranchiseActionNetwork.com.
By joining together, we can help to ensure that the franchise model remains a critically important part of the U.S. economy.
Erica Farage is senior director, political affairs and grassroots advocacy for the International Franchise Association. Find her at fransocial.franchise.org.
Published: December 23rd, 2014
Share this Feature
Recommended Reading:
Comments:
comments powered by

Disqus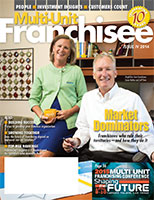 Multi-Unit Franchisee Magazine: Issue 4, 2014
Sport Clips is a winning concept-a great haircut experience for men and boys in a sports-themed environment. With almost 1900 stores and expanding...
Cash Required:
$200,000
Einstein Bros. Bagels is the largest fast-casual bagel brand, known for its freshly-baked bagels, made-to-order hot sandwiches, signature shmears...
Cash Required:
$564,300