Improve Your Financing Chances: Adapting to Bankers' Evolving Loan Policies
Lenders establish frameworks for various types of lending: housing, personal, small business, and more. Those frameworks are called lending policies and define the rules and procedures for conducting a lending program. They form the basis a credit committee uses to make loan structuring, pricing, and individual loan application decisions, and that a credit risk committee uses to make portfolio allocation decisions--how much of the bank's assets should be allocated to small business and further allocated to franchised small business and particular franchise systems.
The competition for credit cycle small business are facing is pushing lenders toward consideration of tighter (and in some cases different) lending policies. This tightening generally is around the five C's of credit--character, capital, capacity, conditions, and collateral--leading to requirements such as higher credit scores, more equity contributions and cash reserves, and so forth.
However, we're also seeing some different lending policies evolving for franchising, which are emanating from a basic understanding of franchise credit risk: there is a strong correlation between 1) the likelihood that any franchise loan will be repaid as expected and 2) the credit risk history of the associated franchise system.
Historically, lenders tried to use the FDD for such purposes. The down economy exposed the many shortcomings of a document designed for entirely different purposes; it simply doesn't address credit risks. The other rudimentary holdover risk tool from the easy credit years is the frequent use of SBA franchise statistics, which most banks know are not very accurate and often lead to incorrect credit decisions.
There is a rapidly evolving solution. We are seeing the development of franchise system measures that more accurately reflect credit risk, and which are beginning to be used effectively to improve lender credit decisions: more detailed unit performance data than in an Item 19; franchise system performance metrics associated with credit risk; and franchisor performance attributes evaluated in banking terms.
Based on all the franchise credit risk work we do and the feedback we get from lenders, here's what I believe a typical bank credit policy on franchise loans will look like:
1) Small business policy for franchise lending: system performance correlates with loan success. The performance history of a franchise system provides a) a good basis for predicting the outcomes of lending and b) guidance in structuring a loan. In addition to the general policies regarding eligibility, loan type and purpose, borrower standards, and documentation, the following should be considered.
2) Franchise unit performance: system data on unit economics drives loan structuring. Good unit performance data provides the foundation for a loan structure appropriate for the borrower. Average revenue growth by month and the statistical dispersion of that performance across units opened in recent years is a necessary first step. Actual performance data to support a borrower's projections is extremely helpful. For instance, the time it takes to get to positive cash flow and the dispersion around the mean for recent units will provide guidance in structuring loan terms to allow for adequate working capital. Ideally, the underwriter will have peer brand data to make appropriate unit performance comparisons.
3) Franchise system performance: unit continuity outcomes determine risk and pricing. Although SBA performance data should be reviewed and an assessment of accuracy made, reliance on such data should be carefully considered. A much better measure of credit risk is a good understanding of a franchise system's unit continuity outcomes over time. Categorization of the various reasons units are no longer in the same locations will allow the underwriter to focus attention on potential weaknesses in prospective franchisee qualification, training, and support (including special support for underperforming units and the franchisor relationship with banks for such borrowers). This also will assist in determining loan portfolio concentration risks. Ideally, the underwriter will have peer brand data to make appropriate credit risk comparisons.
4) Franchisor performance: long-term financial stability and management experience matter. Most small business loans have terms exceeding five years. The underwriter should consider the long-term financial stability of the franchisor as important in understanding the management team's ability to manage the brand over a long time horizon. Management's knowledge and experience in both their industry and in the business of executing the franchise model should be evaluated.
5) Verification: independent third-party analysis enhances internal and bank regulatory reviews. For both validation and financial regulatory review purposes, whenever possible third-party verification should be included in the loan package, along with the franchisor's audited financial statements and any appraisals (such as real estate) required under other small-business lending policies. If third-party verification is not available or cannot be produced in time for a loan decision, industry analysis, FDD and peer group analysis, and relevant SBA franchise statistics accuracy assessment should be included.
The astute reader will recognize that I have described the Bank Credit Report using lender credit policy terminology. Now you know why it was created and why it is being used actively by lenders. Franchise systems now have a way to communicate credit risks to lenders in banking terms that conform to the policies lenders are developing for such purposes--one big step in winning the competition for credit.
Darrell Johnson is CEO of FRANdata, an independent research company supplying information and analysis for the franchising sector since 1989. He can be reached at 703-740-4700 or djohnson@frandata.com.
Published: November 14th, 2011
Share this Feature
Recommended Reading:
Comments:
comments powered by

Disqus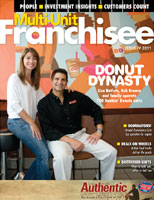 Multi-Unit Franchisee Magazine: Issue 4, 2011
uBreakiFix is a consumer electronics repair company based out of Orlando, FL that specializes in refurbishing and restoring smartphones, tablets,...
Cash Required:
$125,000
We're redefining the laundromat industry with a simplified business model built for scale and perfect for diversifying your portfolio.
Cash Required:
$300,000