In Love with Franchising: Following His Muse To A Successful Career
After earning a degree in computer science from the University of Delaware, Craig Colby set up his own consulting and programming business for the first decade of his career. He was successful, but he didn't enjoy it. In fact, he says he dreaded going to work every Monday.
"It became just a job and I didn't like my life much then," says the 48-year-old today. Colby says he realized that loving his work was an important objective for both his career and his quality of life. "I believe in a person doing what they love to do. I love food and restaurants, so I made it my business."
His first "love affair" was with Burger King where he--along with his twin brother--built a system of 15 units before selling them. Today, he operates four Red Robin Gourmet Burgers and four Così restaurants in southern New Jersey and Delaware. The expansion-minded Colby recently signed a development agreement with Tio Juan's Margaritas Mexican restaurants for 5 restaurants in 5 years, with the first scheduled to open in Wilmington, Del.
Colby says he spends about 75 percent of his time in development these days, but still makes time to visit his restaurants when he can. You might even find him working the front counter. "I like to help once in a while to stay in touch with the team and guests. I actually enjoy running a register--and I'm very good at it since I do all the programming."
By the end of this year, Colby plans to have added three Margaritas and another Red Robin to his growing portfolio. "This should effectively double our company's revenues or better," he says.
Questions
Name: Craig William Colby
Title: President
Company: The Colby Restaurant Group, Colby Brands, Mid-Atlantic Restaurant Concepts
No. of units: 4 Red Robin Gourmet Burgers, 4 Così; agreement for 5 Tio Juan's Margaritas
Personal
Age: 48
Family: Wife, 3 sons and 1 daughter
Years in franchising: 18
Years in current position: 10
Key accomplishments: Owned 15 Burger Kings with my twin brother Michael.
Biggest mistake:
Jumping into the full-service restaurant business from the fast food business and thinking that my experience would directly translate. During our successful years at Burger King, I decided to purchase a Ground Round restaurant. There were many reasons why it was a failure for us--beautiful new restaurants popping up (ours was very old), the franchisor was having major problems (and eventually went out of business), etc.--but it really comes down to not knowing what I was doing. It was a very expensive mistake.
Smartest mistake:
This is funny because I am going to give you the same answer. Buying the Ground Round was not only the biggest mistake, but also my best mistake. I found what I loved about the restaurant business. Fast food was a nice business for me and made us some money, but I found out I had passion for casual dining. I absolutely love everything about it--the energy, the food, the fun, the atmosphere. I would make this mistake over and over again because it got me to where I am now.
How do you spend a typical day?
It varies, but I will usually stop at one or two of my restaurants to talk a little with the managers and team members. I know when I don't do this enough because I'll go into one of our restaurants for dinner with my family and the hostess will ask if we've been there before. That's a reality check that says I'm spending too much time on new ventures and ignoring my older ones. But I do like to stop in and hang out for a while, help with some problems that maybe the managers can't solve, and keep my face out there. It gives me a chance also to look around and see if they are keeping up with my standards of maintenance and cleanliness. I'm a clean freak. I always tell my people that a guest should be able to go eat their dinner sitting on the floor of our restrooms. It's got to be that clean. The other parts of my day are filled with meetings, making deals, financing deals, visiting potential sites and restaurants, and eating great food under the pretense of "testing it out." It sounds like a great job and it is.
Work week:
I have a very reasonable work week. I work Monday through Friday, basically 8 a.m. until about 3 p.m. outside the house. I like to try to pick up one of the kids at school if time permits. Then I'll go home and exercise until dinnertime since we have a gym in our house. After dinner, I start responding to all the emails and phone calls I received during the day that I haven't been able to get to yet, while I'm hanging out with the family. I might be working on the computer doing business plans or crunching numbers, but at least I'm with the family. It's a good balance. I don't usually work on the weekends, but sometimes I have some emergencies to take care of or some work to do on the computer. That comes with the restaurant business. It wasn't always this way. My work week used to be longer hours and more days, but I am happy to say that I have worked through those days and arrived at the other side.
Favorite fun activities:
I love to travel and visit the Caribbean islands. My favorite spot is on a beach, feet in the sand, margarita in hand. I'm also one of those people who loves Disney World, especially as my kids get older and I don't have to keep standing in the line for "It's a Small World" during 95-degree weather in the rain. (That has happened on more than one occasion.) I like to just cruise around now, hit the countries in EPCOT, and sample the restaurants. My favorite spot is a restaurant called "San Angel Inn" at the Mexican Pavilion. A good friend of mine, Fernando Villegas, owns it. It's a place I could hang out all day doing tequila flights and watching the kids go around on the water ride. If you can get past the lines, Disney is the perfect place to me. Not a blade of brown grass or a piece of trash that stays on the ground for more than a minute. I used to ski a lot and really love it, but it seems lately I gravitate toward warm weather more. That must be an age thing.
Exercise/workout:
I would like to say that I love to exercise, but it's a chore to me. A perfect week for me will involve lifting three days a week and doing something aerobic three times a week. The reality doesn't always match up. Most of the time I will get my lifting days in, but I miss my aerobic days often. My wife gets on me about that. I think she wants to keep me around so she wants to make sure I'm heart healthy. I try to comply but I get bored very easily doing the treadmill thing. I think ADD is an attribute many successful people have.
Favorite tech toys:
Man, I love the iPad. It is so cool. It was definitely a game-changer, and it's just the beginning. I am currently awaiting the next version and will be the first in line for the iPad 3. I can't wait. I also love the new tech and entertainment stuff they are putting in cars, especially since I drive so much. I am not a gamer but I can appreciate the great graphics they have now. Those video games can suck you in for hours--not good for a guy who has a bunch of restaurants to oversee.
What are you reading?
I am an avid reader. I usually have two or three books going at the same time. I currently am reading a novel on my Kindle by Tim Dorsey. He is an extremely funny author and a quick read. You'll normally find me reading anything by Dorsey, Randy Wayne White, or Tom Corcoran. Once in a while I will stray from fiction and read a book that will help me in business or give me insight into some very successful entrepreneur, but I always find myself coming back to fiction. I guess I just like to be entertained. I also am listening to a novel from Audible.com written by Dean Koontz--another favorite author.
Do you have a favorite quote/advice?
I like to live by the motto "It's five o'clock somewhere!!!" It fits my business and lifestyle. I like to have fun and look forward to the next margarita.
Best advice you ever got:
It wasn't advice, but more an example set by my father. I can't remember a day that my father missed work. My father's whole career was working for the State of New Jersey. He had fantastic benefits that included many usable sick days that most state employees would readily take advantage of. I never remember him using one. He took his job very seriously, I assume mostly out of a sense of responsibility for his family. I think that stuck with me. When you're the owner and the boss you certainly have the option to decide to stay in bed and get a couple extra hours of sleep, or to take the day off. I never sleep in and rarely take the day off.
Formative influences/events:
9/11 had a major effect on me. I remember seeing the planes hit while I was watching "Good Morning America." I had no idea how to react. I was very scared for my family, so I got in my car and started picking my kids up at school to keep them with me. It was the first time that I felt I couldn't keep my family safe. I think because of that I have become more of a family man than I used to be. I am definitely a little overprotective of my younger ones and don't like to let them out of my sight. I also had a recent health scare. I am 100 percent healthy now, but it made me realize how short life can be. It really ratcheted up my drive to grow my business. I want to make sure if anything ever does happen to me, that my family is financially secure.
How do you balance life and work?
I do what I do because I like spending time with my family. I have gotten myself to the point that much of my work life--visiting restaurants, going to conferences, etc.--overlaps with my family life. I like taking my family with me much of the time I'm working. My wife, Krista, also works with me as well as my oldest son, Tyler. I am not sure what the future holds for my three children, but I would love if they were part of the business somehow, too.
Management
Business philosophy:
I believe in a person doing what they love to do. If you love playing golf, work at a golf course, or figure out a way to incorporate golf into your business somehow. I don't know, manufacture specialty tees, print custom logo golf balls, or maybe design golf clothing. I love food and restaurants, so I made it my business. If a person goes to work every day doing what they love to do, the word "job" doesn't get used much and Mondays take on a totally different meaning.
Are you in the franchising, real estate, or customer service business? Why?
I am in the restaurant business, which puts me into all three categories. I have found that I have no talent in coming up with my own concept, but I am very good at taking a proven concept, refining it, and replicating it. That's why I choose to be a franchisee. I also like being part of something larger than myself, which is also nice about being part of a franchise system. Of course, because it is the restaurant business, I am by definition in the customer service business. Without customers, who we like to call guests, we have no business. I've had opportunities in the past to purchase the land that our restaurants were on. It is certainly something I still look for, and I like to think of the restaurant business as being a means to an end in owning the real estate. I would like to own more real estate and possibly use our restaurants as an anchor to developing a shopping center.
As an operator, what are the two most important things you rely on from your franchisor?
I rely on the franchisor to make up for my two weaknesses. First and foremost is the food. I am not a chef and not a very good cook, although my kids will tell you I make the best macaroni and cheese they've ever tasted (it's just the stuff out of the box, but I use half-and-half instead of milk--it apparently makes a big difference). So my executive chef is the franchisor. They come up with incredible recipes and I implement them. I am in awe of people who can create great food dishes. The other thing I rely on them for is the marketing. I am also not a good marketer. It takes many people to create a good marketing campaign. Good brand awareness requires creating eye-popping ads that make a statement, picking proper print placement, and effective television and radio purchasing. Franchisors are, or at least should be, experts at this. I am not, and don't mind contributing toward that expertise.
What gets you out of bed in the morning?
Put simply, I love what I do. I have found a great passion in the restaurant business, not just because I consider myself a "foodie," but because I also love the people in the industry. Restaurant people are not the stuffy suits you find in many other industries. They tend to be down-to-earth people who you want to hang with and have fun. It is unusual for any day to feel like work for me. Yes, there are those days when it is all about answering to the banks, filling out financing paperwork, etc., but on the whole my days are very interesting and fun.
What's your passion in business?
Having a restaurant that I want to hang out at with my friends and family. I love owning a restaurant where I am proud of the food, atmosphere, and people. And I like waking up every day and knowing that I have the potential of developing another restaurant where people want to be. Every day I am looking at new concepts and locations. It is about the money, but it is more about the love of the business and the pride I take in the ownership.
Management method or style:
I'm not a micro-manager. I like to hire good people to run the restaurants and trust that they are doing what they were hired and trained to do. I think I am an easy guy to work for. If you're doing what you're supposed to do and producing the numbers needed, you won't see me too much.
Greatest challenge:
I'm always so excited to get the next project going that sometimes I don't give my current restaurants enough attention. I have to stop once in a while and refocus some of my energies on my current lineup of restaurants.
How close are you to operations?
Not as close as I used to be. Back in my Burger King days, I knew the operations very well and was active on a daily basis. But my role has evolved and I spend about 75 percent of my time in development. There are still occasions when you will show up at one of my Cosi restaurants and find me working the front counter. I like to help once in a while to stay in touch with the team and guests. I actually enjoy running a register, and am very good at it since I do all the programming. I'm not sure I could run a shift effectively any more at any of my restaurants, but I would do it if I had to. It would be interesting.
Have you changed your marketing strategy in response to the economy? How?
Being part of a franchise means I pay into a marketing fund, and the franchisor develops and implements the marketing plans. We have actually been contributing more to the fund since the economy has taken a downturn to keep our brand out in front of the guests and general public. During these times you need to capture a bigger piece of the smaller pie, and marketing is an effective way to do so. Locally, I have switched my tactics a little. In theory I don't believe in couponing. I think it devalues the brand. But I have tried some coupon marketing like Valpak. It is effective, but you don't want to do it very often or people will just wait for the next coupon. The trick is to get the guest in with the first coupon and give them a reason to keep coming back. Ideally that would be through great service and giving them a Wow! experience.
How is social media affecting your business operations?
We just started getting involved with social media over the last year. It's such a great way to stay in touch with your guests. And it's free! Gotta love that. It makes it so easy to target your audience with specials, birthday coupons, and other offers. I expect that the time we spend on social media will continue to increase and dwarf the time we spend on any other media outlet.
Personality:
I am a very relaxed, fun-loving type of guy. I very rarely get upset or mad. It takes a lot to get me to the point where I am angry. Someone would have had to do something very bad to see that side of me. I guess it is unfortunate that people can't see it coming, because I really don't have any levels of anger. It's kind of like a light switch for me. But, like I said, it is a seldom occurrence. When the weather is warm you'll normally find me in jeans, a Hawaiian shirt, no socks, and loafers. I guess I aspire to be Jimmy Buffett. I wish I could play the guitar to complete the persona. I am a family man and don't really enjoy much time apart from them. I want to have fun all the time, surround myself with fun people, and I want the people working for me to have fun.
How do others describe you?
I hope that people think of me as being laid back and fun. I think most people would also think of me as being very successful, and I guess I am, but I have also had my share of failures. The key is to have more successes than failures.
How do you hire and fire?
At this point in the game, I am only hiring top management level. I think I start the process like anyone else. I look at resumes obtained from outside sources or, as I prefer, recommended by other management. My interviews are probably unlike others. I don't ask many technical questions. I'll ask a few, but I believe much of what we do technically can be learned easily. What is important to me is personality and character. In our business, personality is huge. Guests want to feel comfortable and welcomed, as if they were in your home. I want managers who can convey that feeling. As for character, I want good, honest people working for me. I tend to look for family people who talk about their kids a lot. I look for people who stick to their word. Integrity speaks volumes to me.
Firing people is still very hard for me, but I found that beating around the bush just makes it worse. If we're at the point that I need to fire you, it means that you are a very bad performer, or there has been something done that calls into account your integrity. I will sit with the person and explain that it's time to part ways and I appreciate their time with us. That's all there is to it. There is no science and nothing special about it for me.
How do you train and retain?
Another reason to be part of a great franchise, as I am, is the training offered. My franchisors offer very effective training programs for management that last up to 12 weeks. Although we can train new managers in-house, I prefer to send my people to corporate stores to learn the systems. If we train in-house, I feel the managers are getting a watered-down version of the training program. Corporate training tends to be much more successful instilling policies, procedures, and branding. And, on an ongoing basis, the franchisor will send operations tools and manuals to keep us up to date on the latest and greatest techniques and regulations.
How do you deal with problem employees?
A leopard doesn't change his spots, and I don't think a problem employee is often turned around. I will make some initial efforts at counseling and trying to get to the root of the problem, but if the issues aren't resolved quickly I let the employee go. If you don't get them out quickly, they could become a cancer in your business. There are too many good people out there to waste time employing people that stir up trouble.
Bottom Line
Annual revenue:
Not disclosed.

2012 goals:
We are looking to add three new Tio Juan's Margaritas restaurants to our portfolio this year, as well as one Red Robin Gourmet Burgers. This should effectively double our company's revenues or better.

Growth meter: How do you measure your growth?
It would be easy to measure it by the number of restaurants or the sales volumes, but the smart thing to do is measure it by cash flow. I could easily add more restaurants, but if they don't make money is that really growth?

Vision meter: Where do you want to be in 5 years? 10 years?
I plan on continuing to grow the number of restaurants in my portfolio. I have no plans on retirement, nor can I fathom ever getting out of the business. I love it too much. I think there would be a gaping hole in my life without the restaurants. My children are starting to show some interest in the business now. My oldest son works with me. I have no idea if the others will follow suit, but it's always there if they want to. There will probably be another franchise or two in my future, and possibly the development of our own concept now that I'm surrounded by talented people who can help develop one. I just want to keep working and surrounding myself with people who are fun to work with.

How has the most recent economic cycle affected you, your employees, your customers?
It has affected all of us. My sales were considerably down in some of my restaurants, but we made it through the tough times. Certainly it was tougher for my management team to meet sales goals, so I did lower the bar for a couple of years to help make them more attainable. Our guests didn't have as much disposable income, so we saw far less of them. We had to keep offers in front of them so that when they did go out, we were their restaurant of choice. I think the franchisors did an effective job with this. Now, all signs point toward the recession being over for my restaurants. Comp sales are back up considerably. The future is looking bright.

What did you change or do differently in this economy that you plan to continue doing?
I stopped my growth over the last couple of years while the economy was in turmoil, but I often wonder if I did the right thing. There were many great deals to be made on locations. But who knows if I would have received financing with the banks having their own issues. I constantly second-guess myself on my decision not to grow then. But with the economy on the rebound, I am back in growth mode. The other thing that I did differently was discounting. As the economy continues to recover, I will be discounting less. As I stated before, I believe it devalues the brand.

How do you forecast for your business in this economy?
I'd like to say something super intelligent here and make myself sound like some sort of economic guru, but, at least in this respect, I'm not that bright. It's hard to forecast for anything. I never thought what happened over the last few years could ever have happened in our country. It was a very scary time. So I don't forecast, but I am an optimist. I think the future is very bright, and all I can do is continue to build great restaurants and provide a great experience. Hopefully this translates to a very successful future in the restaurant business for me and my team

.

Where do you find capital for expansion?
There seems to be a lot of interest by financial institutions to start funding again. I am working on obtaining some funding now. GE Capital, Franchise Finance is showing interest in funding projects again. I have worked closely with American Equipment Finance, now part of Ascentium Capital, on many deals. They are very aggressive and easy to work with. Other traditional financial institutions, like Royal Bank, are showing interest also.

Is capital getting easier to access? Why/why not?
I haven't even tried during this recession to obtain financing and am just now looking into it again. I assumed by listening to my counterparts in the restaurant business, that money was very hard to get in the last couple of years. It seems to be getting much easier. At least for me, I don't see any funding barriers at this time.

Have you used private equity, local banks, national banks, other institutions? Why/why not?
I have yet to use any local or national banks, or for that matter private equity. All my projects to date have been funded by GE Capital, Franchise Finance and American Equipment Finance. These companies had departments or people set up to fund specific franchises. I was lucky that I was building those concepts, so it was easy to go to them for funding. I haven't stayed away from traditional banks for any particular reason, and am now looking at them as well as my old funding sources.

What kind of exit strategy do you have in place?
I don't want out. I think people with an exit strategy don't like what they do. As long as I like what I'm doing, continue being successful at it, and have a great balance to my life, I'm staying in. If any of that changes, there are always buyers for a successful business. Maybe the next generation of Colbys will "buy" me out one day.

What are you doing to take care of your employees?
I am very loyal to the people who are loyal to me. I pay well, treat my people well, and in turn expect to garner that loyalty. I am constantly seeking out avenues of growth for my team. I also don't burn my team out by overworking them. I believe in a 5-day, 50-hour work week for my managers. I want them to spend time with their families and keep a balanced life. I provide good vacation time that I encourage them to take to keep their sanity. Most of all, I am very flexible with my employees. Each team member has their own unique set of life's circumstances that I want to work around if possible.

How are you handling rising employee costs (payroll, healthcare, etc.)?
This should be, and probably is, any business's main concern right now. I want everyone in our country to have healthcare, but I don't know how that should be accomplished. I don't think that requiring employers to bear that burden is fair, though. Employers have historically offered health benefits to employees as an incentive. How can government make the leap that since employers have been offering it, it is now the employer's responsibility? I offer bonuses as an incentive. Should that become a requirement too? I will tell you that if the current healthcare plan doesn't change, it will put some people out of business. It will be very cumbersome because of the tracking and paperwork involved, and extremely expensive. I also think that it will have a very negative impact on the cross-section of people it's trying to help. I don't know how it will shake out in the long run, but I see an employee's hours being cut, employing less people, and rising product costs (in this case menu prices).

How do you reward/recognize top-performing employees?
I believe in sharing the success. I have great people working for me and I want to share the proceeds they create for me. I pay industry standard salaries, but I don't put a cap on the bonus potential. I love handing out bonus checks. It means that those managers have put some money in the bank for my family. They are entitled to some of that money. There are other incentives that we try. Currently, we are running an extra bonus that creates a little competition between restaurants. The restaurant with the highest comp sales for the quarter (sales percentage higher than the previous year) will receive an all-expenses-paid cruise for two. The managers in the winning store will then have to draw a name out of a hat to see which manager receives it. It creates a little extra incentive while throwing in a little fun.

Published: June 1st, 2012
Share this Feature
Recommended Reading:
Comments:
comments powered by

Disqus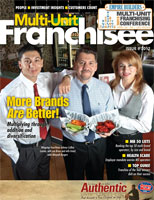 Multi-Unit Franchisee Magazine: Issue 2, 2012
It's time for a fresh start. Join Kona Ice! Low investment, fastest growing with over 1,300 franchises in 12 years, #1 in franchisee satisfaction...
Cash Required:
$20,000
MassageLuXe® is a fast-growing massage franchise providing massage services to clients, primarily through multi-unit area developers & single...
Cash Required:
$100,000