It's Catching!: Creating a Contagious Culture of Service Pays
Capriotti's Sandwich Shop has been named one of Technomic's Top 100 Sandwich Chains and received Sandelman's Award of Excellence for Customer Service. Capriotti's also leads SMG's Benchmark Database of Customer Experience Metrics among Fast Casual Restaurants.
"Culture and service are based on having the right people in the right places," says James Gimbel, who operates two Capriotti's shops in Iowa and one in Las Vegas.
"We genuinely care about customers and we really want to get to know them because we do plan on seeing them again and again in our restaurants. Our goal is really to befriend our customers, to know their names, their families, where they work. That's not possible with every single customer, but that's how we think about it," he says. "The first thing we train every new employee on is to immediately greet everyone who comes through. Smile is number one, and saying 'Welcome to Capriotti's' to reinforce where they are. When people leave, we say 'See you next time' and thank people for coming in."
Gimbel's regional manager, Marc Kustner, explains that a contagious service culture is "more about being passionate and energetic, but it's hard to teach that. I can teach almost anyone how we make a great sandwich. I need to hire the right personalities for our culture." People with the right service aptitude can learn how to channel their natural service instincts to create loyalty-inspiring customer experiences.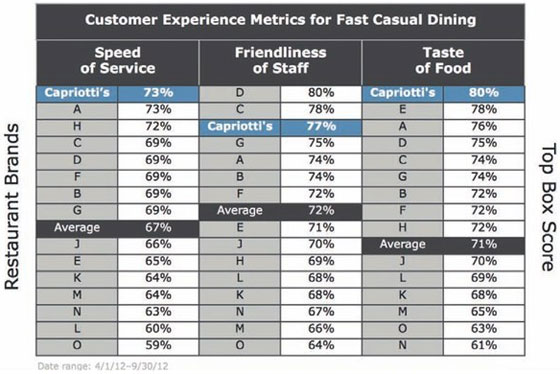 For example, Kustner teaches new employees to "Always get a name with an order, never call out 'Number 32.' Always give our own names too, and get a conversation going. I love to send new employees to a table to ask if everything is perfect. Never just ask how lunch is, or if everything is okay. 'Is everything exactly as you wanted it?' 'Was your sandwich perfect?'"
There are clear business reasons to train new employees like this: to focus on the importance of "Taste of Food" and "Friendliness of Staff." Add in "Speed of Service" and these are the three Key Drivers of Customer Satisfaction at Capriotti's.
The accompanying chart shows how customers evaluated their experiences at 15 fast casual restaurant brands over a recent 6-month period. The numbers indicate the percentage of customers who rated a "5" on a 5-point scale, also known as Top Box scores. Customers who give Top Box ratings on Speed, Friendliness, and Taste are Highly Satisfied, not merely Satisfied. That distinction matters a lot. Why? Because Top Box scores on Satisfaction correlate with repeat business and positive word of mouth, which drive comp sales and average sale amount.
"Asking employees who are 15 to 20 years old to take an interest in metrics is not easy," Kustner admits. "But you can make the service experience real with customer comments. At Capriotti's we post customer satisfaction scores along with real customer comments for all employees to see during brief shift meetings in the morning and afternoon. We do meetings with managers and talk about key drivers and the big difference between a Satisfied customer (a "4") and a Highly Satisfied customer (a "5"), or Top Box score--and how Highly Satisfied customers are twice as likely to return in 30 days and three times as likely to recommend us to friends."
Being at the top of SMG's Benchmark Database on Taste of Food "creates a sense of pride about where we all work," says Doug McCartin, operator of two Capriotti's shops in Maryland. McCartin opened his first location in July 2010 and broke sales records for opening day, opening week, and opening month at that time.
"I think it begins with the quality and uniqueness of the sandwiches--nothing pre-sliced or pre-cooked. We roast whole turkeys and make our own meatballs. Then it's how you treat your people. These are young people, so we try to make it fun. I want my employees to want to come to work. I don't want them to dread coming to work because they don't enjoy themselves. We have good music on and we make sure there's proper staffing for the volume," he adds.
That last comment about staffing makes a great point about creating a contagious culture of service. While you depend on front-line employees to create a great customer experience, they depend on franchisees to provide the resources needed to do the job right. It takes partnership between managers and employees to achieve real breakthroughs in customer service.
The only way to grow sales profitably over the long run is to have customers and employees who love doing business with you. As a result, they become loyal and stay with you for a long time--and they recommend you as a place to work and a place to shop, dine, and do business.
---
SMG Vice President Jack Mackey helps multi-unit operators improve customer loyalty and drive growth. Contact him at 816-448-4556 or jmackey@smg.com.
Published: February 20th, 2013
Share this Feature
Recommended Reading:
Comments:
comments powered by

Disqus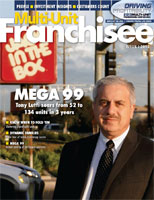 Multi-Unit Franchisee Magazine: Issue 1, 2013
After investing more than 45 years in building the most trusted brand in health and wellness, The Vitamin Shoppe is now franchising with fewer than...
Cash Required:
$200,000
Blend opportunity with success and join the nation's #1 health and fitness smoothie brand today!
Cash Required:
$100,000