It's Mega 99 Time!: These Multi-Unit Operators Know How To Go Big
We've rounded up another "Mega 99" issue--and that means some big numbers. In the following pages you'll find our annual list of the biggest players in franchising--the ones with dozens, even hundreds, of units--and plans for many more. When it comes to brands, units, and territories, these franchisees think big... and they think long.
Numbers offer insights, but our readers tell us that the personal stories of the individuals we profile, with their tales of success, failure, and lessons learned, are the most powerful. And it's in these details that the true character--and grit--of these successful multi-unit operators are revealed.
Each year, we look for franchisees with the drive, determination, and that pinch of good fortune who have expanded and reaped the rewards. In each case, it's a special combination of choosing great brands, building dedicated, hard-working teams, and attracting and retaining loyal and satisfied customers who return again and again. And, as we've discovered over the years, not everyone is built for success on this scale.
In the pages ahead you'll find six profiles of outstanding franchisees who pushed through immeasurable obstacles to make it happen. Each has a remarkable story of how they attained success and how they are determined to keep it going. This year, along with four new profiles, we reconnected with Anand Gala and Ken Leese to learn what they've been up to since we profiled them a few years back.
Shahid Hashmi says he wishes he'd gotten into franchising earlier, but he's doing a heck of a job making up for lost time. He operates in the Mid-Atlantic and Northeast and has grown to 45 Popeyes Louisiana Kitchens, 2 Burger Kings, 2 Retro Fitness gyms and, most recently, ZIPS Dry Cleaners. He has a growth plan that he predicts will top $150 million in revenue in the next 10 years.
Michael Orcutt has been on both the corporate and the franchisee sides of Domino's Pizza--for 40 years now--and he once led U.S. store operations for the chain. Today, his "Team Cowabunga"--the largest singly owned Domino's franchisee in the U.S.--operates 101 Domino's locations in Georgia, Alabama, and South Carolina, employs more than 1,700 people, and he's still looking to grow.
Richard Paek opened his first Jiffy Lube in 1992 and has built an empire around transparency, accountability, and consistency. Today he runs 75 locations in California and Texas. Growth at his company, Allied Lube, outpaced the 2,000-unit Jiffy Lube chain by 9 percent in 2012, 7 percent in 2013, and was on track to three-peat in 2014. For 2015, he plans to add at least 5 to 10 new locations.
Steve Sager has never thought small. As a franchisee and development director for Subway, he opened more than 260 stores in the past 30 years. Today he operates 16 Subways and 7 Auntie Anne's. With a knack for spotting emerging brands, he recently signed an agreement to open 20 Persona Neapolitan Pizzeria restaurants.
Anand Gala has simplified his business approach since we profiled him in 2010. He sold his 19 Applebee's stores and is now considering what he'll do with the proceeds. In the meantime, he has doubled the number of Famous Dave's restaurants in his portfolio to 10 and says more are likely on the way. Looking ahead, he says, "I have the luxury of being more strategic with my business right now since I have downsized, but that doesn't mean I won't grow again."
Ken Leese has focused on getting his operation lean and fit since we spoke with him in 2010. He's continued to operate his stable of Jackson Hewitt locations while moving ahead cautiously with Play N Trade. The recession challenged him, as it did many tax processing operations. But that market is picking up, and he's grown from 40 Jackson Hewitt locations at the end of 2013 to 45 today.
No matter their background, experience, or training, there are inspiring stories behind all these successful franchisees. Whether you have a single unit or dozens spread across several brands, you're sure to find something useful, educational, and even entertaining in the stories of these six multi-unit operators.
Along with our Mega 99 profiles, we present our annual Mega 99 list, ranking the franchisees with the most units in the country. See which brands the largest franchisees in the U.S. have chosen to build their portfolios.
It's Mega 99 time!
Published: March 27th, 2015
Share this Feature
Recommended Reading:
Comments:
comments powered by

Disqus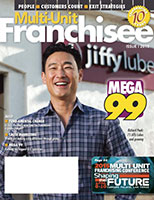 Multi-Unit Franchisee Magazine: Issue 1, 2015
PetWellClinic is a walk-in veterinary clinic offering basic health and wellness services to dogs and cats. PetWellClinic is the first vet clinic...
Cash Required:
$250,000
Massage Heights is a passion brand, a lifestyle brand, and a spa franchise brand that truly helps people live their best lives by encouraging them to...
Cash Required:
$175,000