Mega Trends: Insights on multi-unit trends
The business of franchising is ever growing, with ever more franchisees shifting to multi-unit franchise ownership. As the U.S. economy emerges from the impacts of the Covid-19 pandemic, multi-unit operators have been thrown into the spotlight as franchise development shifted to focusing on experienced operators over onboarding new talent. With talks of recession, efforts on new ownership are likely to shift back again, as the economic slowdown creates new swathes of franchise candidates.
FRANdata has been producing the Mega 99 rankings for close to 20 years, leveraging our comprehensive database of franchisee information to provide thoughtful analysis and insights on the state of franchising. In 2022 we saw multi-unit ownership continue to gain traction, primarily because of the following factors.
Franchisor consolidations and the "platform-ification" of franchise brands. Recently, we've seen the emergence and rapid growth of platform companies in franchising, with existing platform companies acquiring brands for further diversification and new platforms emerging from private equity investments and acquisitions. Both these trends have influenced multi-unit ownership, as franchisors continued to cross-sell their franchise brands to existing operators of one of their portfolio concepts. For example, in January 2022 the Tasty Restaurant Group expanded its brand portfolio, which already included Yum Brands concepts Taco Bell and Pizza Hut, by acquiring 90 KFC locations. (Editor: See the profile of Tasty's CEO Robert Rodriguez in this issue.) Similarly, franchisees such as Home Run Restaurant Group or Ocathain Partners grew their base in the Inspire Brands portfolio by signing up with Rusty Tacos.
Emerging brands preferred growing through multi-unit operators. Emerging brands also are preferring experience over youth. Since the pandemic arrived, several emerging franchise brands have opted to take advantage of existing franchisees' diversification plans, resulting in the growth of their multi-unit operator base. For instance, Mici Handcrafted Italian signed a 30-unit deal in April this year with longtime Black Bear Diner and Smashburger franchisee Lucas Farnham. Another example is Dave's Hot Chicken signing multiple deals (totaling close to 80 locations) with franchisees of brands including Firehouse Subs, Qdoba, and Jersey Mike's.
More interest from PE investors. Private equity investors of all stripes continue to like what they are seeing in franchising. The search for opportunities to invest with a competitive return in mind has accelerated a buying spree for stakes in multi-unit franchisee operations as never before. Today, as tech-driven multi-unit franchisees emerge amid continued industry consolidation, private equity managers see similar synergies and high-return potential on the owner side of the business—and they are striking deals with strong operators hungry to expand. For example, in the first half of 2022, ElmCreek Partners, a Dallas-based private investment firm, sponsored the acquisition and aggregation of multiple Urban Air Adventure Park franchisees in partnership with existing franchisees.
Last year, however, was not without its share of issues that plagued multi-unit ownership. Supply chain issues, labor shortages, and rising interest rates all have affected franchisees' ability to grow in the past 18 months. However, economies of scale and previous experience in dealing with economic hurdles helped many larger operators overcome these challenges.
Looking ahead, experts are forecasting larger headwinds in the form of a looming recession. This could allow further growth for multi-unit operators as larger multi-unit operators continue their buying sprees. However, during such times, many multi-unit operators choose to invest in existing unit transactions, buying up existing locations and smaller franchisees to a much greater extent, thus reducing their appetite (and capacity) for new unit growth.

Ritwik Donde is director of research at FRANdata.
Published: March 17th, 2023
Share this Feature
Recommended Reading:
Comments:
comments powered by

Disqus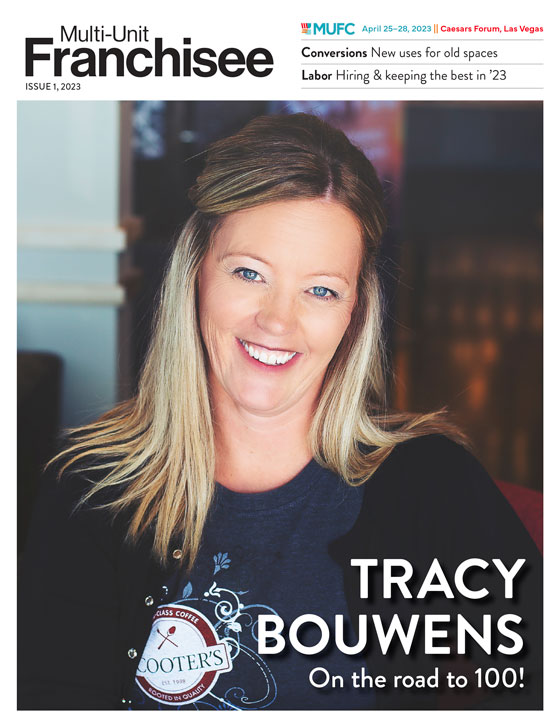 Multi-Unit Franchisee Magazine: Issue 1, 2023
There's nothing quite like the perfect cup of coffee. It wakes you up and gets you on the right path. Now, you've got the chance to build a lifestyle...
Cash Required:
$100,000
With 500+ restaurants in development worldwide, Wayback Burgers is America's favorite hometown burger joint and one of the world's fastest-growing...
Cash Required:
$200,000