It's Time To Get on Board
Despite attempts by the FTC to encourage franchisors to use earnings claims-most notably in the 1995 change to the Rule, which made claims easier to make and defend-most franchisors avoid them. According to a 2003 FRANdata study, only18-20% of all franchisors make earnings claims and that percentage has not increased substantially in the last five years.

This is puzzling, because there is evidence that earnings claims not only protect franchisors from lawsuits by disgruntled franchisees, they also significantly increase sales for franchisors that use them.

Most of the franchising community would state, based on their own observations, that in virtually every franchise dispute involving a franchisor who does not make an Item 19 earnings claim, there is an allegation that a franchisee received an illegal earnings claim.

While only 18-20% of all franchisors make earnings claims nationally, of the franchisors using the nationally recognized broker referral networks, more than 60% use earnings claims. Many of these franchisors are America's fastest growing franchises and many would attribute their success, at least in part, to the use of earnings claims.

In large part, franchisors do not make earnings claims because they are afraid they will be found liable by franchisees who do not achieve the stated results or who, in hindsight, demonstrate a flaw in the franchisor's calculations.

Some franchisors describe franchisee performance as "all over the board" and doubt their ability to defend their calculations of system-wide averages. Other franchisors feel that they don't need an earnings claim because they can effectively direct prospects to existing franchisees who are the best source of earnings information.

This can be dangerous, because it is difficult for most franchisors that do not file an earnings claim in Item 19 of their UFOC to police and enforce a "no disclosure" policy throughout the company. Virtually every complaint filed by the FTC contains allegations of improper earnings information made outside the disclosure documents. On the other hand, franchisors that use earnings claims seem to get sued less frequently than those franchisors that include a negative disclosure in Item 19.

Because federal and state law have created an incredibly expansive definition of conduct that could constitute an earnings claim, franchisee litigators scrutinize the sales process until they find some act, statement, or omission that could arguably give rise to a claim. By giving salespeople a tool that provides as much information about potential profit margins and possible income, franchisors can avoid most of the "salesmanship" undertaken to avoid these questions, the energy consumed in channeling prospects to alternative sources for this information, and avoid liability to prospects who claim they received more favorable information on "the back of a napkin."
Why Make an Item 19 Earnings Claim?

Earnings information is the single most important type of information to prospects and puts the cost information disclosed in the UFOC in some meaningful context by relating it to the likely revenue to be generated.

The prospect will certainly assume some level of revenues in the context of his own projections. If the franchisee's projections are outside of a system-wide average, then the franchisor knows that, statistically, the prospect's expectations will be disappointed, which will undermine the relationship. While no franchisor should be charged with "predicting" a prospect's future revenue, providing system-wide averages, at least for easily calculable gross sales, seems reasonable.

Many intelligent prospects are reluctant to close in the absence of reliable earnings information, because they are unable to predicate the purchase decision on sound business analysis and judgment that would put these prospects in a position to qualify for the franchise.

Because most franchise salespeople are compensated, at least in part, by commission, and are under pressure to close deals, it isn't surprising that they might consider other "cocktail napkin" type disclosures. The sheer importance of this information and its presence as a recurring objection puts a tremendous amount of pressure on the sales process.

Without an Item 19 earnings claim, the prospect has no barometer against which to gauge these off-the-cuff disclosures. A written earnings claim would confine the making of an unauthorized disclosure to ranges consistent with disclosed earnings. There is still a risk that a franchise sales person will make a claim that is not contained in the UFOC, or, perhaps more difficult to monitor, will represent the system averages as the likely sales potential for the specific unit in question. Franchisors often use a closing compliance certification to root out pre-sale violations and thereby deter misconduct in the franchise sales process.

The case law suggests that the warnings and disclaimers that accompany Item 19 earnings claims may have some benefit in subsequent litigation brought by a franchisee who claims to have relied on non-Item 19 earnings information provided in the franchise sales process.

Most franchisors who adopt earnings claims say that they help franchise sales. In fact, most report a shortened sales process, which they attribute to not requiring the prospect to poll franchisees for all earnings information. The franchisee validation calls, which are often few in number, focus instead on determining whether the unit performance is consistent with the system-wide averages.

Most franchisors who use earnings claims report that they have been able to attract better and more sophisticated franchisees, including multi-unit operators from other systems, as a result of being able to cut to the chase and discuss the average gross sales (for franchisors making gross sales claims) or average returns on investment for sophisticated existing operators (or franchisors making gross profit or net income claims).

Interestingly, the number of franchisors seeking existing multi-unit operators far exceeds the number of franchisors who participate in broker networks, but the trend has not seemed to catch on, because despite their stated goals, most franchisors do not provide information that would be conducive to multi-unit sales.

Some franchisors adopt earnings claims in order to counter a competitor's earnings claim. Once a prospect knows that it is legally possible to obtain an earnings claim, a franchisor that says it is legally precluded from making one is no longer credible. Within the franchise broker referral networks, these competitive pressures are responsible for the much higher use of earning claims.
A Few Objections To Earnings Claims

Depending on the level of complexity of the claim, assembling, analyzing, and drafting the earnings claim can be a time-consuming and expensive project. And there is the expense of updating the UFOC when there is any material change in the data.

In any situation where a franchisor must rely on third-party data, there are some risks. Some franchisees use inconsistent methods for accounting, including personal expenses in determining taxable income, underreporting gross sales, or simply not telling the truth. Most franchisors who provide this information obtain it through their POS system or use surveys or questionnaires to obtain the information from franchisees. So long as the number of franchisees reporting on the POS system, or providing the tax returns, or responding to the survey is reasonable, and the franchisor has no reason to believe that reported results are not representative of system performance, then it may use this data, so long as it discloses the applicable reporting percentage.

The objection most often voiced by franchisors who do not use earnings claims is a perceived risk of liability if franchisees do not achieve or exceed the results in the claim. A franchisor who simply discloses a system-wide average, has a reliable bookkeeping system, reasonably current data, and the information is in fact true, is unlikely to be exposed to liability from a franchisee who does not meet or exceed the results. The important thing here is to document any assumptions made in eliminating unrepresentative data by anyone in the organization.
The Good News

There is virtually no reported decision holding a franchisee liable for making a faulty or misleading earnings claim where an Item 19 earnings claim has been made. This would suggest that a franchisor's greatest fear-liability to a franchisee who fails to attain the stated results in an earnings claim-is unwarranted.

Most of the civil litigation that resulted in reported decisions and all of the FTC enforcement proceedings containing allegations of illegal earnings claims involve non-Item 19 earnings claims either made when the franchisor stated in Item 19 that it made no earnings claims or made when there was no offering circular provided to the prospect.

Franchisors who present earnings data will be more insulated from liability, mostly because it will become increasingly difficult for a disgruntled franchisee to prove that he reasonably relied on data which is inconsistent with the claim.
Preparing An Earnings Claim

Earnings claims can be based on historical data of existing outlets, projections and forecasts, actual unit results, supplemental earnings claims, and media claims.

Historical data from existing outlets are the most common form of an Item 19 earnings claim. Most franchise lawyers think it is safer than a projection. Projections and forecasts, because they are subject to second guessing by a disgruntled franchisee, are viewed as much riskier than historical data. If the franchisor makes an Item 19 earnings claim, it can provide the prospect with a supplemental earnings claim, which must be in writing and explain any departure from the claim made in the UFOC.

The FTC Rule covers all earnings claims made for general dissemination to the public, including those made in advertising, speeches, and press releases-but, oddly enough, not statements to a financial journal or the trade press. Franchisors can give earnings information in interviews to publications without making illegal earnings claims, but they cannot include the article as part of franchise sales materials.

Ads, pop-up screens, and banner ads on web sites and commercial bulk emails are covered by the FTC's definition of general media.
Putting It Together

Franchisors must compile all the data and information necessary to prepare an earnings claim. In so doing, they must assess the data and determine what additional information should be included in the earnings claim to ensure that it is complete and not misleading. The type and quantity of available information will likely have a strong bearing on the selected format of the earnings claim and the data presented. The franchisor must adopt reasonable procedures to ensure the reliability of such information, and certainly confirm that it is consistent with other franchise reported information.

Franchisors frequently decide to survey franchisees over the next reporting period to collect the data and include it in their next UFOC. As more comprehensive and reliable data becomes available, the franchisor can increase the scope of the earnings claim. When using surveys or questionnaires, franchisors should err on the side of formality, and carefully document the franchisees' responses either by measuring responses against other reported data, requiring signatures on written surveys, or providing a written record of any data reported by telephone to the reporting franchisee.

There is no single prescribed format for an Item 19 earnings claim. Most franchisors present some form of average gross sales. Few disclose average gross profit and fewer disclose net income. But the definition of earnings claims includes estimates of average sales, cost, income, or profits. Sales, cost, income, or profit information, whether conveyed in gross, annual, monthly, weekly, or daily terms must be included in the UFOC. Any figures conveyed to a franchisee on amount of projected sales, yield from any amount of product or person per day of selling or working, occupancy rates or any attempt to quantify gross sales on account of consumption of a particular amount of product is an earnings claim and needs to be in the UFOC.

In order to present the data in a non-misleading manner, a franchisor may be required to segregate operating performance among different types of units, sizes of locations or services offered, in order to present an accurate picture of unit averages for each type of unit.

The goal of using an earnings claim is to manage the franchisees' expectations about their particular unit and thereby enhance the validation process by giving them the most accurate data about units of the type that will operate in a particular region. Most franchisors classify franchisees based on their age in the system, in order to present data accurately and to create reasonable expectations with respect to ramping up the individual franchise businesses.
Multi-Unit Earnings Claims

The growing trend toward multi-unit and multi-concept ownership means franchisors must appeal to more sophisticated potential franchisees. Since there are no exceptions from coverage under the FTC Rule for large multi-unit developers of any size, the only means by which franchisors can channel this information about unit economics to developers is through an Item 19 earnings claim. Despite the fact that so many franchisors are pursuing existing developers, only a small fraction of the 20% of franchisors who make earnings claims are actually presenting the data that multi-unit developers need to evaluate their interest.

Unlike mom and pops, sophisticated franchisees rely on their own knowledge of local demographics and relationships with customers in determining whether to proceed. There simply isn't the same liability in providing earnings information to existing multi-unit operators as compared with single-unit operators. Why then are so few franchisors providing multi-unit information?
Compliance

A franchisor must have an active franchise sales compliance program and provide proper training and supervision to its franchise sales force and others involved in the sales process. The basic rule is that any information that would allow a person of reasonable intelligence to calculate a potential level of revenues, expenses or income that is not included in Item 19 of the UFOC may not be given to prospects or anyone who the franchisor has reason to believe will give them to a prospect. While it seems easy enough, interpretation and enforcement have proven challenging, particularly for a franchisor who does not make an Item 19 earnings claim.

It is also good practice to obtain a compliance certification from a prospect immediately prior to closing the deal. Such certifications will serve to protect franchisors from rates claims that a pre-sale violation occurred. Most compliance certifications have the prospect certify the date he received the UFOC, the date he received a fully completed copy of the franchise agreement, and the earliest date that he received money. It should also have the prospect certify that no oral, written, or visual claim was made which suggested any specific level or range of actual or potential financial results.

Because of general employee turnover at the franchise sales level, franchisors need to continually re-evaluate the franchise sales training process, and conduct refresher training for more seasoned personnel. In a day and age when most franchisors conduct Discovery Days in their offices, it is not uncommon for prospects to meet with, or dine with other members of the franchisor's staff from the franchisor's various departments. It is important to recognize that these personnel, although not directly in the franchise sales process, should be cautioned to refrain from making any statements about earnings claims or statements that are otherwise inconsistent with the UFOC.

Earnings representations made by existing franchisees fall outside the scope of the FTC Rule because it applies only to representations made by the franchisor or its agents. Under certain circumstances, franchisees can be considered agents-if, for example, they are compensated for cooperating, or the franchisor is very involved in setting up an interview between a franchisee and a prospect.

Franchisors should establish a policy about steering prospects to particular franchisees or pairing prospects with franchisees to learn the business. Franchisors must ensure that prospects are being referred to franchisees at all ends of the performance spectrum, including some who have recently opened similar-sized units in areas sharing similar demographics. Identifying only the stars of the system will no doubt create unreasonable expectations about initial financial performance.


Lane Fisher is a principal in Fisher Zucker LLC, Philadelphia. This article was excerpted from his "Earnings Claims Boot Camp" held at the Franchise UPDATE Development and Leadership Conference in Atlanta in September, 2004. A longer version may be found at www.franchising.com or www.franchise-update.com.
Published: May 9th, 2005
Share this Feature
Recommended Reading:
Comments:
comments powered by

Disqus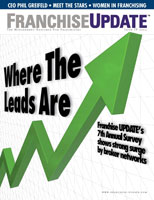 Franchise Update Magazine: Issue 4, 2004
Clayton Kendall provides franchise communities nationwide with comprehensive branded merchandise programs leading to greater brand exposure,...
Sociallybuzz, founded in 2009, is the #1 Social Media Marketing Agency to help franchisors and franchisees increase their revenues, drive sales, and...