Keep Calm, But Watchful: Maintain Balance Amid Global Concerns
"Worry is a thin stream of fear trickling through the mind. If encouraged, it cuts a channel into which all other thoughts are drained." --Arthur Somers Roche
For much of 2018, investors have shrugged off a variety of concerns (e.g., trade wars, geopolitical tensions, and kinks in the global supply chains) by focusing on the solid nature of most global economics. The pace of the U.S. economy, in particular, has remained in steady growth mode, with consumer and business spending, housing stock turnover, auto sales, employment, and other factors illustrating ongoing strength--thus creating a positive base for the market's growth-biased viewpoint.
By late summer, higher stakes emerged, as trade difficulties, particularly with China, mounted rather than receded. Initial signs of slowing global growth rates in key export countries and contentious outcomes from key meetings with longstanding partners (NAFTA negotiations, the G7 Summit), as well as the initiation of tariffs (both here and corresponding retaliatory ones), seem to have prompted angst among business leaders and market participants alike.
The potential for the synchronous global uptick that has driven the "growth trade" in the past 18 to 24 months has been called into question as trade tensions have escalated and global capital flows have exited other countries and currencies. The U.S. dollar strengthened, forcing other currencies, such as the Turkish lira, lower; and negatively affected emerging market assets, especially those of countries most reliant on exports, as well as those heavily dependent on oil exports.
A thin stream of worry can work its way into a broader swath of impact. If current worries translate into delayed business activity, the effect could ultimately ripple more broadly throughout the economy, slowing the pace of the current uptrend. While fiscal policy has obviously turned more expansionary, monetary policymakers are gradually removing liquidity from the global system, potentially leading to a muting of the stimulating aspects of recent tax cuts and U.S. government spending increases.
Investors don't like unknowns. It can be somewhat straightforward to outline the direct impacts of tit-for-tat tariff moves and counter moves, but understanding the second- and third-tier effects and how they move through markets will take time and must be considered on a case-by-case basis. There already is anecdotal evidence of some individual manufacturers being helped by the early steel and aluminum assessments for example, even as other businesses that use imported products are being forced to raise prices and cut production. Supply chains are much too intricately woven to be able to be redirected in short order. In turn, understanding how all the aspects add up--netting those who benefit and those who don't--will be a challenge.
When second quarter numbers were reported in July and August, most came in higher than expected. As reported by Reuters, for example, aggregate S&P 500 profits in the second quarter increased 23 percent from Q2 a year ago on revenues that advanced nearly 10 percent. While reassuring, those numbers already are in the past, not to mention widely anticipated and theoretically largely discounted in share prices.
And as important, investors followed attendant conference calls closely for comments regarding wage pressures, heightened transportation costs, and tariff impacts. Investors seemed to pay especially close attention to whether or not specific companies and industries were able to pass along a portion of these costs as price increases. Pricing power has been largely nonexistent for more than a decade, but it seems to be making a reappearance in a broad swath of corporate America.
U.S. business and consumer sentiment remain strong, as do numerous hard data indicators of activity. When business leaders and consumers are feeling more confident, they make decisions to buy houses, cars, change jobs, and increase plant productivity based on that optimism. Similarly, we suspect it will be the soft data that begins to wane first--although pollsters will tell you there is often a disconnect at turning points between what people and businesses say they are going to do and what they actually end up doing.
Bottom line
We will be watching and listening closely as both as economic and quarterly earning numbers come in over the remainder of 2018 and into the new year. We will be watching and listening for signs of pain at the margin or potentially for improved pricing power among U.S. companies. If the trade issues cause increased supply to be created in the U.S. and prompt additional employee training and technological deployment, the intermediate- to longer-term results could be quite positive. For now, the wisest course of action is to remain calm, but watchful. Stay invested, but focus on higher-quality assets, solid diversification, and making balanced versus overweighted allocation decisions.
Carol M. Schleif, CFA, is deputy chief investment officer at Abbot Downing, which provides products and services through Wells Fargo Bank and its affiliates and subsidiaries. She welcomes questions and comments at carol.schleif@abbotdowning.com.
Published: January 3rd, 2019
Share this Feature
Recommended Reading:
Comments:
comments powered by

Disqus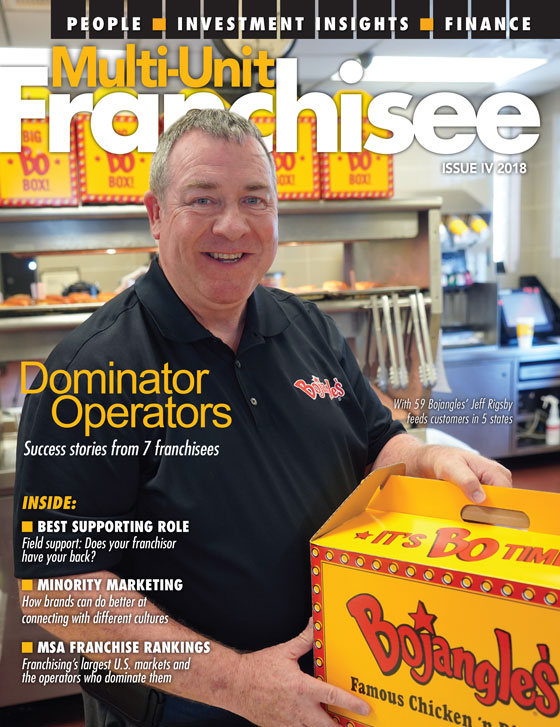 Multi-Unit Franchisee Magazine: Issue 4, 2018
Big Frog's proven-and-tested business model allows you to take charge of your financial future with a business concept that offers unlimited revenue...
Cash Required:
$50,000
Since 1962, customers have trusted Big O Tires for all their tire and automotive service needs. Today, we have over 465 locations across the country,...
Cash Required:
$50,000